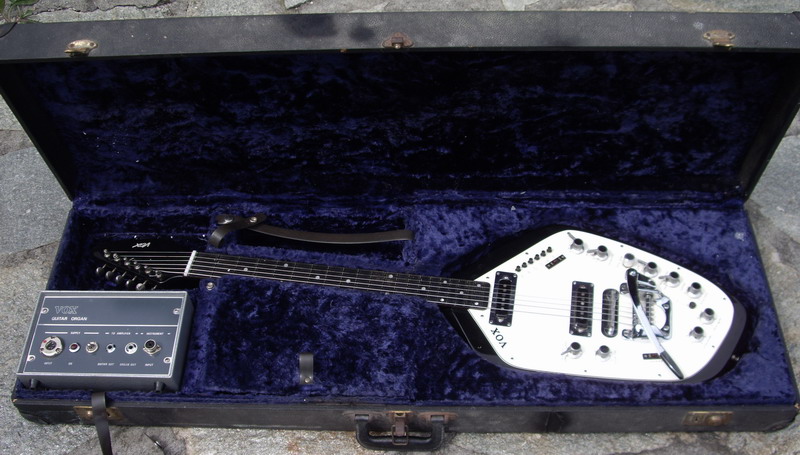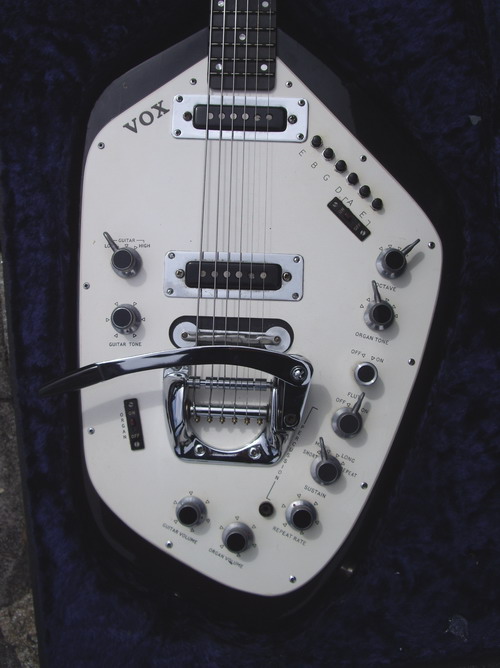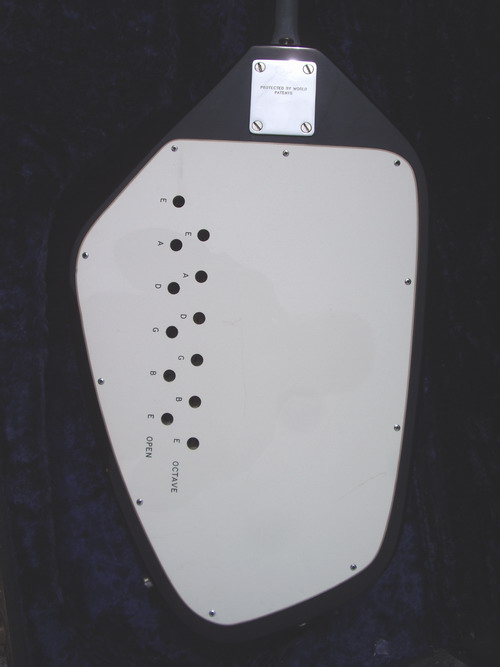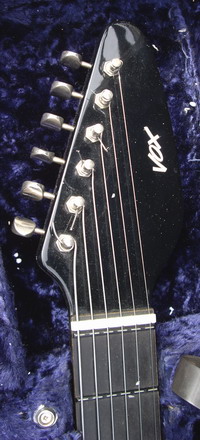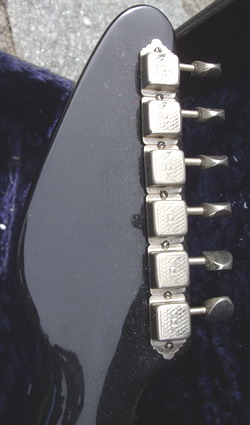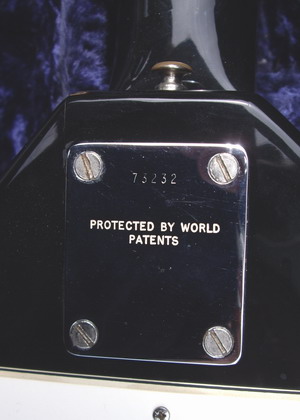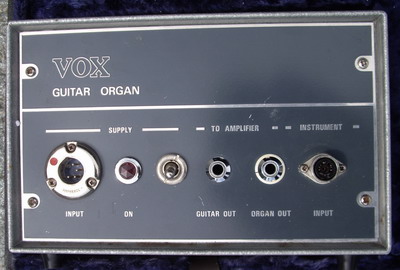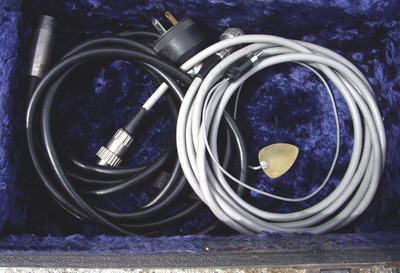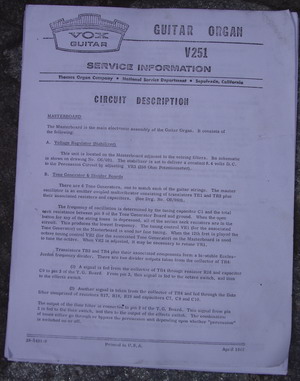 '66 VOX GUITAR ORGAN Model V251
The "Guitorgan" is the ultimate attempt by Vox to be at the forefront of innovation in the '60s. It's based on Vox's Phantom design and their organ circuitry. You can play it as an ordinary guitar, a guitar-organ, solo organ or as an organ rhythm to a guitar melody. It operates with any two input guitar amplifier; providing sustain, percussion and automatic guitar chords in rhythm with the guitarist's string-work. The body features more knobs and buttons than one could hope for. The "Guitar-Organ" comes with its own power supply and interface to facilitate connections to the amplifier. Produced in very small quantities, it's very rare and valuable. Less then 100 Guitorgan's were built by Vox & Dick Denny.
Dick Denny and Derek Underdown work hard on prototypes for Dick's brainchild - the VOX Guitar organ - a revolutionary concept that offers the workings of a VOX Continental Organ in a Phantom Guitar body. The idea offers guitarists the chance to play organ sounds on a guitar. An early version is displayed at a London trade show in August, but problems with the design lead Dick back to the drawing board. The Series Two Guitar Organ is finally released in early 1966.
In 1966, Vox introduced the problematic V251 GuitarOrgan, a Phantom VI guitar with internal organ electronics. John Lennon was given one in a bid to secure an endorsement, though this never panned out.[citation needed] According to Up-Tight: the Velvet Underground Story, Brian Jones of the Rolling Stones also tried one; when asked by the Velvets if it "worked", his answer was negative.[citation needed]
The V251 connects to a mains power-supply unit via DIN plugs and a four-conductor cable (power, guitar output, organ output and common). The PSU in turn has individual amplifier outputs for guitar and organ.
Organ tones are sounded in one of three ways; in 'normal' mode, by pressing any string onto a fret; in 'percussion' mode, by fretting any string and touching the included brass plectrum (connected to a short wire plugged into a socket on the scratchplate) onto any metal part of the guitar; or by pressing one of the six 'open string' bottons. There is an option to silence the lowest two strings, and the organ section, as a whole, can also be switched off. There is a four-position octave selector, a six-position effect selector, a four-way selector for the percussion, and a flute selector.
The guitar section is equipped with two Vox pickups, a three-way selector, and conventional volume and tone controls. In common with Phantom models, it has a Bigsby-style tremolo unit, a fixed-intonation bridge and individual Vox-branded tuners.
The V251 is somewhat awkward to play as the neck is wider at the nut end than at the body, and a player's natural tendency to bend a string results in it slipping off the divided fret. Additionally, at nearly 9 lbs, it is very heavy, as might be expected.
The instrument never became popular though it was a precursor to the modern guitar synthesizer. Ian Curtis of Joy Division is sometimes believed to have used a GuitarOrgan, but he actually used a Phantom VII special with onboard effects.
http://www.youtube.com/watch?v=RtUrpzkfeuI
http://www.youtube.com/watch?v=_gWc8Do6JSQ
http://www.youtube.com/watch?v=10n8fgmSAbc
http://thebeatlesgear.com/vox_guitar_organ.html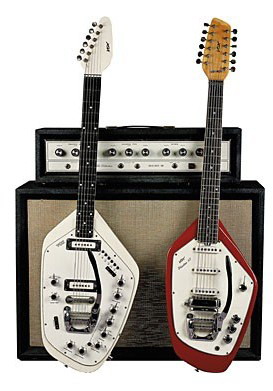 1966 Vox Guitar-organ and '66 Phantom XII. The Guitar-organ was a Dick Denney creation that combined the mechanical elements of a Phantom guitar with the oscillators of a Continental electric keyboard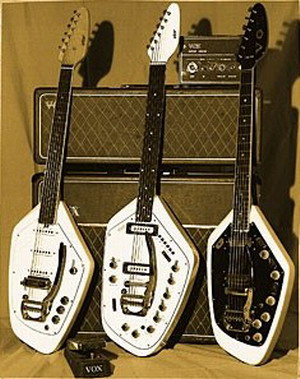 Vox Phantom VI, Guitar-organ (with its power supply perched atop a '64 AC30 head), and a '64 AC30 combo. (front) a Thomas-Vox Wah Wah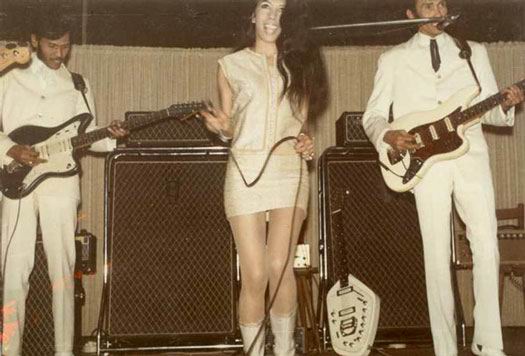 TIELMAN 1966