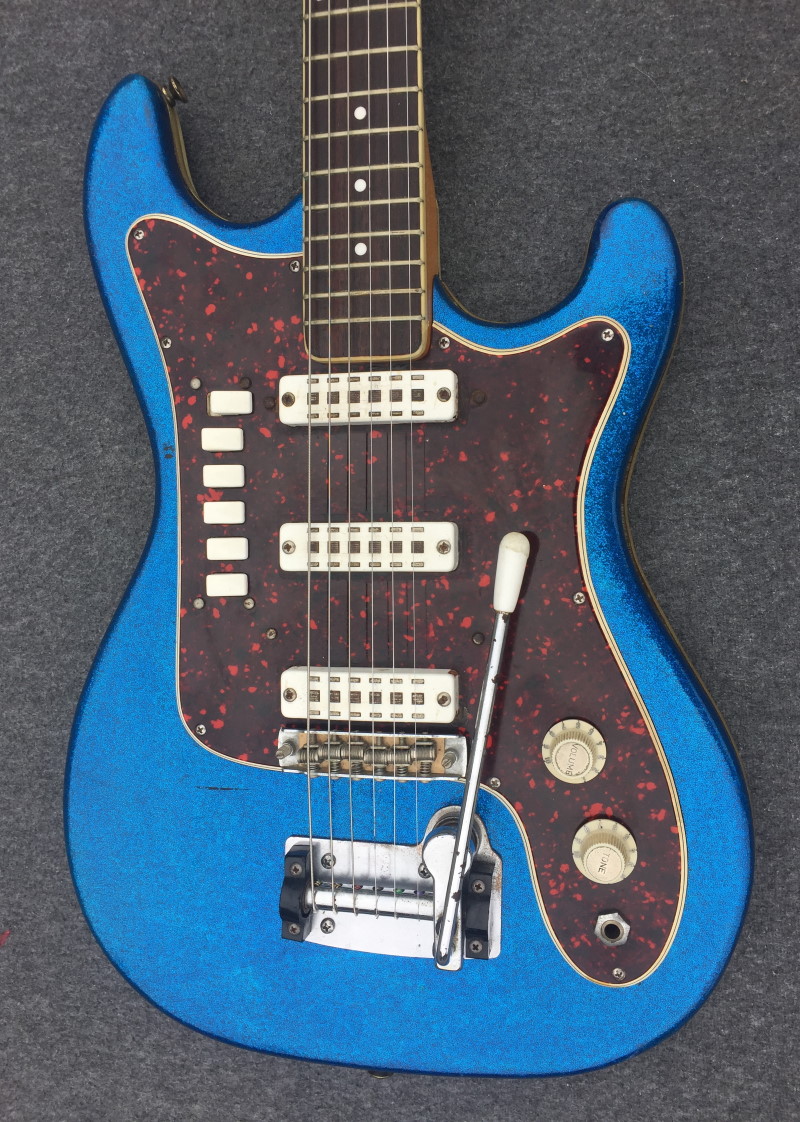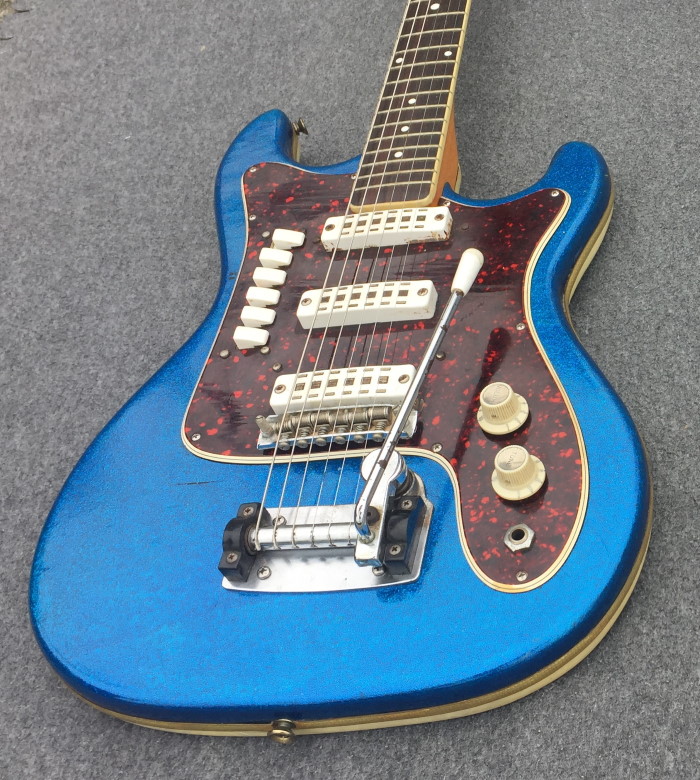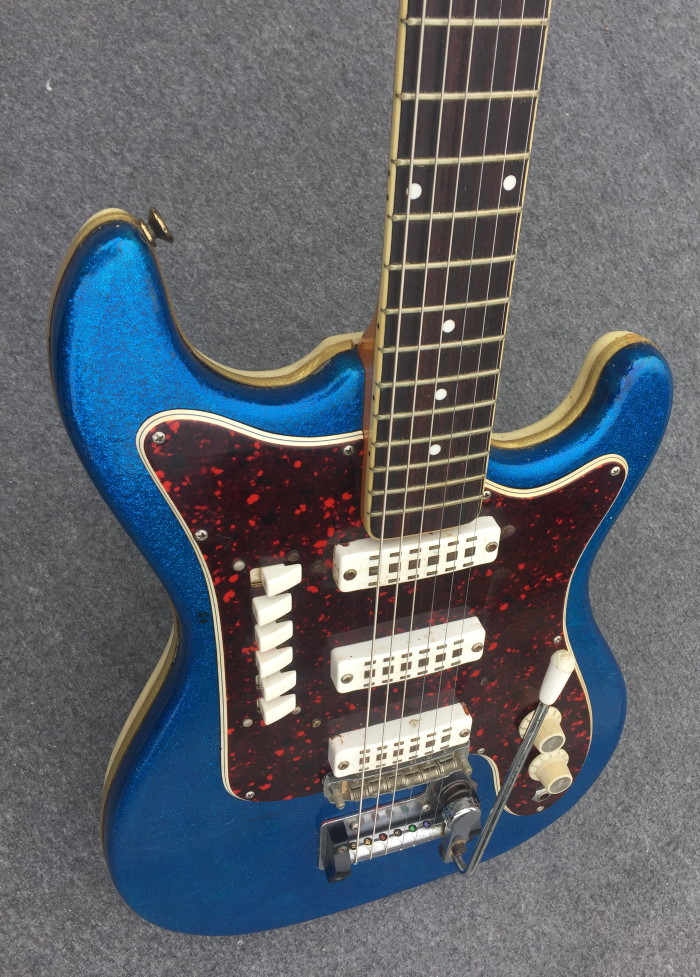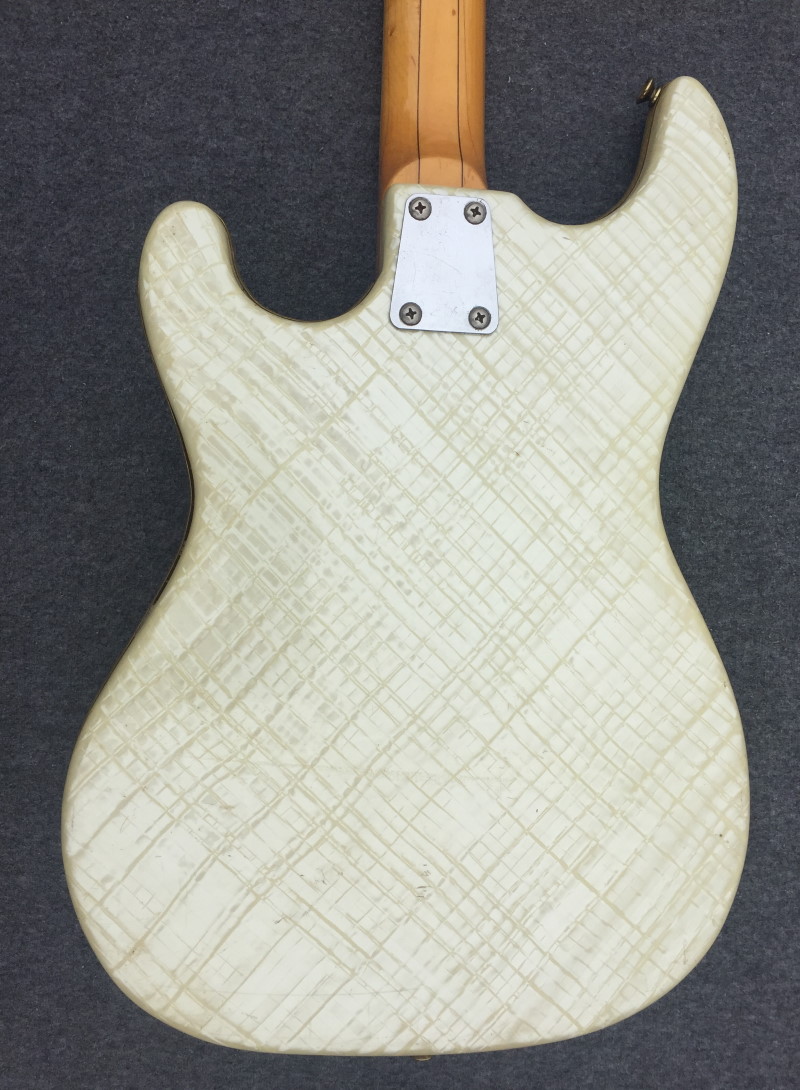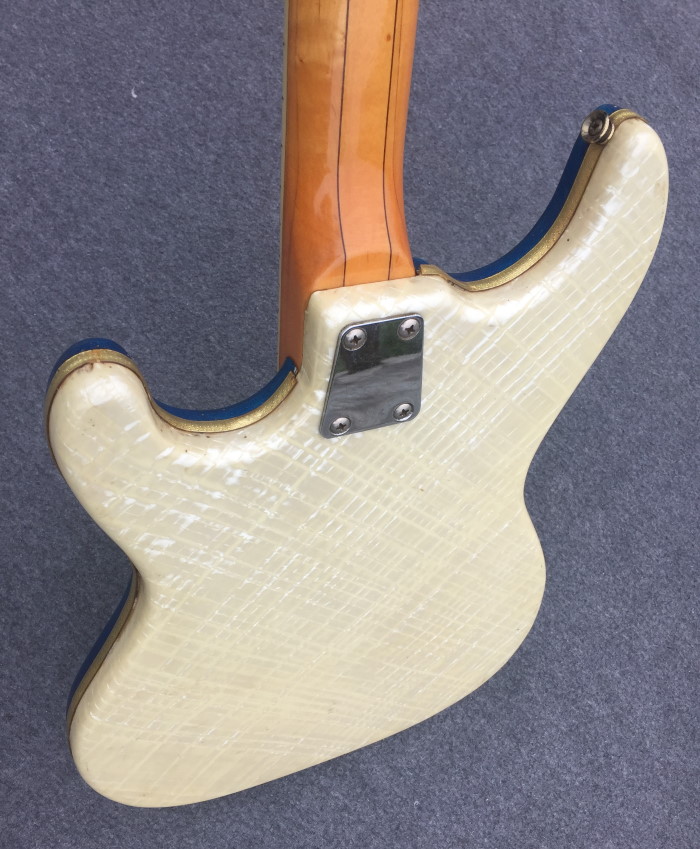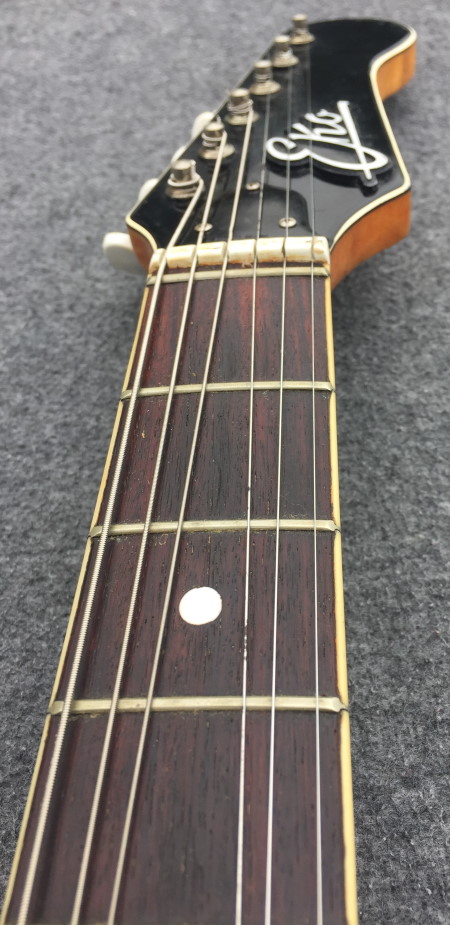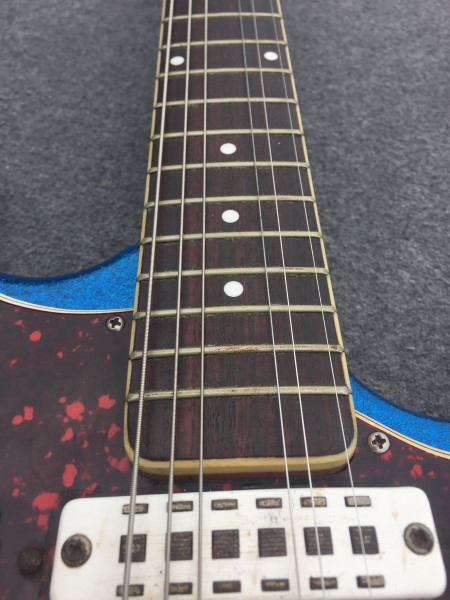 '64 EKO 820 CONDOR Blu-sparkled plastic binding, 3 pickups, Tremolo EX+ code VA79
THE 820 OR CONDOR RANGE WAS STARTED AS A TYPICAL EARLY 60′S EKO SOLIDBODY. AT THE END THOSE GUITARS WERE NO LESS TYPICAL EKO S OF THE LATE 60′S. THE FIRST EXAMPLES ARE CONTEMPORANEOUS OF THE LEGENDARY 500 AND 700, THE LAST ONES BELONG TO THE SAME GENERATION AS THE KADETT. VERY TRANSITIONAL GUITARS INDEED. OFFFERED WITH 2 OR 4 PICKUPS, ALL WITH A TREMOLO TAILPIECE. A THREE-PICKUP OPTION WAS ADDED IN THE FINAL VERSION.
https://www.fetishguitars.com/eko/eko820-condor/eko-800-1964/

They were intended as top-of-the-line instruments with upmarket features: Strat-shaped body made of solid wood (probably poplar), ebony fretboard, bound neck, enclosed chrome Van Ghent tuners. Since the short after introduced Cobra range offered a more exciting design and better ergonomics despite cheaper features the Condor never was a tremendous success. The oldest version is more sought after due to the sparkly top and the perloid back. Once the plastic finish discarded the guitar is not that desirable and attracts less value, except for some custom solid colour finishes (there's a baby blue to get mad for)…

n 1963 sparkle plastic finished guitars were still in demand and the Fender Stratocaster reached a climax of popularity. This was the background to the development of the Eko 820. Actually both trends were going to reversesharply after the 820 release in 1964, and as a consequence it didn't prove to be the expected winning formula. Especially this short-lived celluloid covered first version.

Electronics and controls of the 4V configuration exactly duplicate the last generation of 500 and 700 ranges. Same surface mounted vibrato unit. Pickups are fitted with black surrounds. Body back is either black or perloid white. The back of the neck has a dark greenburst painted finish. A "Made in Italy" banner is printed behind the headstock.

Other than the Strat-inspired body shape and headstock design, the most obvious differences from the 500 and 700 series are the ebony fretboard with a pattern of fret markers Eko was only using previously for its hollow and semi-hollow body models (with smaller dots above the octave) and the nickel Van Ghent machineheads of the same model used for most Hagström guitars of the 60's and all Burns and Baldwin. The 820 is the only one Eko range that was fitted with those tuners from the beginning to the end.

Nel 1963 le chitarre rivestite di plastica perlinata andavano ancora di moda e la Fender Stratocaster era all'apice della sua popolarità. In questo contesto fu progettata la Eko 820. Entrambe le tendenze si invertirono repentinamente dopo l'introduzione nel 1964 della 820 e quindi essa non si rivelò la formula vincente che ci si aspettava. In particolare questa effimera prima versione perlinata.

Nelle configurazione 4V l'elettronica e i controlli sono identici a quelli dell'ultima generazione delle 500 e delle 700. Stesso vibrato con il meccanismo esterno. Cornici nere intorno ai pickups. Retro del corpo nero o madreperlato bianco. Il retro del manico è verniciato in greenburst scuro. C'è il gonfalone "Made in Italy" stampato dietro la paletta.

A parte la forma del corpo e della paletta ispirate alla Strato, le differenze più evidenti con le serie 500 e 700 sono la tastiera in ebano che porta dei segnatasti in una disposizione usata da Eko finora solo per le sue elettriche semi-acustiche (con punti più piccoli partendo dall'ottava in giù) e le chiavette chiuse Van Ghent nickelate dello stesso tipo usato per la maggioranza delle Hagström negli anni 60 oltre che tutte le Burns e le Baldwin. Della Eko la serie 820 è l'unica che venne dotata di queste meccaniche dall'inizio alla fine.