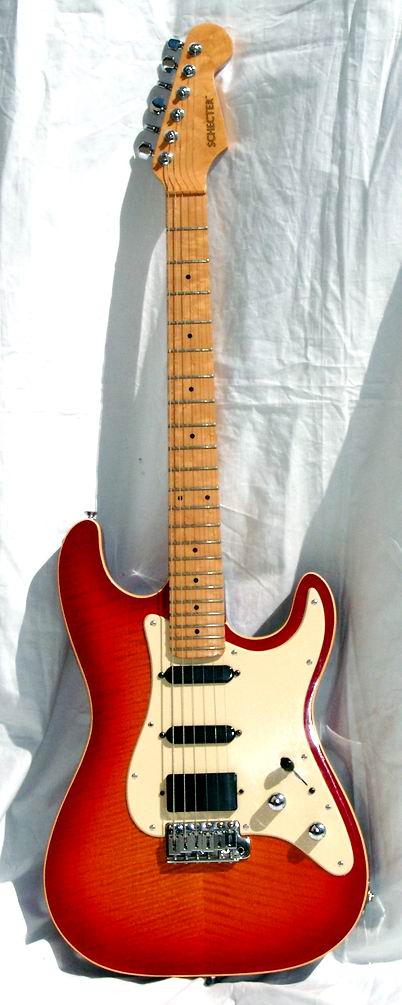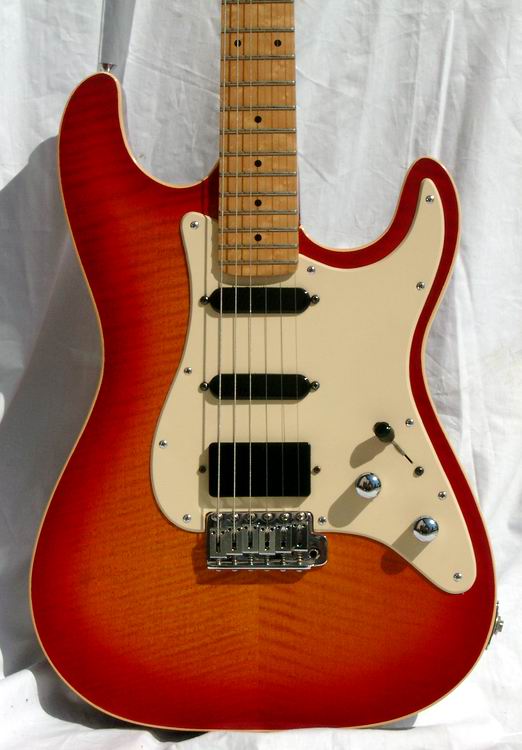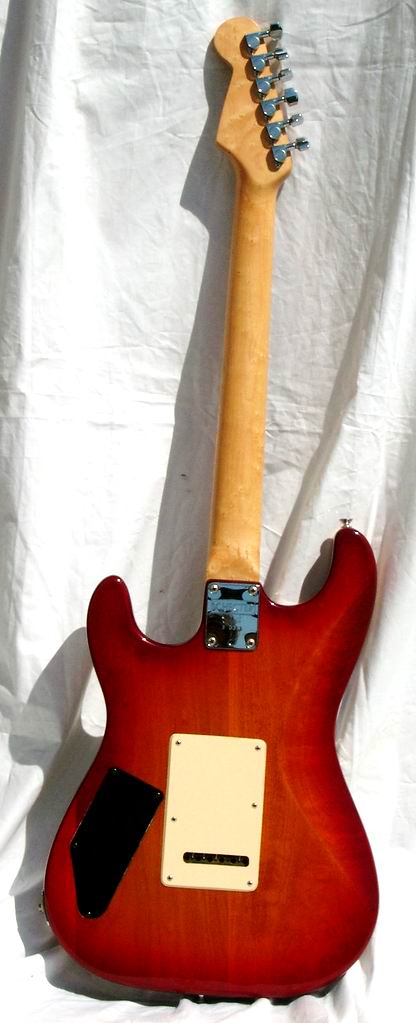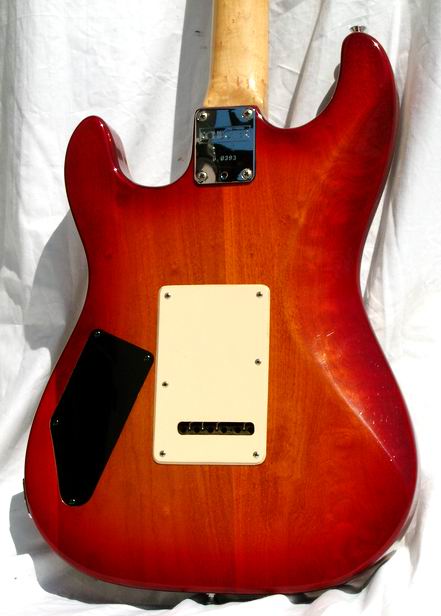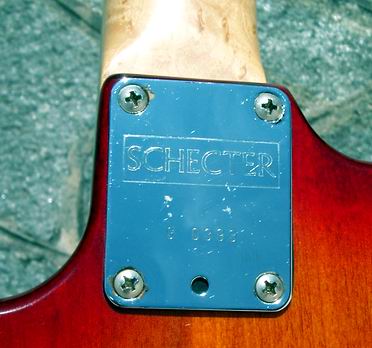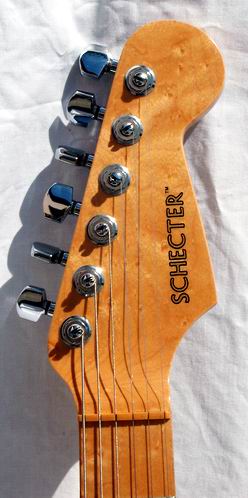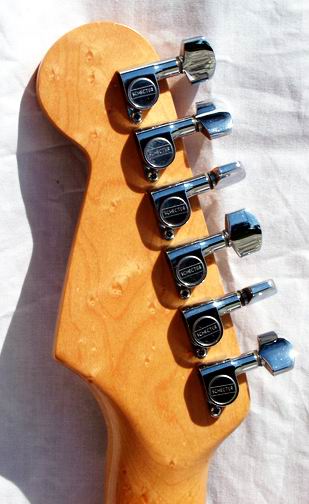 1983 SCHECTER STRATOCASTER SUPER STRAT ~FLAME & BOUND~ Super Rare
VERY highly-flamed maple top in a bursting cherry sunburst finish! The maple neck is adorned with multiple birdseye maple figuring on the front and back! The pickups are all original Schecter and feature a single-single-humbucker configuration. The humbucker is tapped with a push-pull at the tone knob. The guitar is 100% Schecter original and it is in near mint condition! These are getting EXTREMELY RARE and with good reason! They were not a mass-produced line and the will rival any electric solidbody from a player/performance perspective!
Dave Schecter started the company in the early 1970s; he wound up with some financial backing from a company called "International Sales Associates" or "ISA".

In 1977 Shecter was doing well and wound up hiring a young Tom Anderson; Tom did a lot of work with pickup development. At that time Schecter was pretty much a parts company that built small numbers of completed guitars each year; their dealers tended to be shops who had individuals on-staff who could assemble guitars from their parts (places like Valley Arts Music in California and Rudy's Music in NYC - Rudy's builder at the time was another guy cut from the same mold as Schecter and Anderson named John Suhr).

ISA pushed Schecter away from being primarily a parts business that made some completed guitars to being a guitar company that produced some parts. Part of that was setting up a separate entity to produce Schecter guitars in Japan for the Japanese market, and Dave and Tom wound up spending time over there getting this entity set up. Dave got fed up and left early in this process, so the owners decided to move the company from California to Dallas, Texas. Tom didn't want to make the move to Dallas so he left and started his own company which would only make parts from 1985 until sometime in 1988 when he made the decision to no longer sell bodies and necks.

At any rate Schecter stopped supplying parts to those dealers who were doing a good business assembling guitars, so they found other sources (Valley Arts desinged and built their own models, Rudy and John launched the Pensa-Suhr line, etc.) as they focused on just building guitars and selling hardware like pickups, bridges, loaded pickguards, etc. but no more bodies and necks. The company, now without Schecter and Anderson, went bankrupt in 1986 (probably part of this was a cease and desist from Fender to stop using their headstock shapes - Schecter had worked out a license to use the shapes when Schecter was focusing on parts; once they moved to doing finished guitars that ended any deals they might have had).
http://en.wikipedia.org/wiki/Schecter_Guitar_Research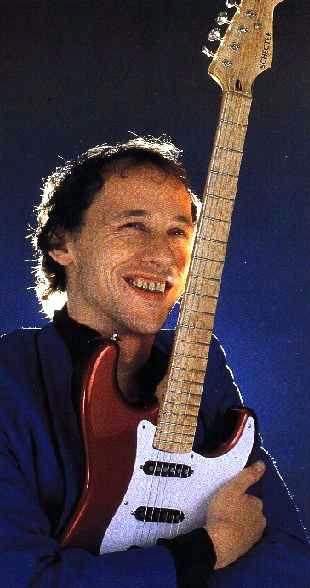 This red Schecter Strat was Mark's main guitar from 1980-85. First it had three original Schecter pick ups, which were later replaced by Seymour Duncan Vintage (SSL1 ?) and then by Seymour Duncan Alnico Pros.Serial No. is S 8218. It has Dunlop frets 6110, today possibly 6105.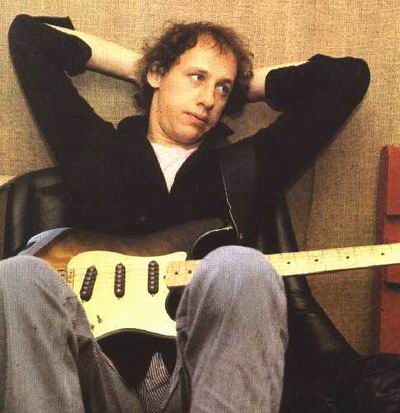 This sunburst Strat was played on Tunnel of Love on the third album. Unfortunately it was stolen.You can easily recognize it because of its dot markers.
This was the replacement for the stolen sunburst Strat.It is without dot markers, the jack is on the side of the body, which is uncommon for Strat-style guitars.Serial No. is S8001.
THE SHECTER HISTORY
The Schecter Guitar Research repair shop was opened in 1976 by David Schecter in Van Nuys, California. This is where it all began for the future guitar manufacturing company. The repair shop manufactured replacement guitar parts and eventually supplied everything you would need to build a guitar but did not build any of their own guitars at that time. Their main customers were custom repair shops and the two big guitar-manufacturing companies, Gibson and Fender.
Finally in 1979, Schecter started making their own guitars to sell to the public. The designs were based on Fender guitar designs and were very expensive to purchase because of the high quality parts and the small amount they made available. Also around this time, Pete Townshend http://www.whocollection.com/pete%27s_.htm from The Who http://www.thewho.net/whotabs/schecter.htm got a Schecter guitar from his guitar tech and immediately liked it. In fact he liked the sound so much that it ended up being his main touring guitar.
Mark Knopfler of Dire Straits was the next high profile artist to discover the Schecter guitar. He ended up with many Schecter guitars over the years and one even sold at an auction for $50,000 in 2004.
In 1983, Schecter ran out of resources and could no longer meet the demand for their guitar. Schecter ended up selling the company to a group of Texas investors who were well aware of the great reputation of the Schecter name and the top quality of their guitars. Knowing this, the new owners expected to make a profit by expanding the operation and moving the company to Dallas, Texas. This unfortunately turned out to be a bad move because most of the original employees wouldn't move to Texas and this eventually led to poor design and quality decisions by the new staff. The guitars that were being produced at this time were being mass-produced and getting a bad reputation for their poor quality.
Even though they were going through this rough time, Schecter did manage to get an amazing guitarist by the name of Yngwie Malmsteen to endorse their guitars. They also released several new models including the Telecaster style guitar that Pete Townshend was using called the Saturn. Their other popular model was the Scorcher, which was based on the Stratocaster design. Even with these new designs and making their guitars more affordable, sales were very poor due to the lack of quality.
In 1987, the company was unloaded to a Japanese entrepreneur by the name of Hisatake Shibuya. Hisatake was no stranger to music and guitars; he also owned ESP Guitars and the Musicians Institute in Hollywood. He moved Schecter back to California and soon brought the reputation of the company back to the way it used to be. The company went back to their old ways of producing high quality, high priced custom guitars. The guitars were also made in fewer numbers and made available to a smaller amount of dealers.
In 1996, Hisatake hired Michael Ciravolo as president of Schecter. Michael was an experienced musician and had been an employee at a guitar shop owned by Hisatake. Ciravolo ended up bringing in some high profile musicians to endorse Schecter guitars including Robert DeLeo (Stone Temple Pilots) and Sean Yseult (White Zombie).
Michael Ciravolo also disliked the Fender style designs, so he developed new designs in the Avenger, Hellcat and Tempest models. He also wanted to produce a more affordable guitar and opened up a factory in Inchon, South Korea to build them. This time though, Michael made sure that they were high quality guitars as well as being mass-produced. The parts were made in the South Korean factory and then shipped to their U.S. shop for the guitars to be assembled. This led to the creation of the famous Diamond Series Schecter Guitars.
The Schecter Guitar Company is still going strong today and is loved by mostly the Heavy Metal, Hard Rock and Alternative styles of music. Some of the most famous guitarists past and present that have used Schecter guitars are Pete Townshend (The Who), Prince, Yngwie Malmsteen, Eddie Vedder (Pearl Jam), Mark Knopfler (Dire Straits), Shaun Morgan (Seether), Robert DeLeo (Stone Temple Pilots), Jerry Horton (Papa Roach), Synyster Gates and Zacky Vengeance (Avenged Sevenfold), Paul Raven (Killing Joke and Ministry) and Sean Yseult (White Zombie).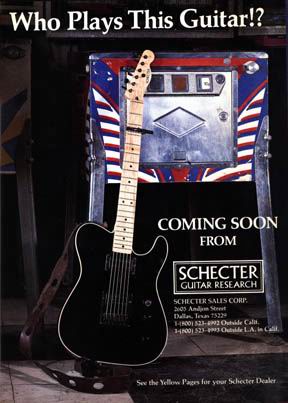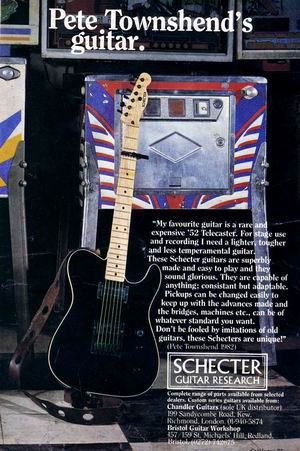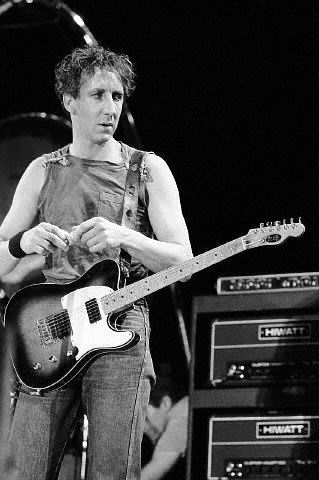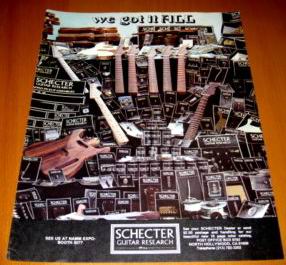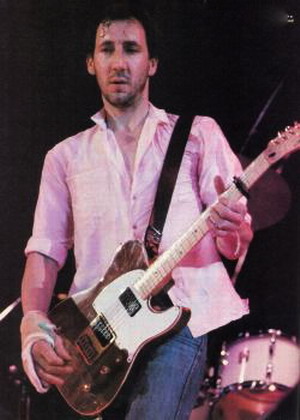 the who pete townshend
http://www.thewho.net/whotabs/gear/guitar/history.html
http://www.whocollection.com/pete%27s_.htm
http://www.whocollection.com/pete%27s_.htm
News (15 November 2011): Christie's auctioned a Giffin/Schecter black guitar, as part of its Pop Culture: Rock and Pop Memorabilia sale, on 15 November 2011. The auction realised £34,850 ($55,865).
N.B.: Pete played the Gold Schecter at Live Aid. He did, however, play a black double-bound Tele at the 8 Feb., 1988, BPI Awards show at Royal Albert Hall.
Estimate £30,000 – £50,000 ($47,700 – $79,500) Realised: £34,850 ($55,865)
Live Aid Pete Townshend
A Roger Giffin/Schecter guitar, no serial number, Telecaster style body in black finish with white binding, single cutaway body, maple neck with skunk-stripe routing, twenty-one fret fingerboard with dot inlays, two humbucking pickups, selector switch, two rotary controls, bridge baseplate
with six adjustable saddles and white pickguard; and a black leather strap and Fender black rectangular hardshell case with red plush lining — Owned by Pete Townshend and used during The Who's set at Live Aid, Wembley Stadium, 13 July 1985; accompanied by a signed letter from Pete Townshend concerning the provenance in which he states After heavy pressure from Bob Geldof, The Who agreed to reform for a one-off appearance at Live Aid.... Our set was 20 minutes... I used my Black Schecter Telecaster on the last two numbers... It was a great day and I'm glad I was part of it. I think The Who are one of the few acts who appeared at Live Aid and Live 8 twenty years later and a letter from Alan Rogan also confirming its useage (5)
Lot Notes
In one last push to promote the concert Bob Geldof, together with promoter Harvey Goldsmith, went live on BBC Radio 1, to announce to the world that Live Aid would take place on 13 July, just weeks away. Billed as 'The Global Jukebox', the event would feature two main concerts, that would run more or less simultaneously in the United States and at Wembley Stadium in London. During the same broadcast, Geldof regaled listeners with a list of artists who would definitely be performing on the day. The list was impressive but what listeners didn't know was that a large number of the artists hadn't yet agreed to perform — some of them were yet to be even contacted. Moreover, seconds before the broadcast began, he had been told that his team had just got through to representatives of The Who to discuss their involvement — for Geldof that was enough — he finished his set-list announcement by declaring he'd just been informed that The Who were reforming especially for the concert. On hearing the news both Roger Daltrey and Pete Townshend separately called Bob's people to find out just what the hell was going on. The reunion of The Who proved to be a major draw for ticket sales, and would eventually be deemed as one of the highlights of the show, by those present.
This is one of Pete Townshend's Schecter guitars used in early 1980s. Schecter started off as after market parts/kit guitar makers in the late 70s and this guitar was put together by the then Surrey based luthier Roger Giffin, using Schecter parts. The guitar bears Giffin's name on the headstock. It is understood that Pete Townshend at one stage had a dozen of Schecter guitars for stage use put together by Giffin: a half a dozen or so of them bearing his name on the headstock as well as another half dozen with a Schecter logo on the headstock.