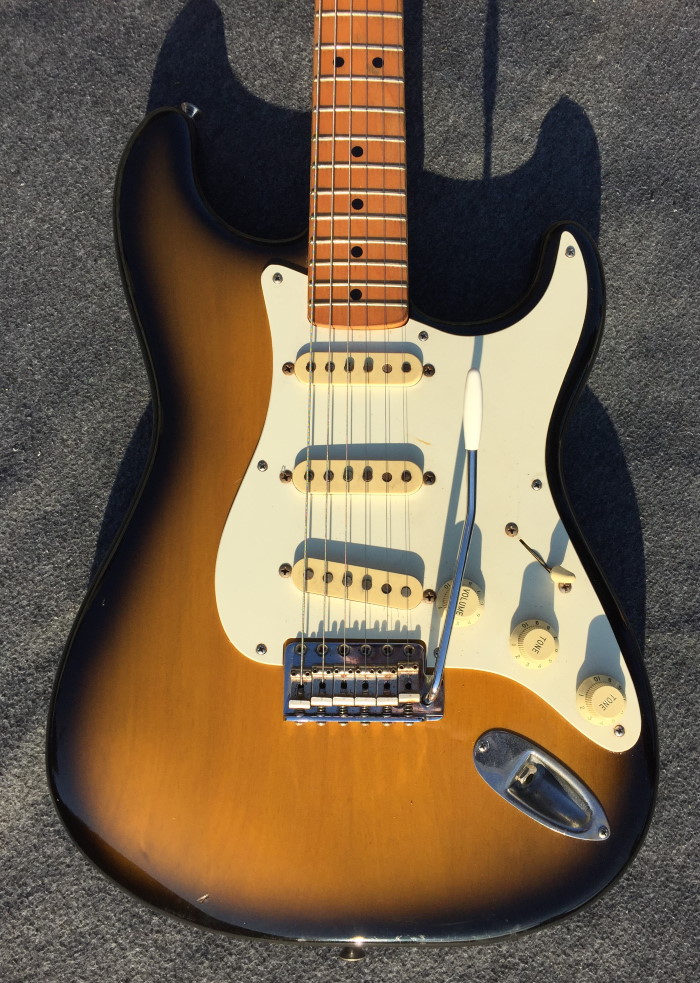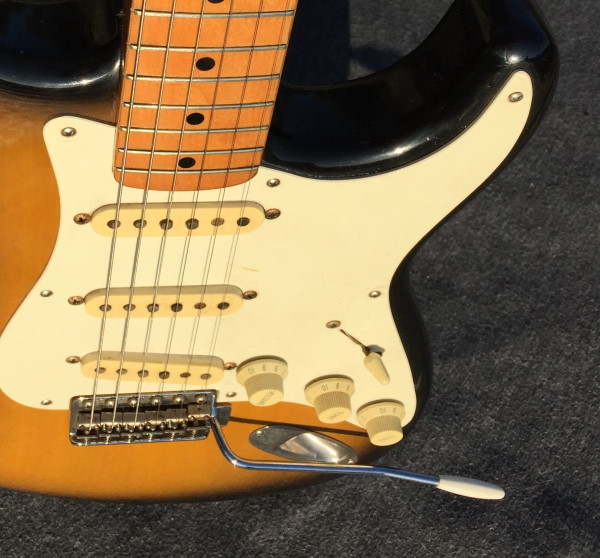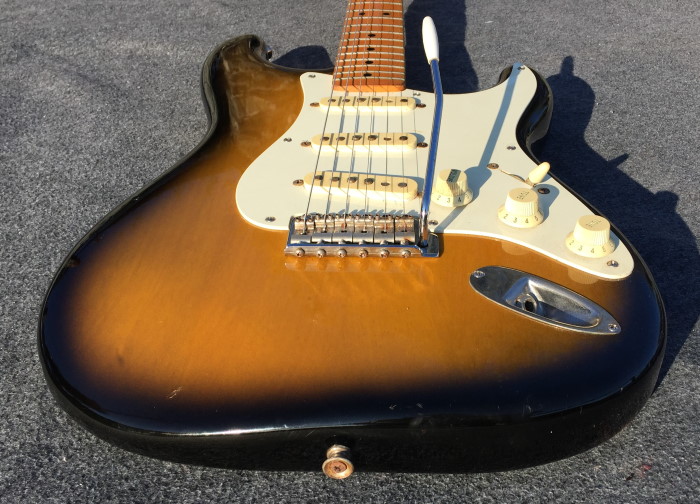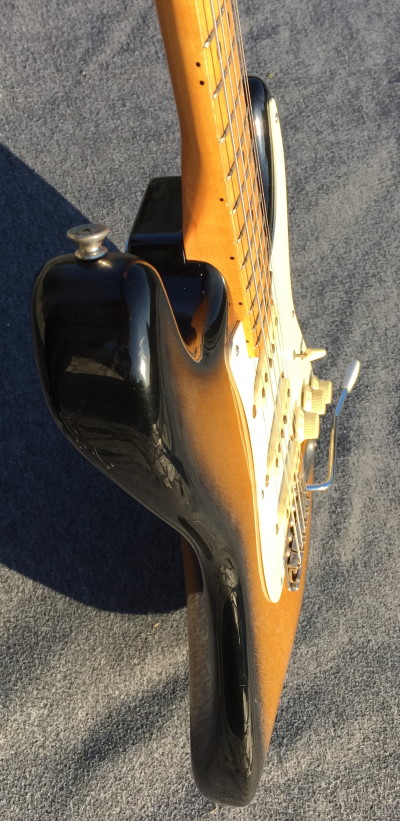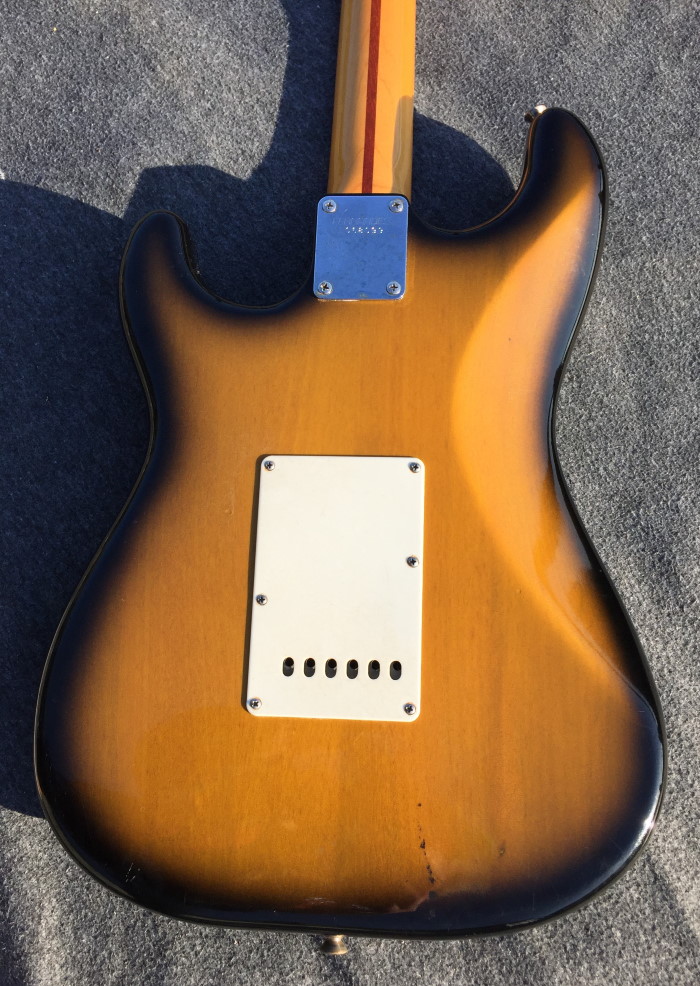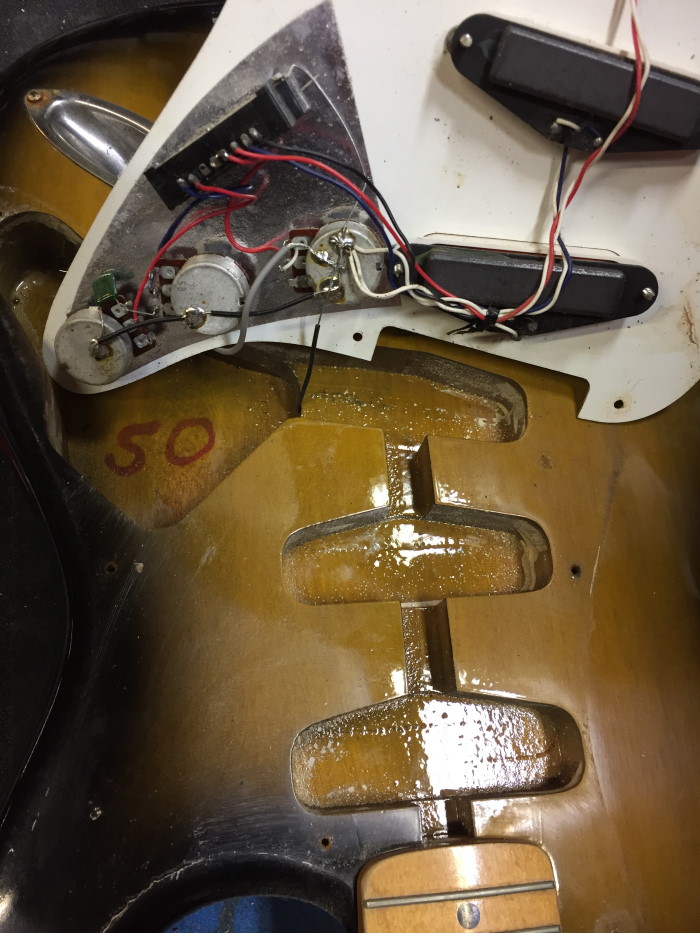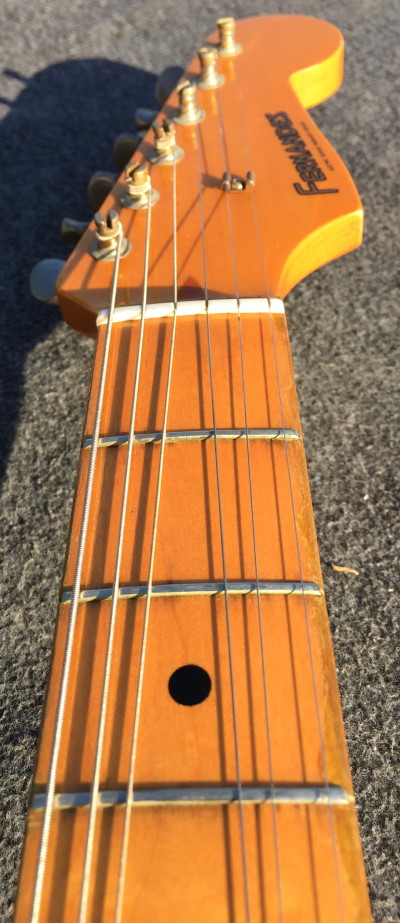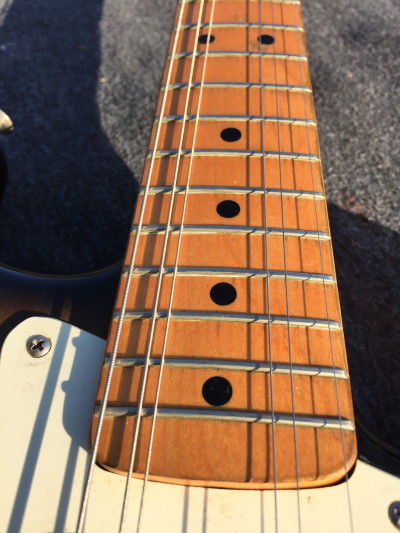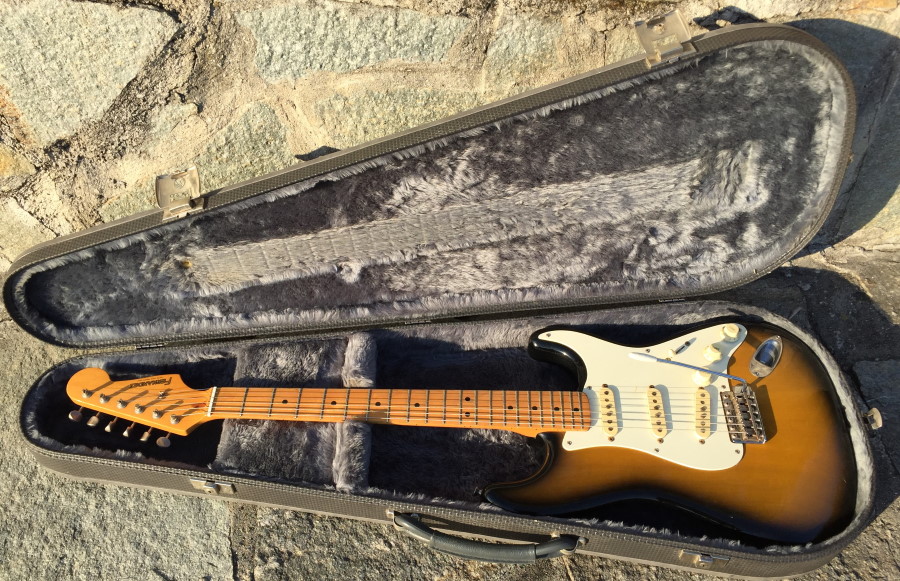 81' FERNANDES RST 50 Stratocaster Made in Japan Two Tone Maple Neck Code VA51
This guitar is so very Cool! Fast and sweet neck, with perfect action! Simply a Cut above the rest, Vintage Japanese 70's style Strat 3 Sigle Coil Pickups VS-1 Guitars of the highest quality, were even used by three sacred monsters such as Joe Walsh of the Eagles, Robert Fripp of the King Crimson and Steve Hackett of the Genesis. Fernandes copies of Stratocasters are widely regarded as BEST of the USA Stratocasters of that time!
Musicians using Fernandes
Billie Joe Armstrong of Green Day with his Fernandes Stratocaster live in 2010 Heath of X Japan with his signature Fernandes bass guitar in 2011
Brad Gillis of American rock band Night Ranger and former Ozzy Osbourne guitarist had his own Stratocaster-type model that was red with a black pick guard. Gillis still uses his Fernandes guitar as his main guitar when he performs in concert with Night Ranger. Billie Joe Armstrong of American punk rock band Green Day had a Stratocaster since he was 10 named "Blue" from his mother, and has played it live[4] for nearly every show he has played, near exclusively used for all songs in Eb tuning.The Edge of U2 has started using a Sustainer to play With or Without You when playing live.
Heath of Japanese heavy metal band X Japan uses his signature Fernandes model FJB-115H bass guitar almost exclusively. Previously he used several Burny guitars, including his signature model DB-85H. hide of Japanese heavy metal band X Japan used Fernandes guitars almost exclusively. He has numerous signature models with the company. Hidehiko Hoshino of Japanese rock band Buck-Tick uses Fernandes guitars almost exclusively. He has had several signature models with the company. Hisashi Imai of Japanese rock band Buck-Tick uses Fernandes guitars almost exclusively. He has several signature models with the company.Tomoyasu Hotei of Bo°wy and solo fame was one of the leading Japanese artists to front Fernandes in the mid-80s onwards, launching several versions of the TEJ model guitar. You of Japanese hard rock band Dead End has his own signature model with Fernandes. Steve Hackett, formally of Genesis and GTR, has used Burny guitars with sustainer units (one black and one gold) since his 1999 Darktown album. They have since replaced his previous stock Les Paul guitars as his electric guitar of choice for every album and live show since then.Tony Campos of Fear Factory, Asesino, formally of Static-X and Soulfly, has his own signature model Tremor 5 Deluxe and Tremor 5X. Dave Kushner of Velvet Revolver, Wasted Youth, and DKFXP uses Fernandes Ravelle Signature guitar. Kasper Eistrup of Kashmir, Danish Band, has used a Fernandes Telecaster with a Fernandes Sustainer kit for several years, and has since acquired another black Fernandes Telecaster, as well. Tobias Forge of Ghost. Kirk Hammett of Metallica used a Fernandes Stratocaster, seemingly an EMG equipped FST-135 nicknamed "Edna", for clean parts on some of the early Metallica albums such as Ride the Lightning as well as live on early tours. He also used a red 1985 STJ-70. Kurt Cobain of American grunge rock group Nirvana used a Fernandes Stratocaster neck on a Fender body during their live performance at the Paramount.