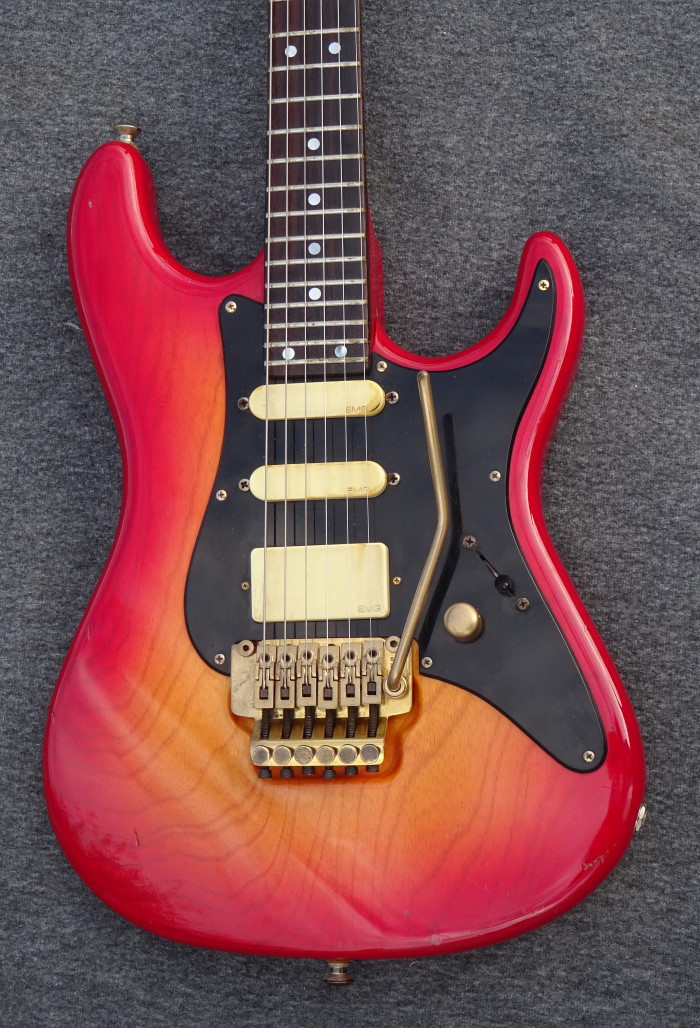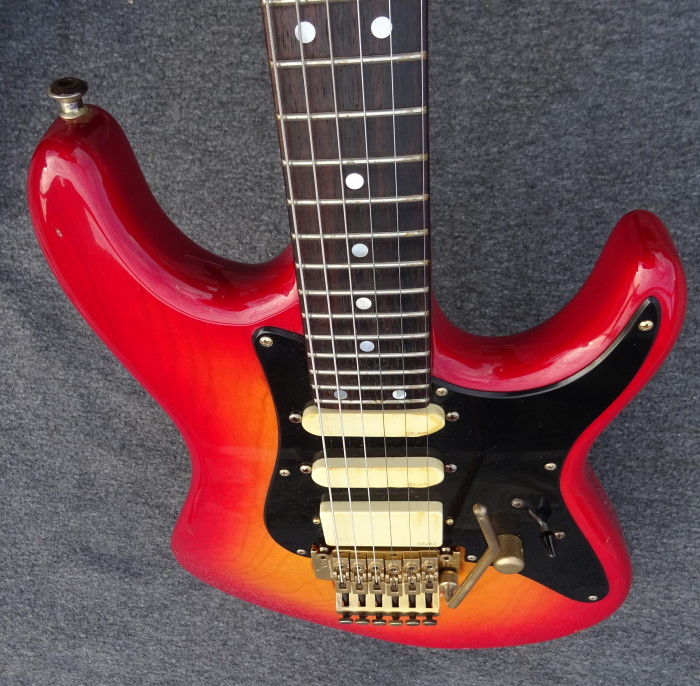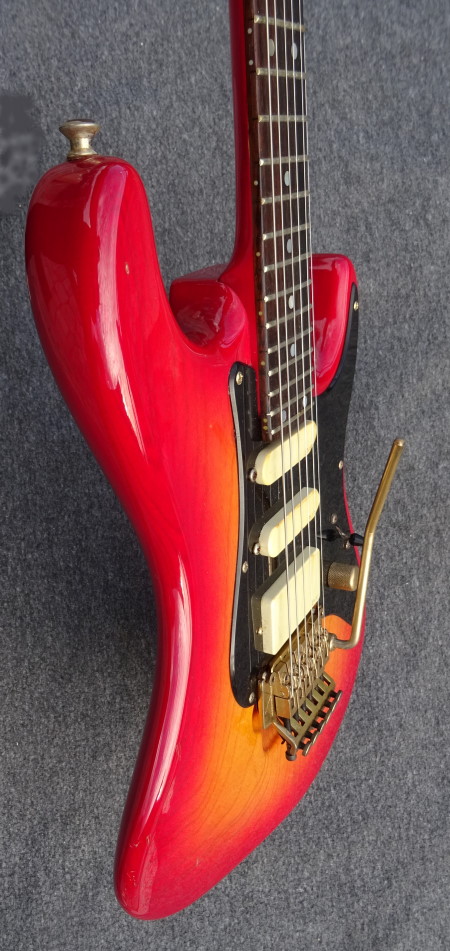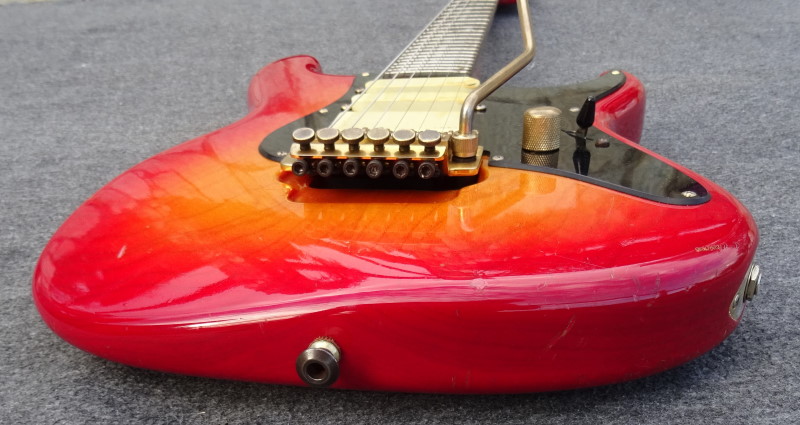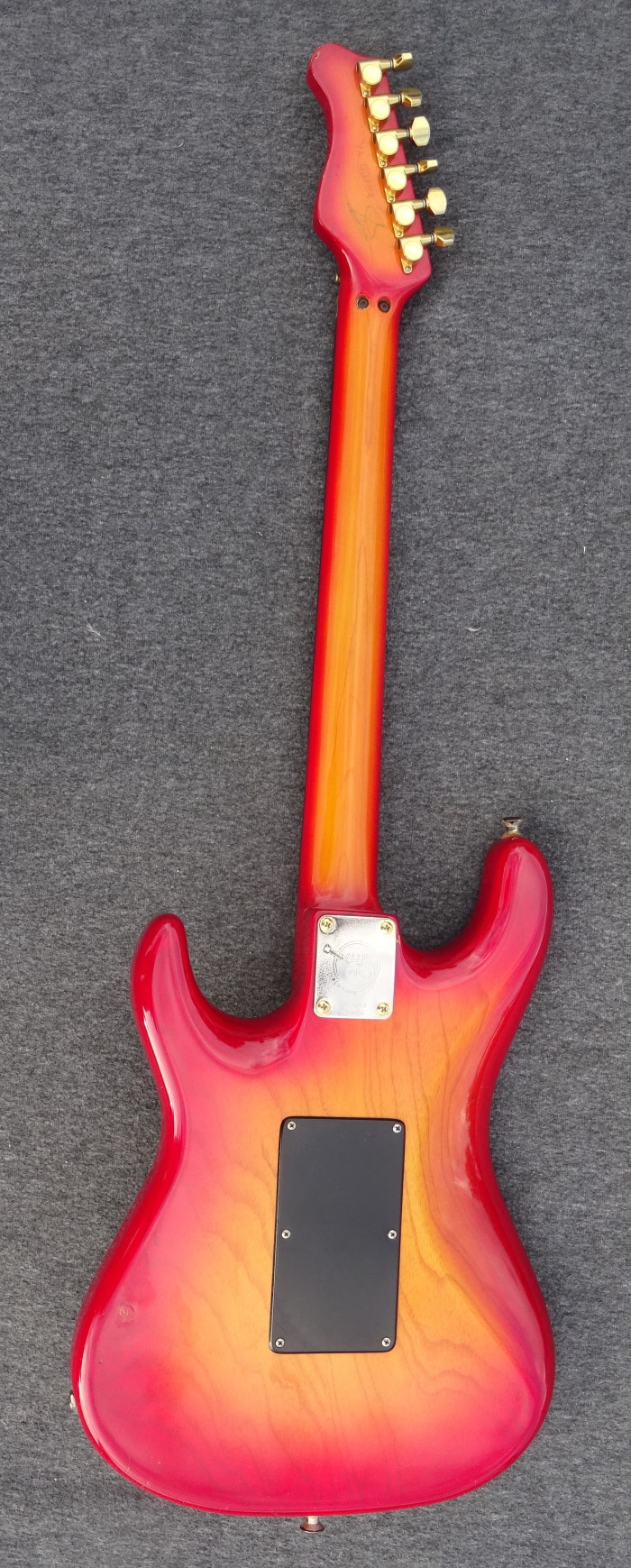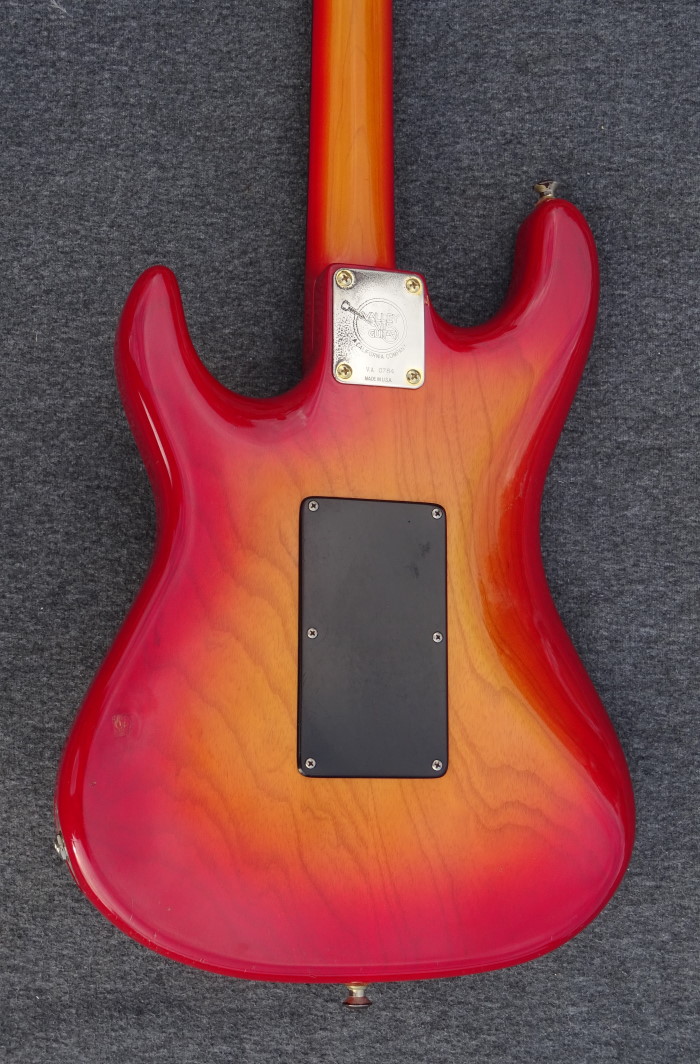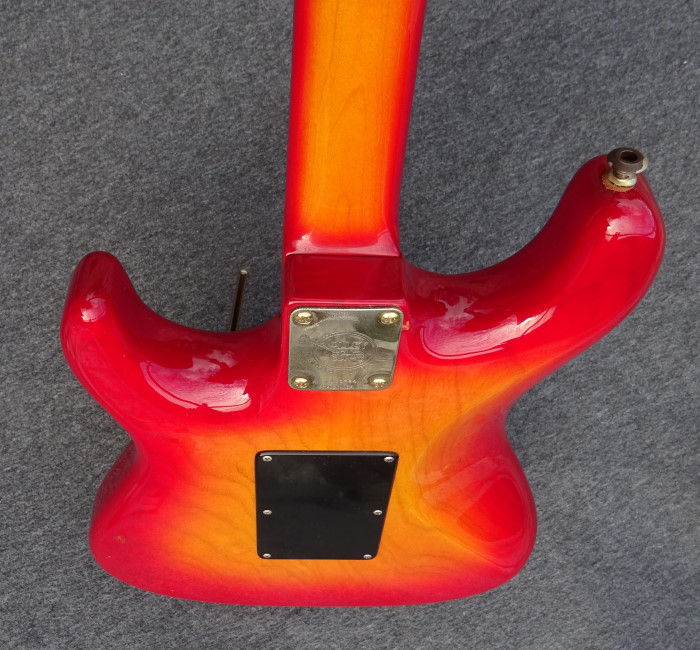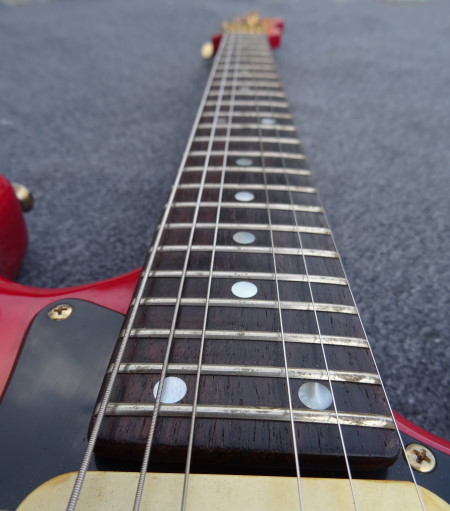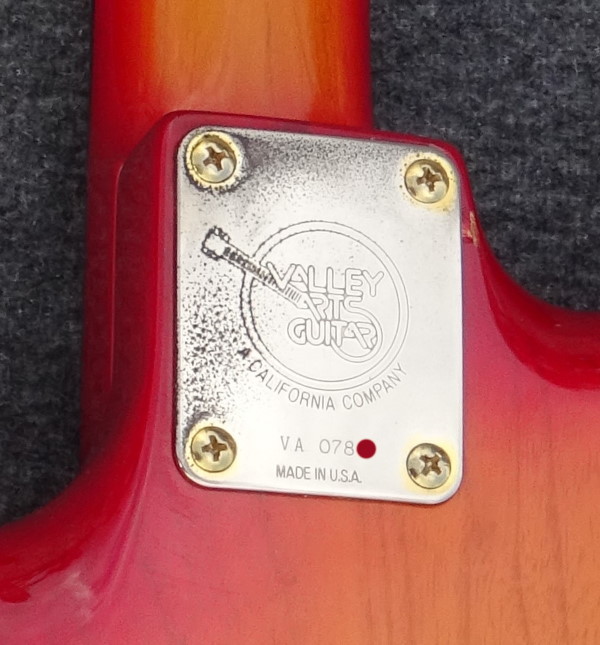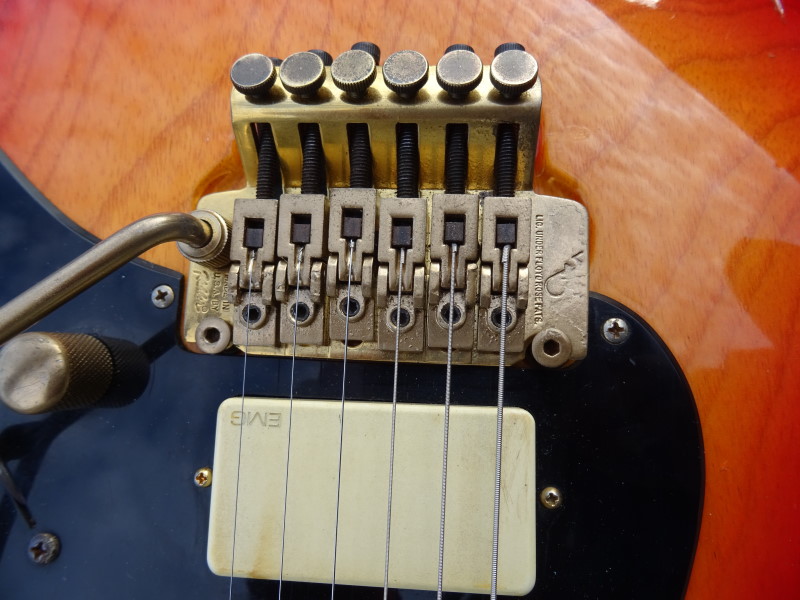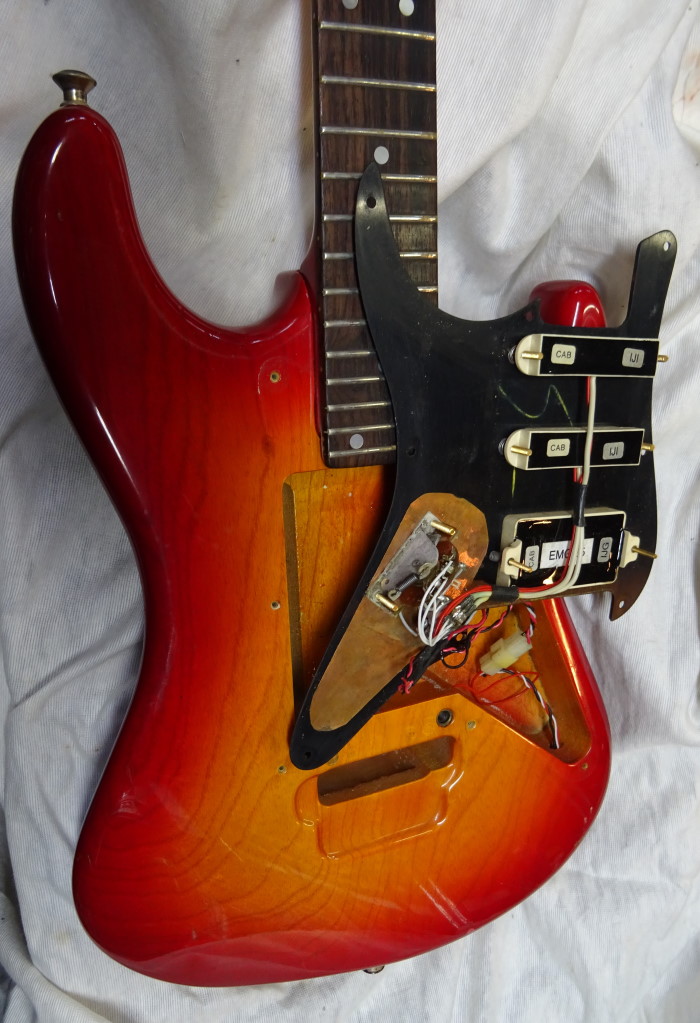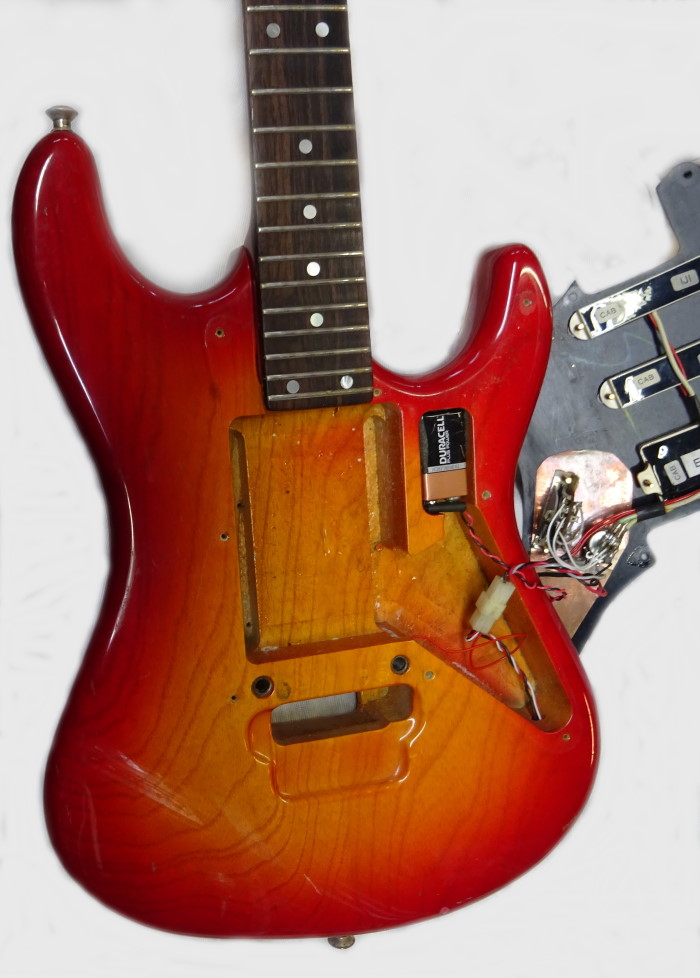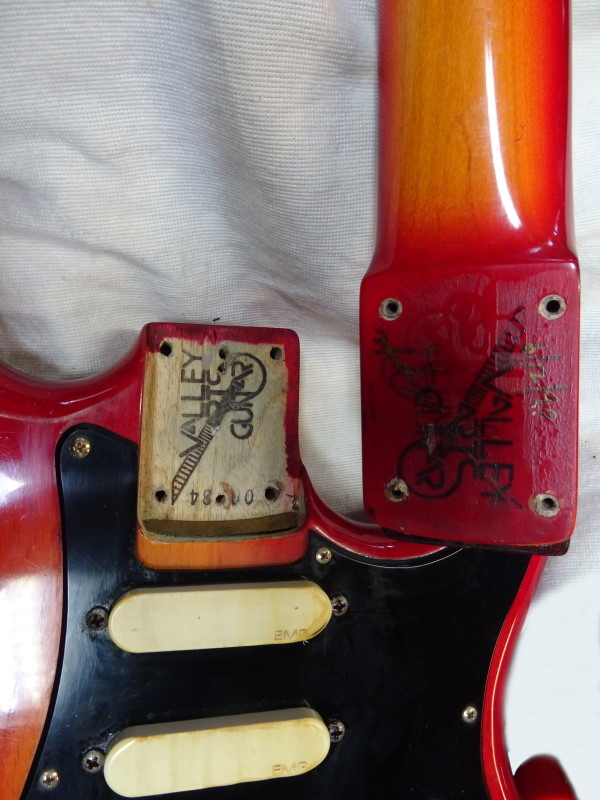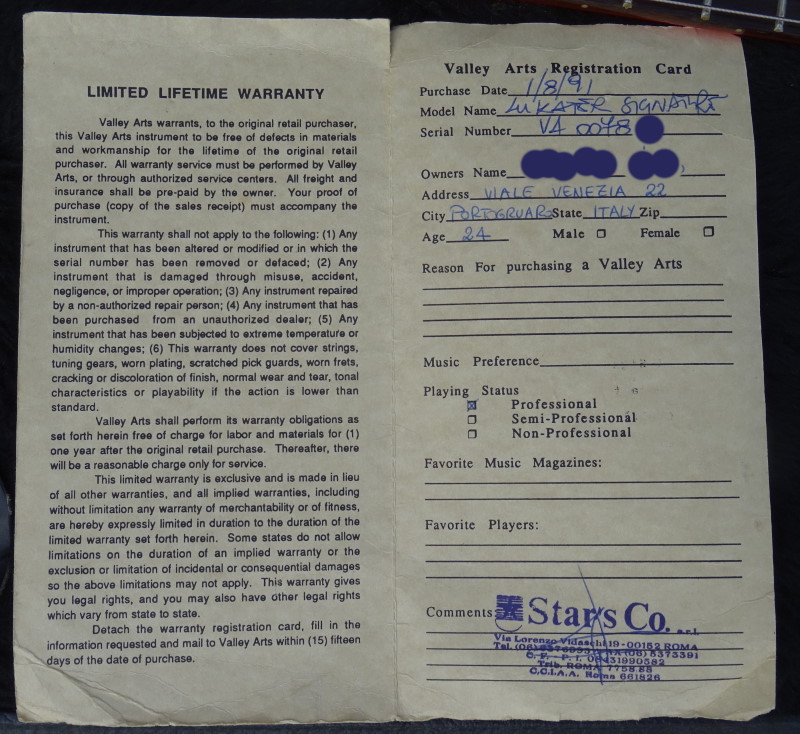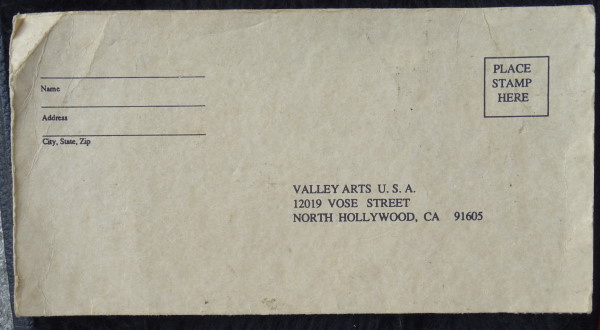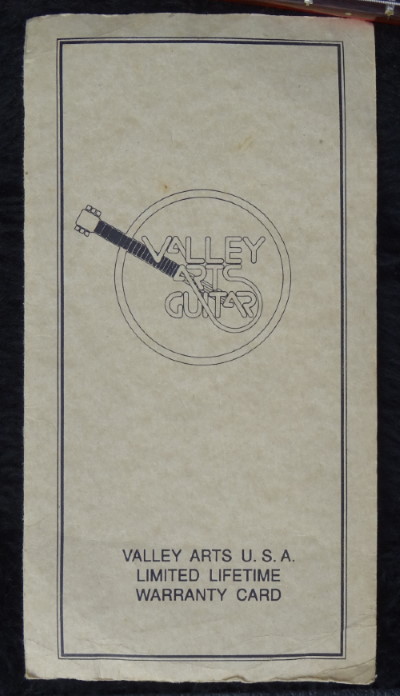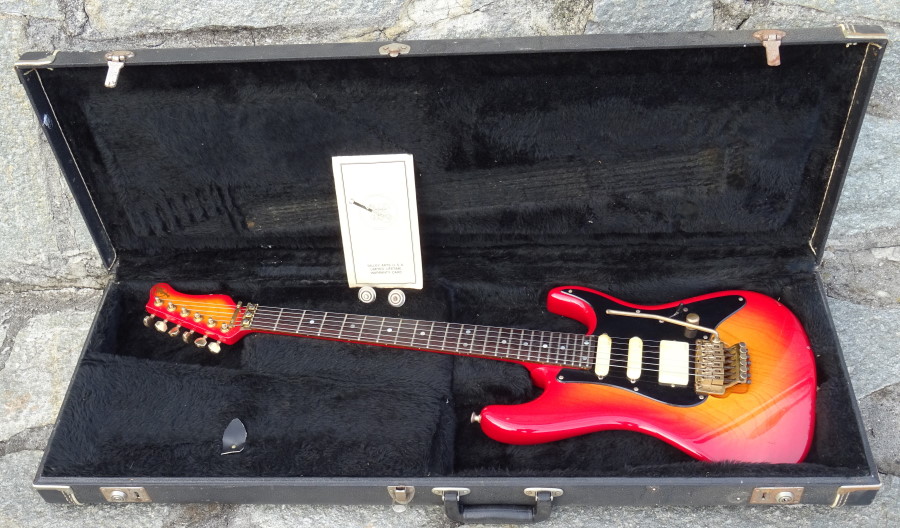 VALLEY ARTS CUSTOM -PRE SAMICK- Sunburst, Ash Body, EMG Set. All Original , super fast neck with low action, very good frets. One of the rarest and most desirable models code VA476
Steve Lukather Model Signature Series Limit Editions
Hand Signature
Full size body and 25 1/2″ scale neck, also 24 Fret with 24.75″ scale
Swamp Ash body wood
Fireburst paint job
Birdseye Maple neck
Rosewood or Ebony fingerboard
1 11/16″ nut width
Gold Hardware
VA/Gotoh tuners
VA/Floyd Rose Kaller bridge
EMG SA/SA/85 pickups
Cream or Black pickup color
Single/Single/Humbucking configuration
Volume and 5-way switch controls
Black pickguard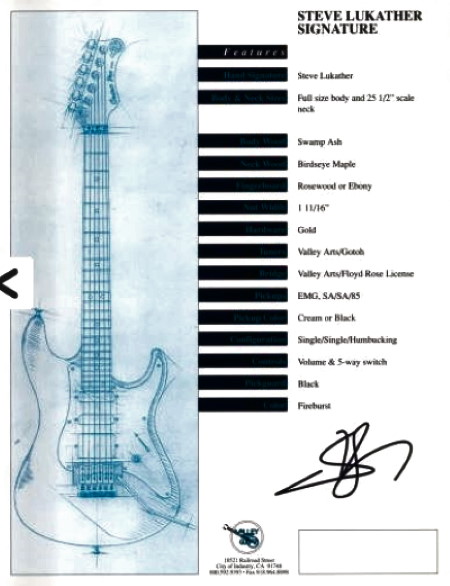 Steve Lukather`s is one of few signature models produced by Valley Arts. It is a solid and double-cut guitar with a bolted neck. This six-stringer shares the signature series with Larry Carlton Custom model. Steve Lukather Signature features vintage Strat design with gold-plated hardware, standard 25-1/2" scale and 24-fret fingerboard. Body of this model is made of swamp ash. It is available in Red with high gloss finish. Bridge section on this model is equipped with a double-locking tremolo bridge with six saddles and gold plating. Pickups in it`s front are active and installed in H/S/S pattern. EMG 85 is in the bridge and two SA singles are in the middle and neck positions. Maple neck is topped with a 24-fret rosewood fingerboard. Instruments produced in City of Industry, California since 1993. Previous production was based in North Hollywood, California from 1979 to 1993. Distributed by the Samick Music Corporation of City of Industry, California.Valley Arts originally began as a North Hollywood teaching studio in 1963. The facilities relocated to Studio City, California and through the years became known as a respected retail store that specialized in professional quality music gear. Production moved back to North Hollywood and into larger facilities in 1989, and luthier/co-owner Michael McGuire directed a staff of 15 employees.
In 1992, the Samick corporation became involved in a joint venture with Valley Arts, and by June of 1993 had acquired full ownership of the company. Samick operates Valley Arts as the custom shop wing for the company, as well as utilizing Valley Arts designs for their Samick production guitars built overseas.
Valley Arts was the legendary custom guitar line and "pro shop" guitar store whose client list was once a who's who of Los Angeles guitarists, from Larry Carlton to Lee Ritenour to Tommy Tedesco, among others. Valley Arts had its origins in a music store owned by guitar teacher Duke Miller, whose students included McGuire and Carness. "Duke was more than a teacher," McGuire said "He was more like a mentor, and he really nursed me along through the years. He got me my first teaching job at a store in Pacoima, California, called Music World. I was 15 at the time. Eventually I started teaching and working for Duke at his place, and at that time we started a little store, Duke Miller's Guitar Center in North Hollywood."In the late 1960s, McGuire went into the U.S. Navy, and while he was in the service Miller asked him if he wanted to buy into the business. McGuire accepted. In the meantime, Al Carness had been going to school and playing guitar in a band that was billed as the Surfaris (of "Wipe Out" fame). They were not the Surfaris, actually, but the agent for the Surfaris routinely double-booked the band and then sent Carness' group out as impersonators. Around 1969, Carness joined with McGuire and Miller in the store partnership, and by 1971, Miller was ready to move on."Duke was really an educator," McGuire said. "He wanted to write books, and he accepted a teaching position at the University of Southern California as jazz music director, so at that time he sold the rest of the business to Al and Me. After about a year we changed it from Duke Miller Guitar Center to Valley Arts.""It was a very small music store," Carness recalled. "It was mostly teaching, with some repair. Mike kind of gravitated toward repair and I gravitated toward the business side. Everything was always focused on the player and the service."Around 1973, they moved from the original location on Laurel Canyon Blvd. to Ventura Blvd. Initially they focused on teaching, and the teaching staff eventually grew to include 12 full-time teachers. McGuire also began learning how to repair guitars."I started going over to a guy named Jack Wilock," he recalled, "who was absolutely the best old repair guy in the world. I would go over there every morning and he would teach me stuff. I would clean up his shop and he would show me stuff and let me work on some things. Then I would go back to Valley Arts, and Al and I would open it up. I did that for several years, all the time taking in some repair work at the shop. All the time it kept evolving."We started getting a good reputation for repair and modifications," McGuire added. "I think one of the major turning points was when Larry Carlton walked in the store. I remember he brought in an old Gibson SG. I knew that it wasn't his main axe. Everybody knew what he played. I think it was kind of a test. He said, 'I'd like to get this refretted,' and he sat on the stool and waited. Talk about being intimidated."Larry really helped me understand what was really needed in a good guitar tech or repair guy. He explained to me that when his guitar was in that shop, he wasn't making any money with it. He needed it done now and done right. I think that was what made me so conscious of details. Larry could hear things that I couldn't hear. 'You hear this? I can't have that.' That kind of thing."And then things mushroomed. Having Larry come in, the word spread pretty quickly. Every Saturday, the guys would come up in the repair shop above the store. That was like the Saturday tradition – pizza at Valley Arts." The Valley Arts clientele grew to include Tommy Tedesco, Steve Lukather, Robben Ford, Mitch Holder, Mundell Lowe, Al Viola and one of McGuire's main influences, Duane Eddy.
Lee Ritenour, another of Duke Miller's former students, was a frequent visitor to Valley Arts, and he had the distinction of being the champion "sack reader." The store's paper sacks were printed with a piece of music, and they offered a free set of strings to anyone who could sight-read it. "Lee burned it," McGuire said. "Nobody could play that. Tedesco, who's one of the monsters, could kind of fumble through it, but Ritenour was on it. I was standing right there, I can remember it vividly like it was yesterday."Ritenour, who now has his own Gibson Custom Shop model, left a lasting Valley Arts memory with Al Carness, too. "We did a little get-together at the store, and Lee and I played together," he said. "I had learned this really cool chord-melody version of 'Shadow of Your Smile.' I thought I'd really impress Lee, but he just blew me away."Around 1977, McGuire built his first guitar from scratch. It was similar to a Fender Stratocaster, but with a quilted maple body and a birdseye ebony fingerboard. He thinks Larry Carlton ended up with it. By 1983, demand for new Valley Arts guitars had grown to the point that McGuire opened a separate manufacturing facility on Vose St. (just south of Sherman Way in North Hollywood) that eventually employed 35 people."We really developed a lot of things," he said. "I had the opportunity to try every single pickup going. I had a quick disconnect in Larry Carlton's guitar so we could put these things in and out and try them. We came out with the Steve Lukather model and the Larry Carlton model. The Custom Pro model was the top of the line. You could pretty much get it made any way you wanted it. We came out with the California Pro. These were pretty much full-sized Strats, mostly in pastel colors – faded coral, lemony yellow, stuff like that. But still everybody was wanting something less expensive, so we finally came out with the Standard Pro. We also did a version of a Telecaster, with a carved top and herringbone binding that we called the Mickey, after my son Mickey, who was with me doing the painting. And still is." (Mickey McGuire currently works in the Custom Shop's finishing department.)Valley Arts also developed a 7/8-size guitar, initially in response to guitarist Jay Graydon's push for a Strat with a Gibson scale (24 ¾ inches rather than the 25 ½ inch Fender standard). All of the options in the new Valley Arts line are available on a 7/8-size guitar.Although the Valley Arts name came to be synonymous with custom guitars, the "cash cow," according to McGuire, was the retail store. On the day after Christmas,1990, the cash cow was destroyed by an arsonist. "We were right next door to a Pier One import store," McGuire said. "This bum was walking along and threw a Molotov cocktail into Pier One and burned it down. We were horribly underinsured – about 20 cents on the dollar. It was devastating because we were right in the midst of expanding production and we needed the money badly."Unable to recover, McGuire and Carness sold the store to a San Francisco chain and in mid-1992 took on a partner in the manufacturing business. Samick, the giant Korean instrument maker, bought 50 percent of Valley Arts, leaving McGuire and Carness 25 percent each. McGuire became a consultant and was supposed to spend six months of every year in Korea. "Well, after the first trip over there it didn't take me long to figure out, man, that really sucked," he said. "It was like purgatory for me, because I had a family. It was just a nightmare."McGuire had known Gibson owners Henry Juszkiewicz and Dave Berryman since their acquisition of Gibson in 1986, and he ran into Berryman in Korea, where Berryman was on a buying trip for Gibson's Epiphone brand. Gibson was getting ready to expand the Custom Shop into a standalone division, and McGuire came on board as production manager, moving to Nashville in October 1993.Carness had a similar experience with his new partner. "They downsized my position," he said. "I was in charge of international sales, and they wanted me to be a Samick sales rep." When he turned that down, he was offered a job in the shipping department. By mid-1993 he had left Samick to work for Gibson as sales rep for the southern California territory. In 1996 he moved to Portland, OR, to work for AMIC, which handled Akai, Jackson and Charvel products. In October 2002 he moved to Nashville to join Gibson's bluegrass division. Coincidentally, Gibson had been working to acquire Valley Arts. On December 3, 2002, less than two months after Carness' arrival, Gibson dropped a piano from a helicopter into a parking lot in downtown Nashville, marking the opening of the new Valley Arts store. (The piano drop also symbolized the end of the old piano era as it commemorated the opening of Gibson's new Baldwin Piano Showcase, located a stone's throw away from Valley Arts.)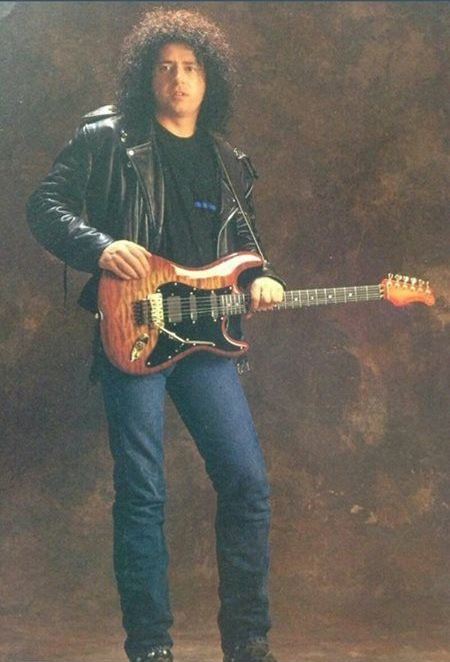 https://www.youtube.com/watch?v=eJc2PzzC4Q
https://www.youtube.com/watch?v=VCLilkHeg38
https://www.youtube.com/watch?v=2BXdqDOzQGw
https://www.youtube.com/watch?v=HDsLbrRnEd4
https://www.youtube.com/watch?v=99qAyKqHGZY
https://www.youtube.com/watch?v=0Viy42rl4Ao
https://www.youtube.com/watch?v=35NbH_iM4aA
https://www.youtube.com/watch?v=3lV11Y5kmLA
https://www.youtube.com/watch?v=92rcHgohc5k
The Valley Arts Story http://www.stevelukather.net/Gear.aspx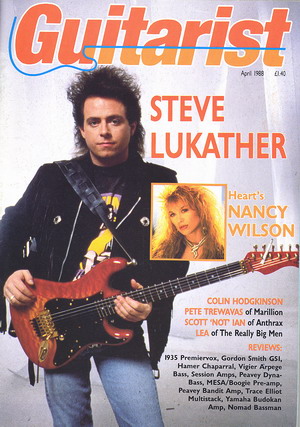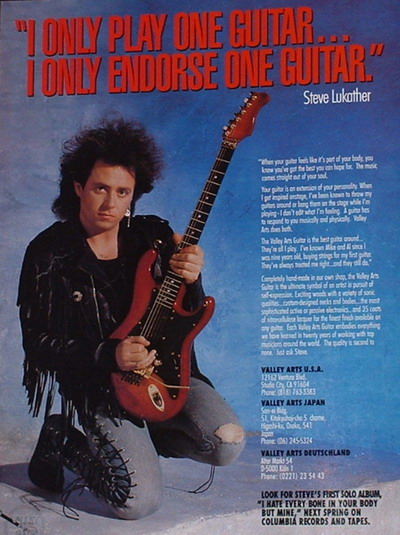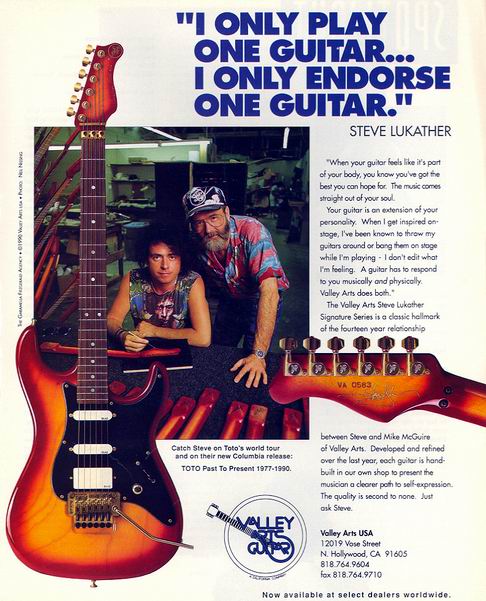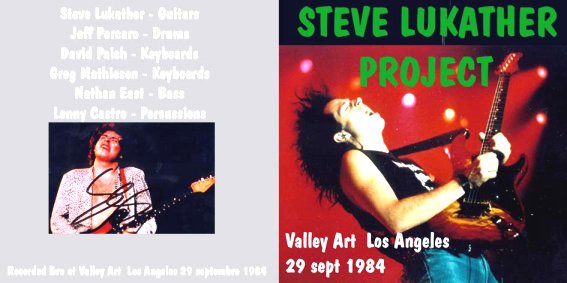 http://www.stevelukather.net/Gear.aspx