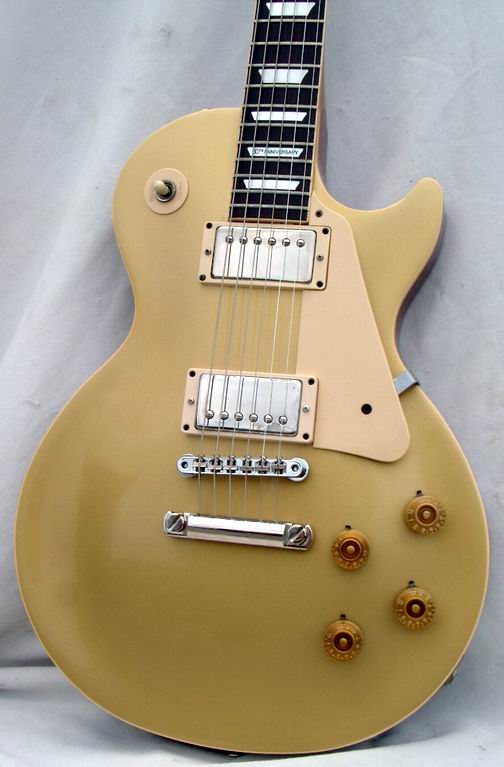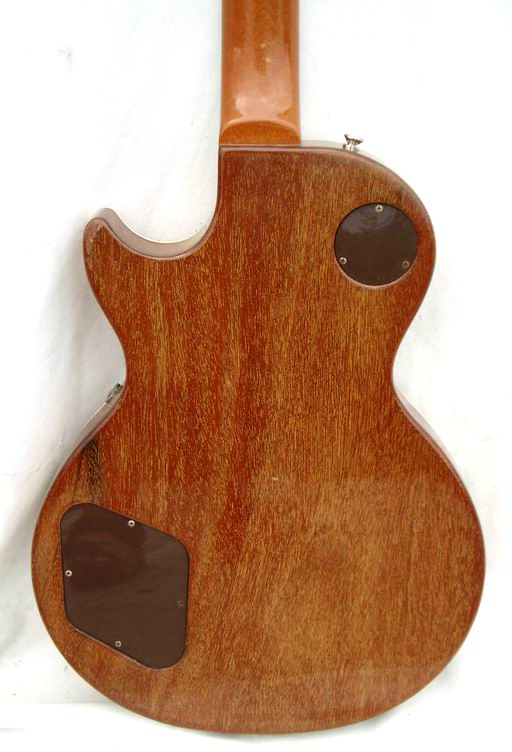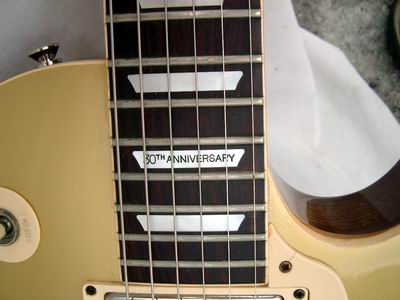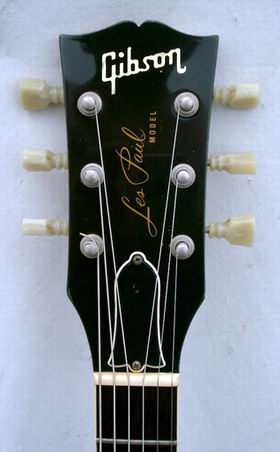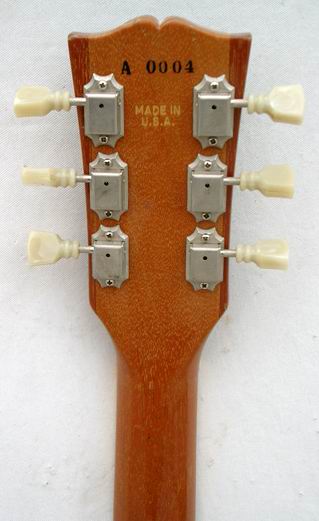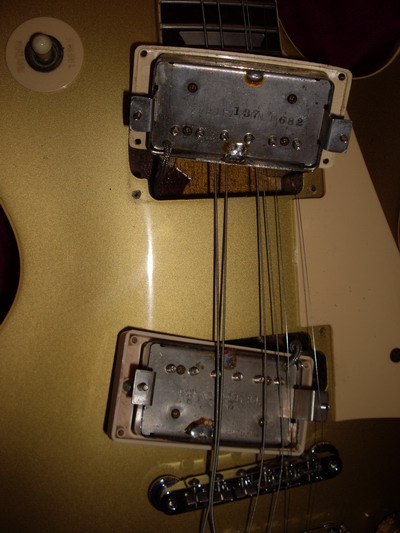 '82 LES PAUL STANDARD GOLD TOP 30th Anniversary, One The First !!! SUPER RARE, ALL ORIGINAL Near Mint Conditions #A0004 code GI9399
The serial number format of the 30th anniversary model is unique, with a prefix letter "A", "B", or "C", followed by a four digit number.
LES PAUL STANDARD THIRTIETH ANNIVERSARY - single sharp cutaway 1 piece mahogany body, center 2 piece bound carved maple top, raised cream pickguard, 1 piece mahogany neck, 22 frets, 43mm nut, rosewood fingerboard with pearl trapezoid inlay, pearl Thirtieth Anniversary inlay at 18/19th fret, tune-o-matic bridge/stop tailpiece, blackface peghead with pearl logo inlay, 3 per side tuners with plastic buttons, nickel hardware, 2 covered Tim Shaw humbucker pickups, 2 volume/2 tone controls, 3 position switch. Weight 4,85 Kg Original Case. As Gibson's first real attempt at a reissue, it's widely regarded that the 30th Anniversary is a home run with even Les Paul himself giving his endorsement in ads at the time. Attempting to recreate a '57 Goldtop, they nailed the neck shape and size which is a very comfortable "50's" C, as well as the 17 degree pitch of the headstock. They were also faithful to the "deep dish" carve of the top, which was a little deeper and more pronounced in the 50's. This guitar personifies everything we love about 50's Les Pauls; a very articulate, harmonically rich sound and an incredible amount of sustain. The bridge pickup in particular has the much coveted midrange "chirp" on the note attack. Speaking of pickups, this guitar sports a pair of Tim Shaw patent number PAF reissues, known for their vintage spec winds, sand cast magnets and plastic pickup spacers. Around the start of the 80's the Gibson realized that their pickups had strayed significantly from the golden era tones that had built their brand. Looking to remedy this, Gibson asked an engineer who had been working for them, Tim Shaw, to analyze a bunch of PAF pickups to try to recreate the tone of these treasured humbuckers as best as he could. What he came up with is an incredible take on the vintage golden era humbucker. The 19th fret is adorned with the 30th Anniversary inlay. The headstock sports a set of Kluson Double Ring reissues.The nitro finished body has a lightly tinted mahogany back, while the maple cap is painted a gorgeous gold wrapped in an aged yellow binding. The guitar comes with a original Gibson Hardshell case.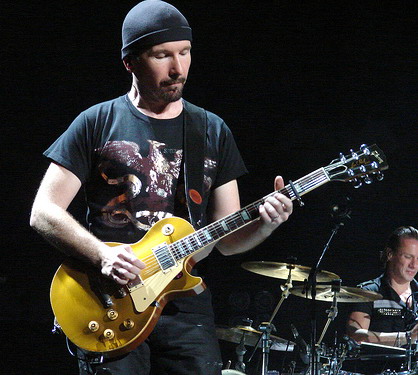 The Edge U2
http://www.youtube.com/watch?v=LUZRPewQSJ8
http://www.youtube.com/watch?v=enay9Zj8Dh0
http://www.youtube.com/watch?v=Z5XYIV3yjMc
http://www.youtube.com/watch?v=eUWNMN4qi_M
http://www.youtube.com/watch?v=ePSDrVF1rXE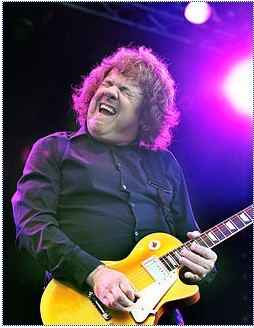 Gary Moore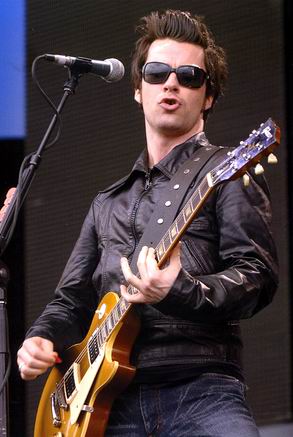 Kelly Jones - Stereophonic -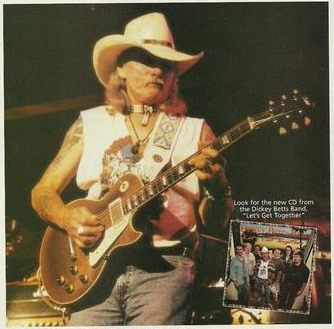 THE ALLMAN BROTHERS DICKEY BETTS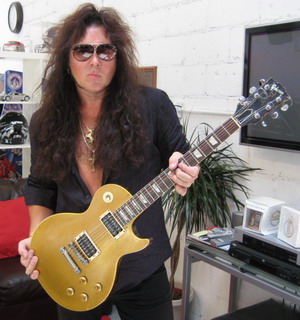 Yngwie Malmsteen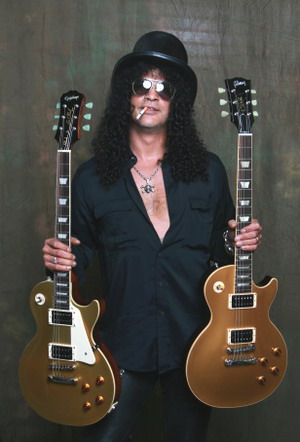 Slash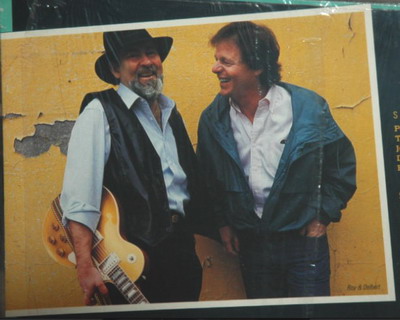 Roy Buchanan