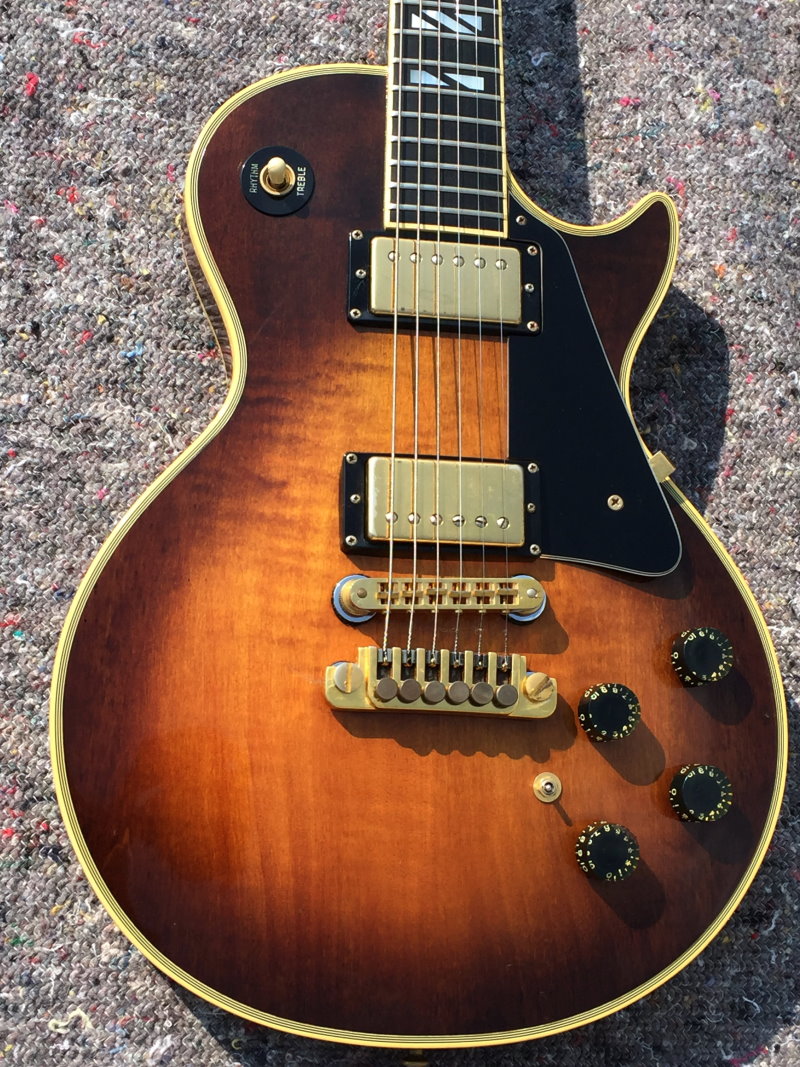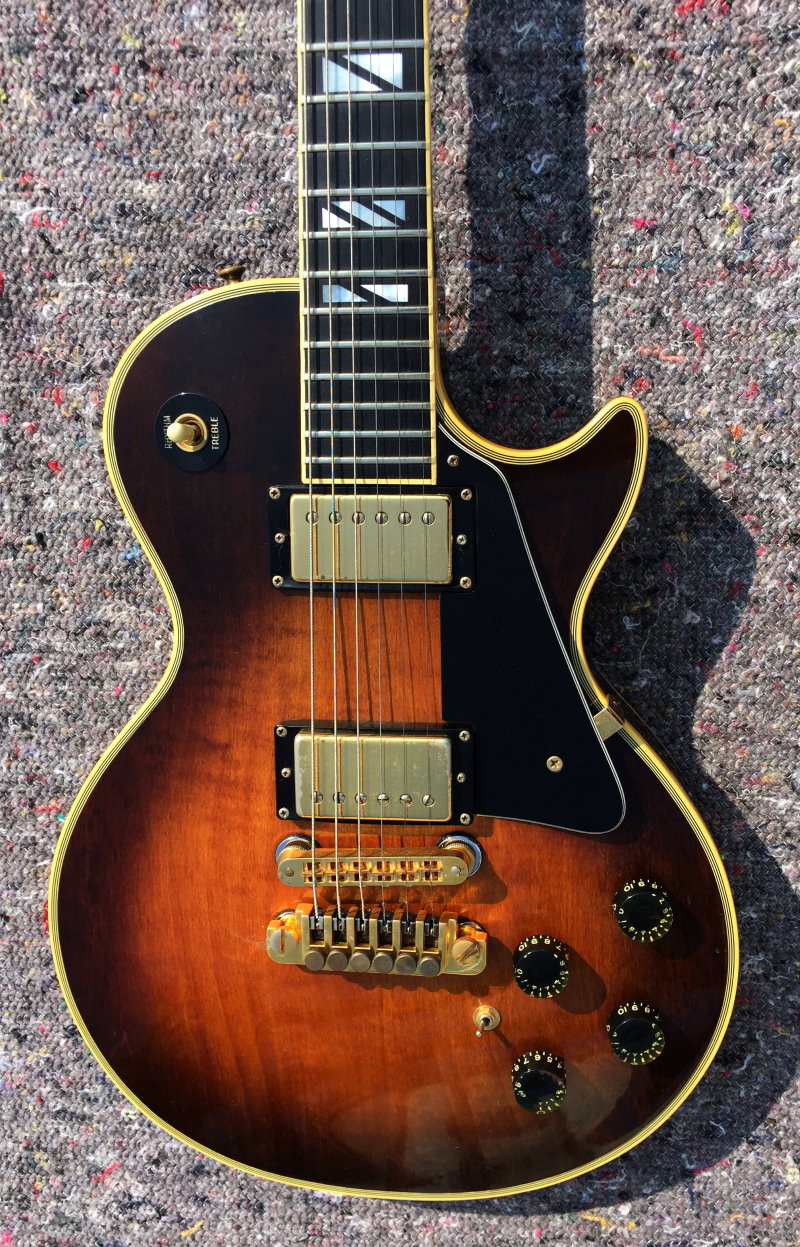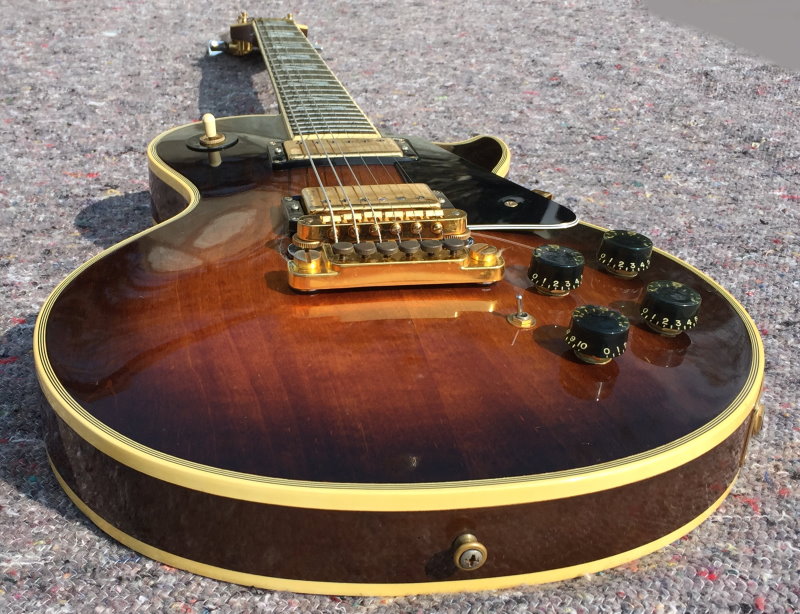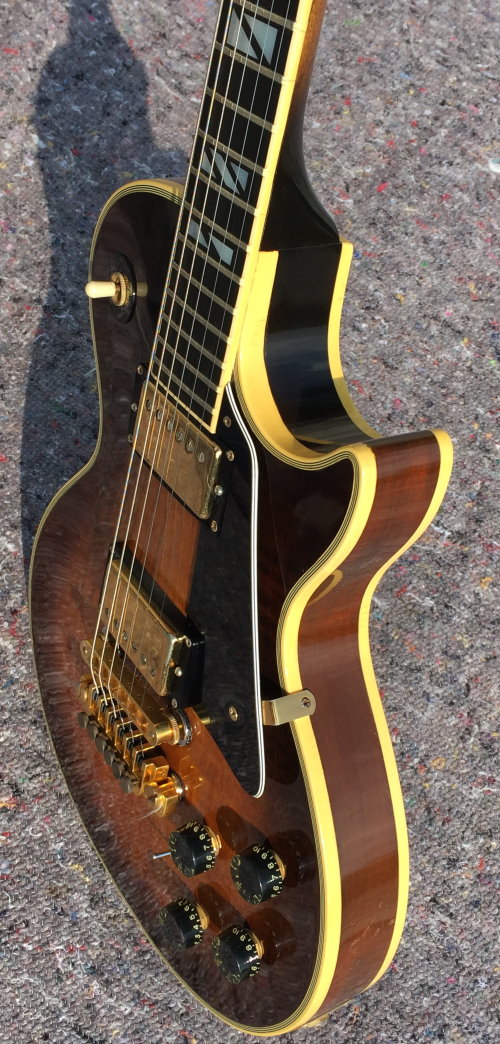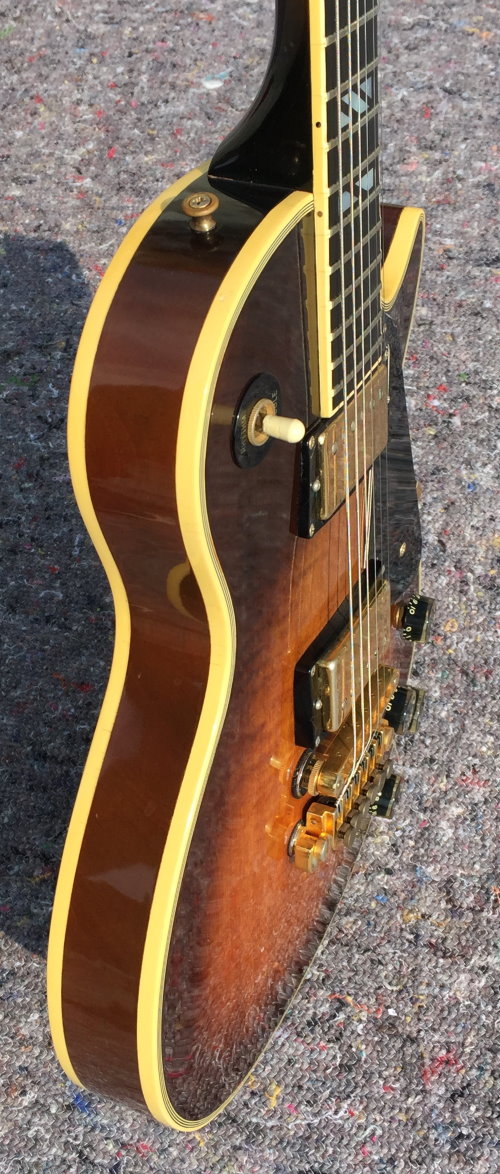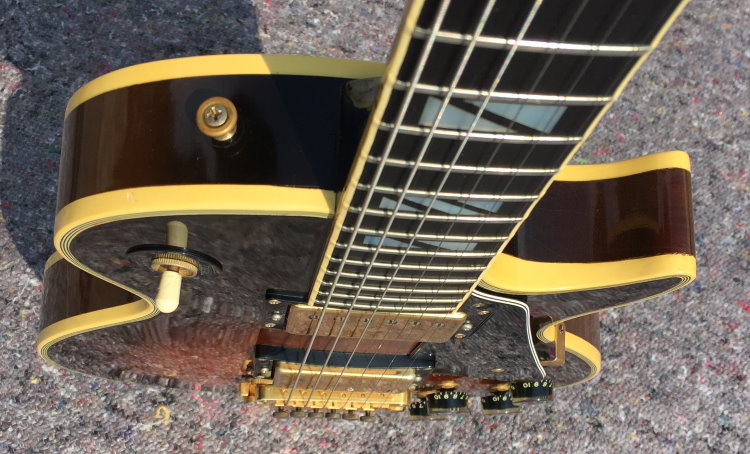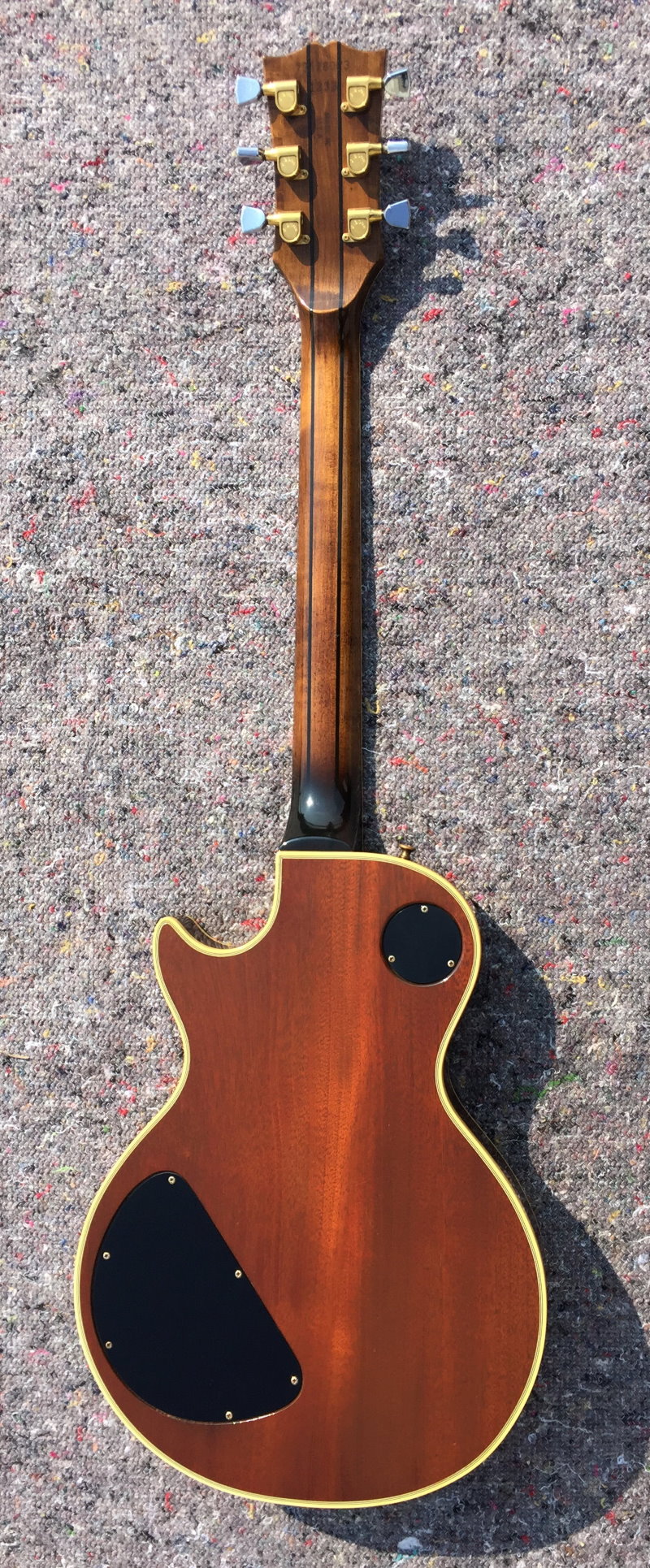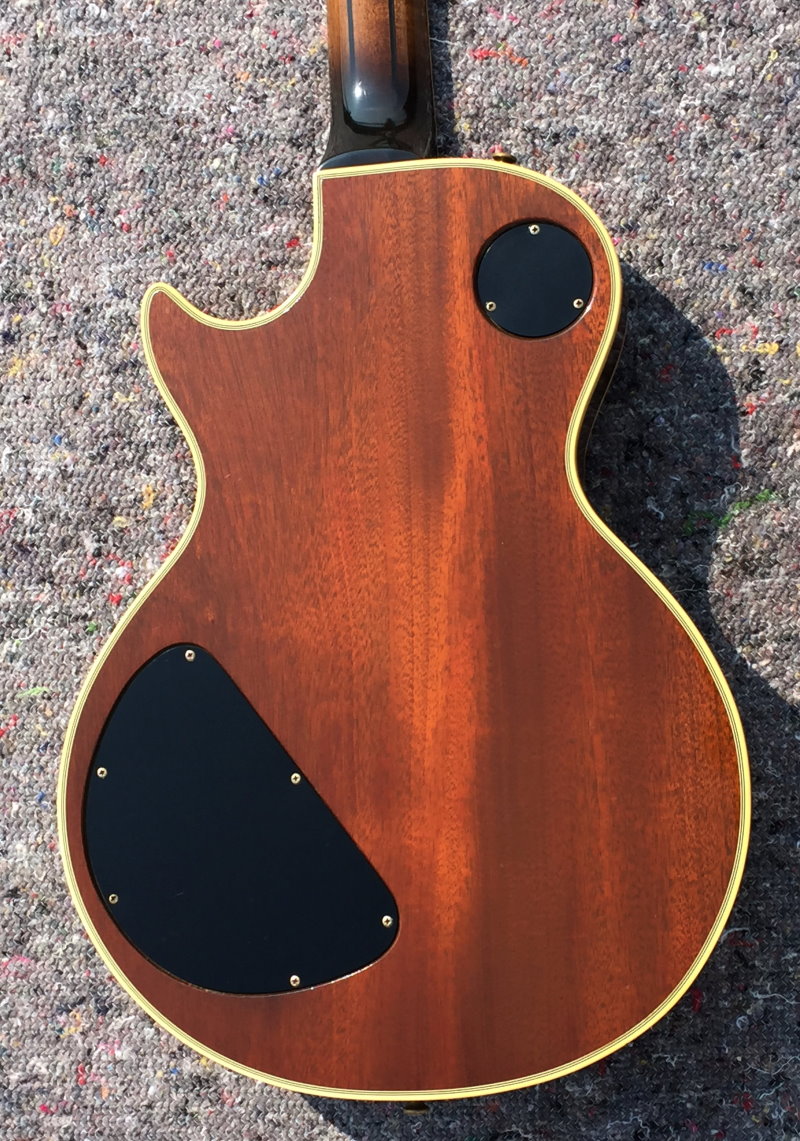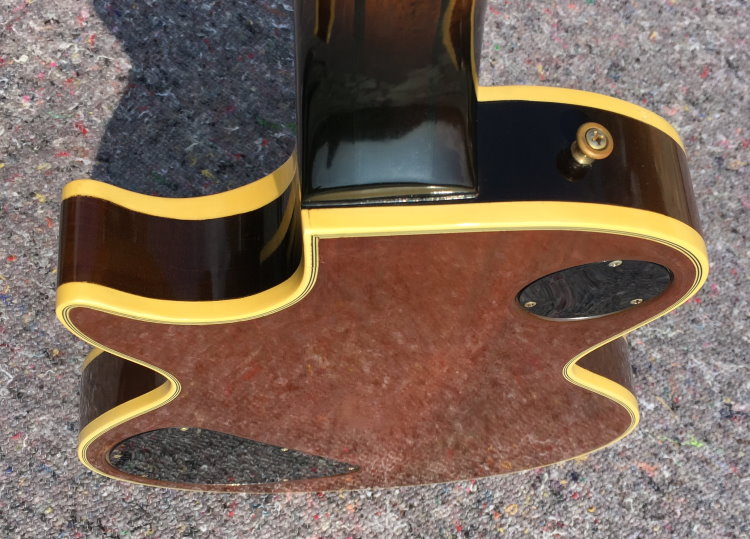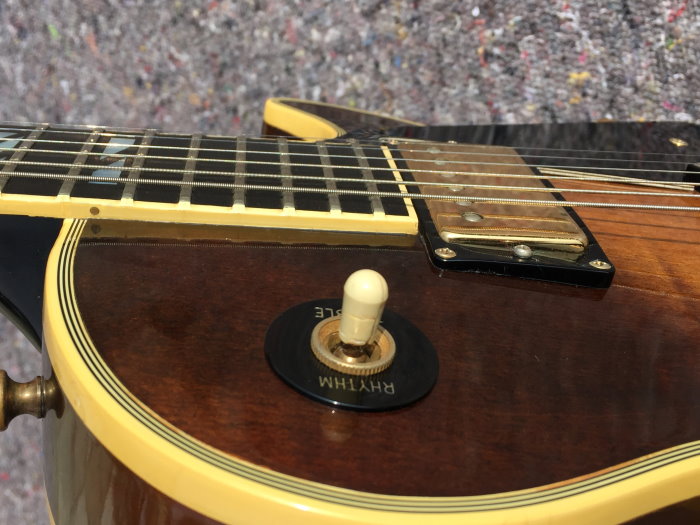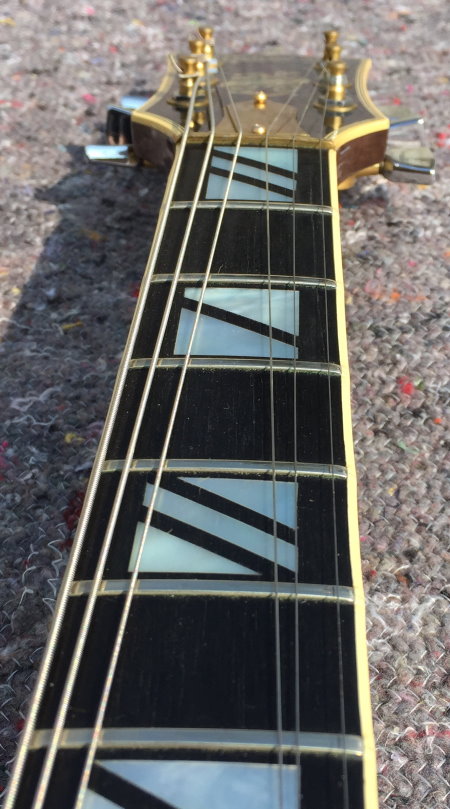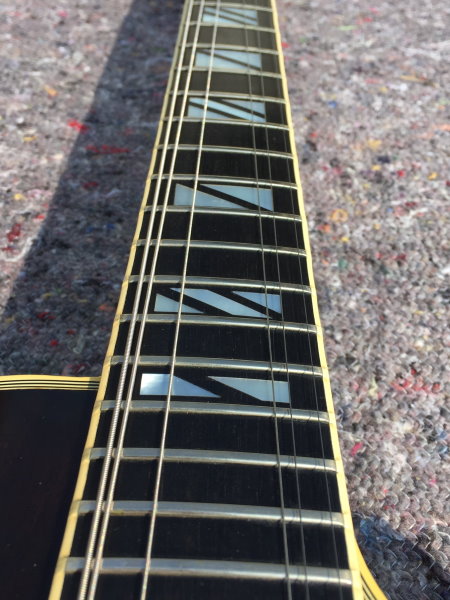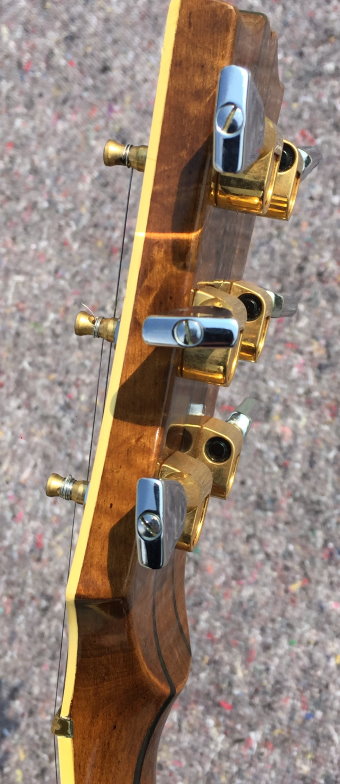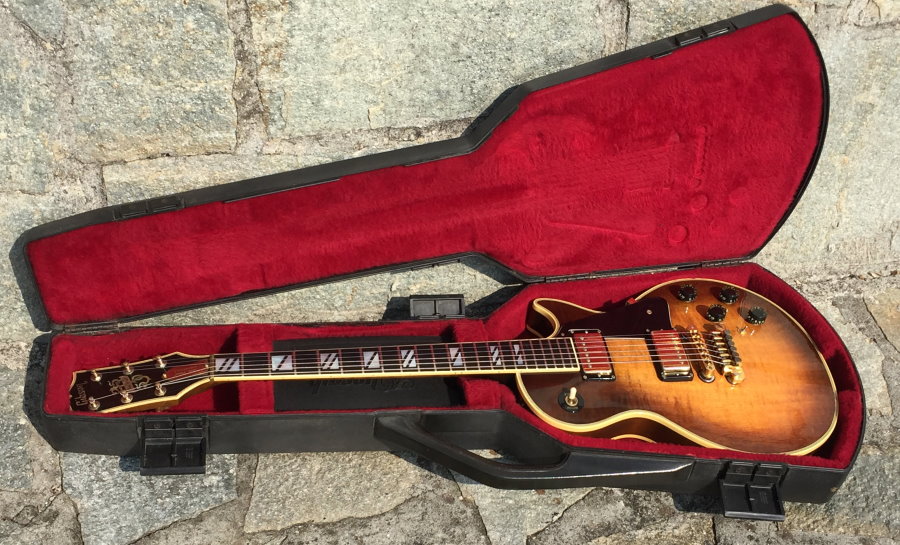 '79 LES PAUL 25/50 ANNIVERSARY, Sunburst, two Original Gibson super HB pickups In excellent plus conditions 100% Original, Fingerboard, frets all in perfect conditions, come with Original Case. code GI56
Amazing color with flaming top and neck, KALAMAZOO MADE
The 25/50 model was issued to commemorate the 25th anniversary of the Les Paul model (a year late, since 1977 was actually the 25th year), and the 50th anniversary of Les Paul's career in the music business. These special guitars made with the last of the Old Gibson Flame Maple they had at the time, even the Maple they used was by then, These guitars were so wanted that they decided to make them like normal Les Pauls at a cheaper price, in Black and Tobacco Sunburst, which were very popular, but nothing like this precious Flame Top.
Here could well be one of the most important guitars Gibson ever made. It was to celebrate 25 years of Les Paul and 50 years of Gibson. These particular 25/50 guitars were offered to dealers at the trade show in 1978, and had to be ordered before they were Hand Made by Gibson Kalamazoo for us. Gibson was going to use the very last of their old original precious stock of Flame Maple.
The controls work the same way as normal Les Pauls but it has a coil tap switch in the circuit that works on both pickups at the same time. The pickups they used are Gibson L7 and in the coil tap position they are louder than a normal Les Paul Standard and there's even more sounds thanks to the coil tap switch that lets you flip from humbucking to non-humbucking modes. It's simply the most Les Paul guitar ever. All the internal channels are lined and boxed in to stop any interference, so if you take the control panel off you are then confronted with another metal cover to take off before you can get to the controls. This guitar has virtually infinite sustain plugged into the right valve amp. For the fastest calibration and perfect intonation, Gibson designed the exclusive new fine-tuning tailpiece. There's a lot more brilliant Les Paul Sustain because of the brass nut and the solid brass studs mounted under the tuneomatic bridge.

David Gilmour Pink Floyd, Mick Ralphs Bad Company, Scott Gorham Thin Lizzy, Elvis Costello, Iron Maiden, Mick Abrahams, The Hamsters, Dave Bronze (Eric Clapton's bass player,) Wilko Johnson, Alison Moyet, Robin Trower, Brad Trower, Suzi Quattro, Phil Mitchell, Steve Walwyn, The Feelgoods, Eddie And The Hot Rods, Kursaal Flyers, Andy Cheeseman, Whitesnake, Brian Bennett (The Shadows), Kenny Ball, The Commitments, The Blues Brothers, Bullet Blues Band, Rick Harrison Music Ground, Michael Oliver Band, Junior Jump, Mickey Jupp, The Hitmen, Mick Avory (The Kinks), Eric Haydock (Ex Hollies), Telecaster Ted (Ex Love Affair), The Class of 64, Johnny Haseltine, Steve Hooker, Chris Rose, Vic Collins, Jeff Vincent. Ian Gibbons. John Skelton. The Chevrons..