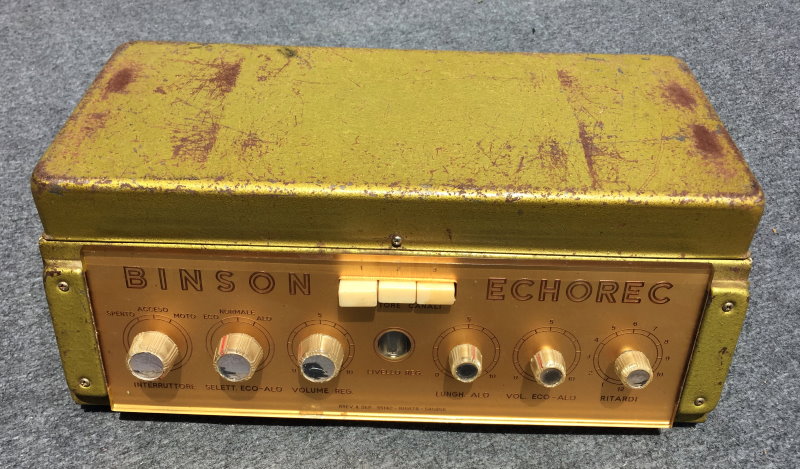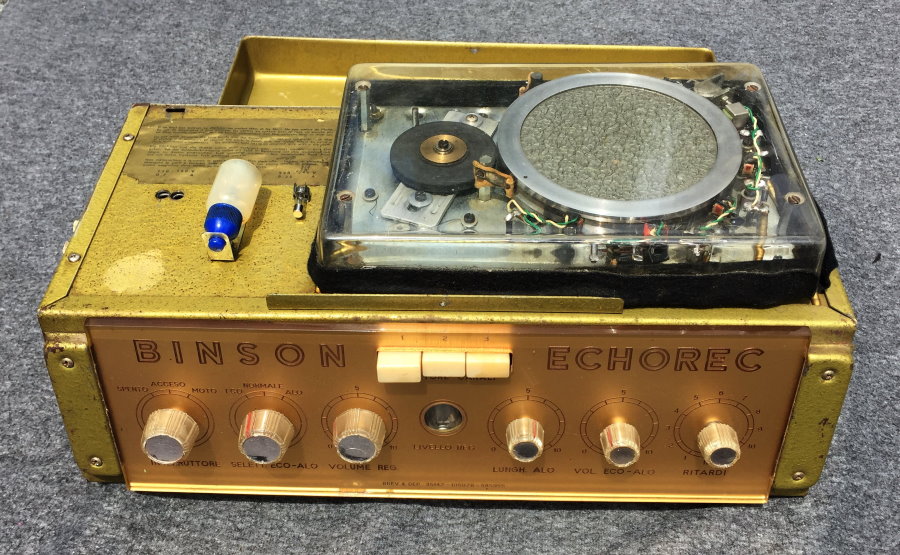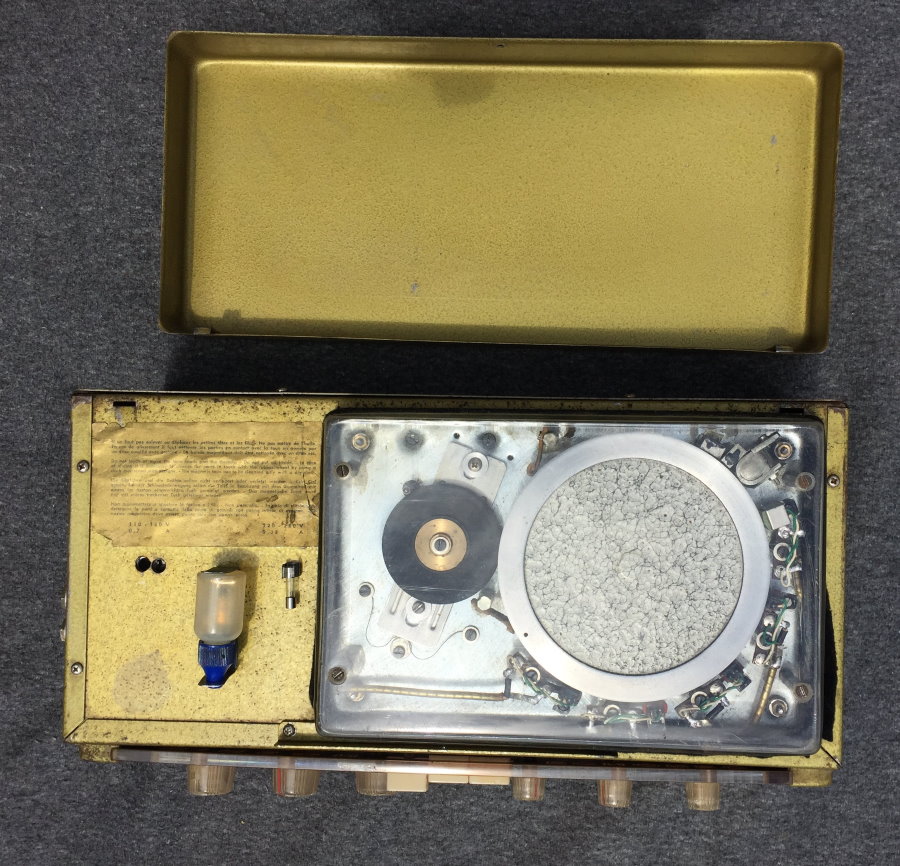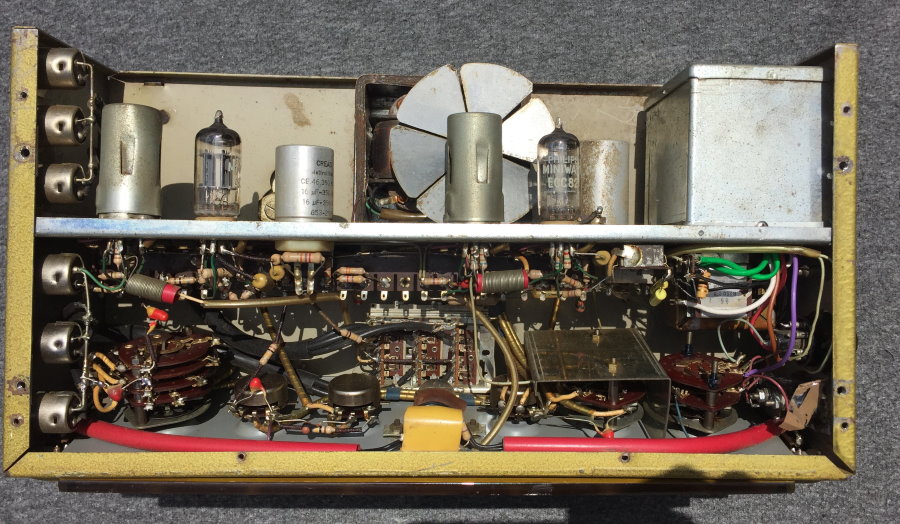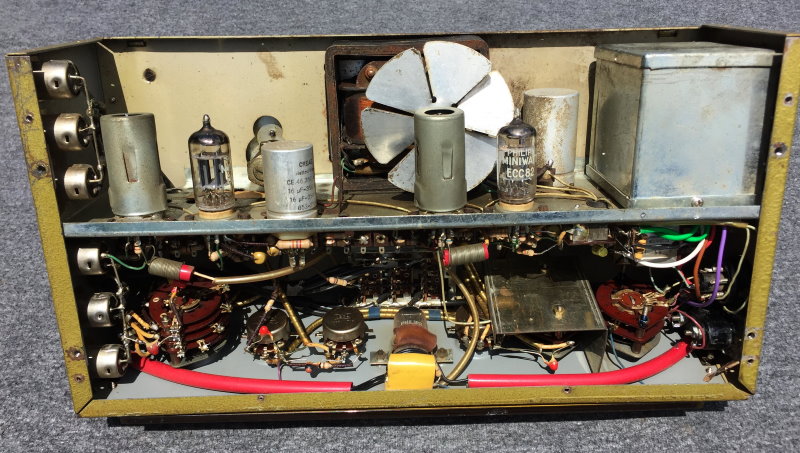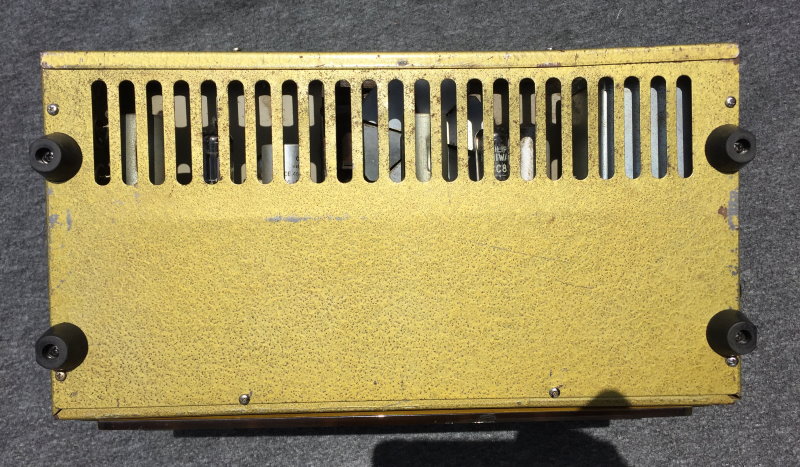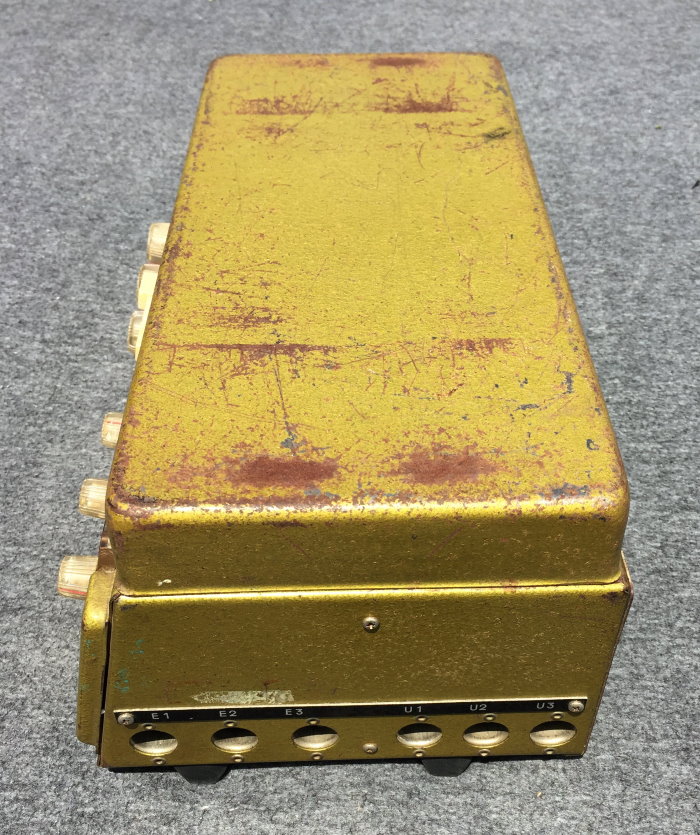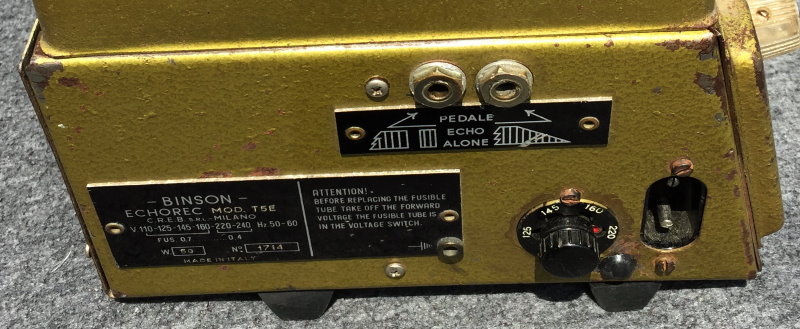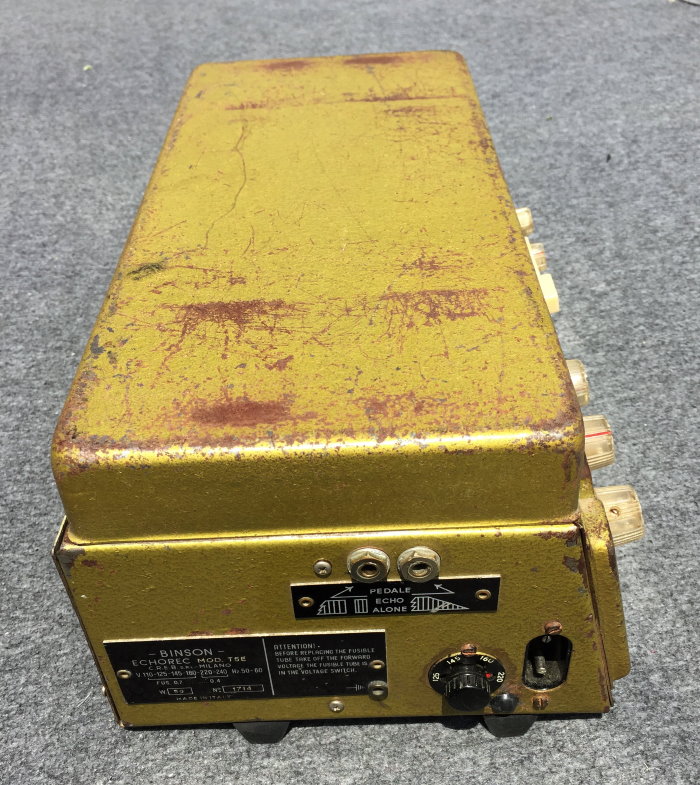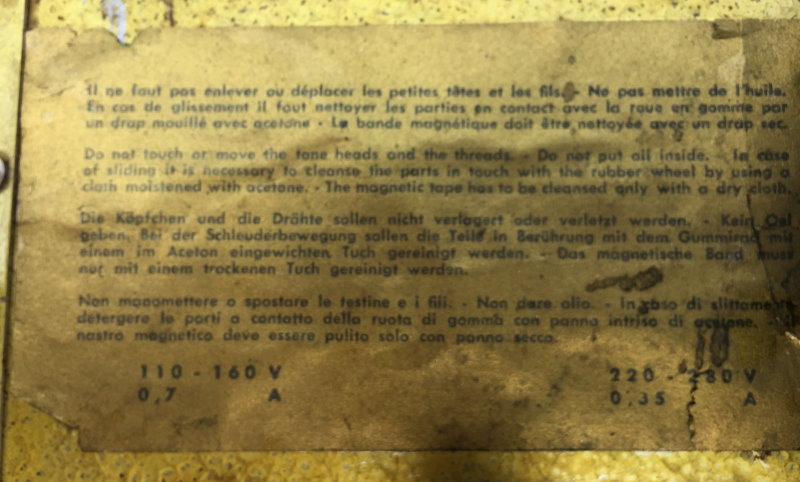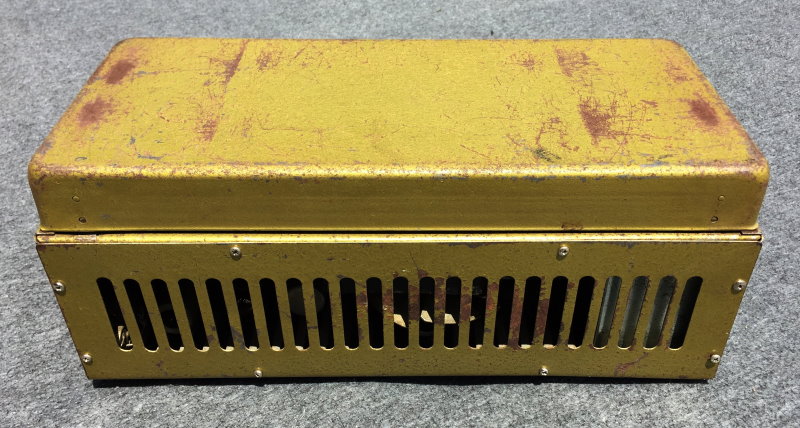 1958 BINSON Echorec Mod. T5E Made In Milano Italy
A very early valve (tube) Binson Echorec model T5E In very good working order (see many more detailed photos).
We can certainly say that one of the typical characteristics of the Floydian sound that goes from "A Saucerful of Secrets" (1969) to "Animals" (1976) is precisely the presence of the BINSON ECHOREC. The Binson Echorec was already widely used by Syd Barrett and Rick Wright in the most experimental and innovative period; the period of their affirmation in the underground environment (all of 1966) and during the single and album debut (often the singles were not included in the UK albums) in 1967 where in my opinion the Floyd masterpiece "The piper at the gates of dawn "the binson echorec is also present in the 16 and a half minute interstellar overdrive version recorded at the sound techniques studios together with" nick's boogie "and its performance also filmed by Pete whitehead on the occasion of his film" tonite let's all make love in London "on you tube you will find excellent audoo versions also of interstellar overdrive before recording of 31 October 1966: when; according to some interstellar testimonies it could last up to 30 minutes ..
https://audioexmachina.wordpress.com/the-audioexmachinas-echorec-bible/
OFF - ON - MOTOR
ECO - NORMALE - ALO
Echo volume control
Reverb (ALO) deep control
12 position head selector switch
3 Input / output sockets
2 Foot switch sockets
EM81 Level indicator
6 Valves
Binson Echorecs are amazingly-engineered machines: where a tape echo's input sound is recorded to tape, on a Binson it is recorded onto a circular spinning disc which has replay heads positioned around it. It is possible to select single and repeating echoes or reverb-like swells - these units have a sound all of their own. They look fantastic at night (or on a darkened stage) with the magic eye valve glowing green and the backlit plexiglass fascia. Binsons were one of the must-have pieces of equipment for bands in the early sixties, alongside the Fender Stratocaster and Vox AC30. Famously-used and abused by Barrett, Gilmour, Waters and Wright of Pink Floyd in the 60s and early 70s (Echorec 2s are very much in evidence on Live at Pompeii and can be seen on photos from many Floyd live shows), Binsons are increasingly sought-after today by studios, mix engineers and producers for their unique sound: Michael Brauer (Stones, McCartney, Coldplay) famously has an Echorec 2 in his arsenal of vintage delays.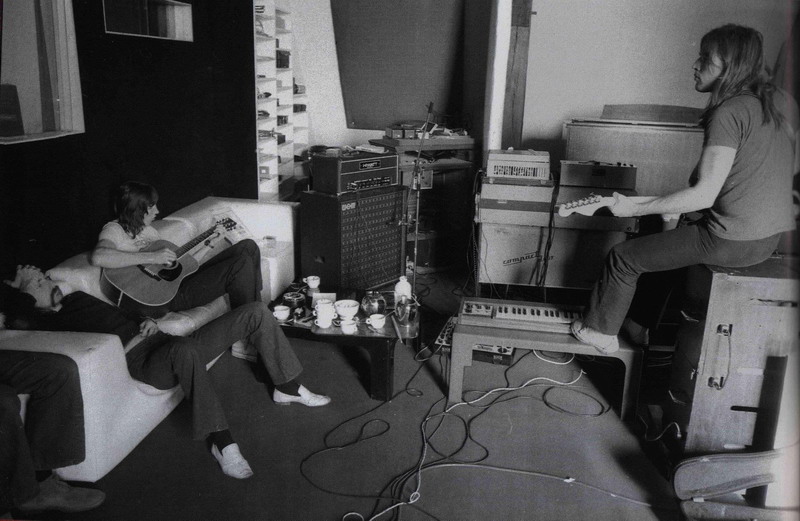 Pink Floyd in the George Sand Studio in February 1972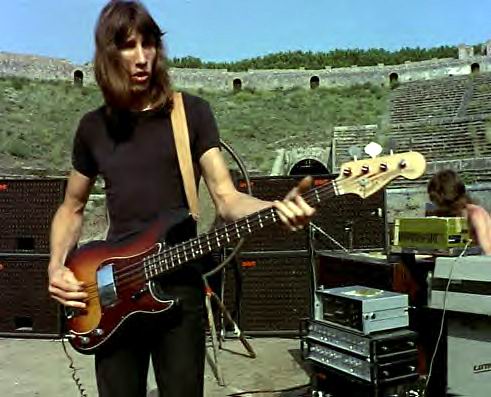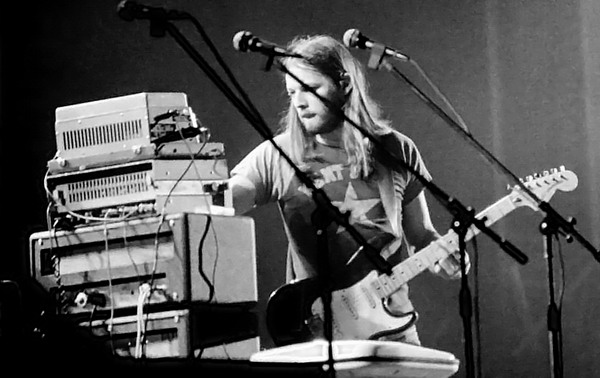 If there is one effect that truly defined the Pink Floyd sound in the 70's it's the Binson Echorec. This echo unit has a unique sound and both Gilmour and Wright used it to create sounds that were quite innovative at the time: http://www.gilmourish.com/?page_id=74
https://www.youtube.com/results?search_query=Binson+Echorec+2
https://www.facebook.com/binsonechorec2/
THE MANUAL: http://www.effectrode.com/wp-content/uploads/binson_echorec_manual.pdf