Vox Tonebender Original Vintage V828 Killer Germanium Fuzz 1968
code EF267
Excellent conditions killer fuzz, grat overall tone with long incredible sustain.The V828 is famous for being used by the Beatles on tracks throughout Rubber Soul, Revolver and many other Beatles albums and recordings and.. Keith Richards, Jimi Hendrix, Jimmy Page, Jeff Beck, Pete Townsend..and ..
https://www.youtube.com/watch?v=wMit52LRVfI
https://www.youtube.com/watch?v=vphRkUHMYwk
https://www.youtube.com/watch?v=Z0GEv8vRkBo
http://www.bigmuffpage.com/The_Tonebender_Timeline.html
•1965 - Vox/JMI engineer and Vox Distortion Booster designer Dick Denney claims that he personally delivered Vox Tone Bender prototypes to the Beatles in early 1965. Reg Clark of Vox had established a prior relationship with the Beatles to supply them gear to use in public in return for letting Vox use their images in marketing materials. What these "Tone Bender prototypes" were is unknown, since Gary Hurst did not start building his first Tone Benders until April, and the Vox branded Tone Benders were not made until 1967.
•1965 April - In April Gary Hurst returns to London after working in Italy for Elka, and resumes his freelance electronics business, "Gary Hurst Electronics", from the back of the Macaris Musical Exchange shop on Denmark Street (Note some sources state that, with the help of Vox sales manager Reg Clark, Gary was given work space in the back of the JMI/Vox shop at 100 Charing Cross Road, not the Macaris shop)
1965 April - The very first Tone Bender is hand made by Gary Hurst. The Tone Bender is another three-transistor circuit based on the Maestro Fuzz-Tone FZ-1, with a few additional components and minor value changes to increase the voltage and add more sustain. It was one of the first pedals to feature true bypass switching. Gary admits he copied and modified the Fuzz-Tone circuit, while allowing the Tone Bender advertisements to state "A Gary Hurst Design". He followed this practice in later years as well, making modifications and adjustments to existing circuit designs to alter the sound, and naming himself as the designer. Gary (or Sola Sound via their later advertisements) was actually one of the first engineers to promote his name to the public as an effects pedal designer. Note that copying and modifying these simple amplifier circuits was common at the time, and similar amplifier circuit topology already existed in GE and Mullard transistor manuals specifically for this purpose (and to sell more transistors!). It was not really theft so to speak, no more than any auto maker back in the heyday of automobile manufacturing was "stealing" by making their own version of the gasoline powered combustion engine. The FZ-1 Gary copied was not completely original either. Similar hand made fuzz circuits already existed and were in use in recording studios prior to the FZ-1 production. What Gary did here was basically to modify a known circuit, which was itself a variation on existing circuit design.
Gary states that in early 1965 he built the original wood cased Tone Benders in the back of the Macaris' 22 Denmark Street shop, and at home in the evenings (Note, some sources state he made them above the Macaris shop at 100 Charing Cross Road, but that was still the address of the Vox shop in 1964, and the Macaris did not move into that address until the Vox shop closed, in 1967). Larry Macari was paying Hurst for each unit, one at a time, as they were made. Gary has stated he made about ten wood boxed Tone Benders a day for a few weeks, probably less than 100 units in all (he states 68 in a Guitarre magazine interview), and all were sold through Macaris. He custom made some of these for top musicians in London, like Jeff Beck (the Yardbirds), Jimmy Page, and Mick Gee (Tom Jones band), prior to them being offered to the public. Jeff beck confirmed he had one on April 20th. An interview with Jimmy Page from this time period seems to confirm that shortly after Jeff Beck got his, Page got one. These artists were also listed as users in the Tone Bender advertisements from the time.
In 2000 Gary told the story about the origin of the Tone Bender in Kevin Bacon's book, Fuzz and Feedback, and in a Guitarre magazine interview from 2003. It is also included in Gary's four page "Tone Bender Fuzz Unit Story as told by Gary Hurst" included with his hand made Tone Benders in 2005. He states that in April 1965 Guitarist Vic Flick brought a Maestro Fuzz-Tone to Macaris Music Exchange on Denmark Street to have it modified. Vic was an acclaimed and in-demand English session guitarist at the time, famous as the player of the James Bond theme for the film Dr. No in 1962, lead guitarist of the John Barry Seven, a member of the Beatles' Hard Days Night soundtrack orchestra in 1964, as well as session guitarist for numerous other recordings with British pop stars, including Tom Jones.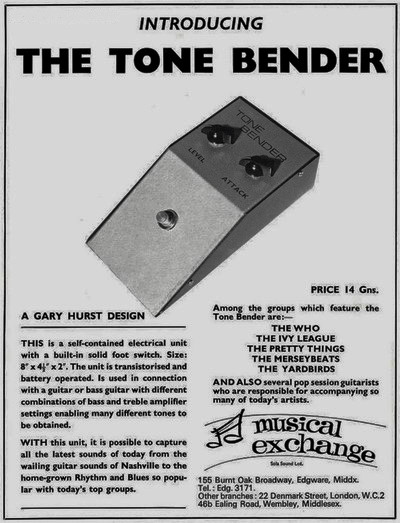 Tone Bedner MKI 1965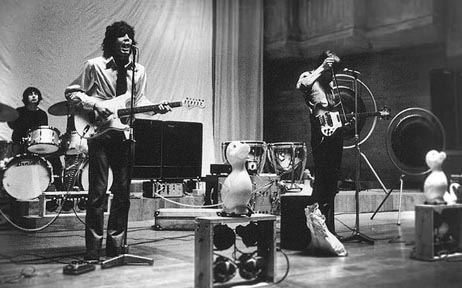 Syd Barret with a Tone Bender May 1967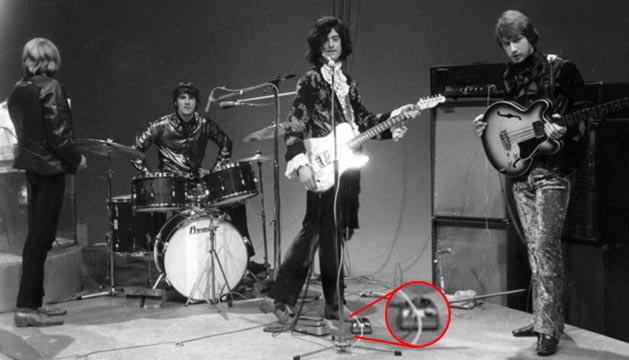 Jimmy Page using a Tone Bender with the Yardbirds on the Bouton Rouge French television show, March 1968
http://www.bigmuffpage.com/The_Tonebender_Timeline_3.html