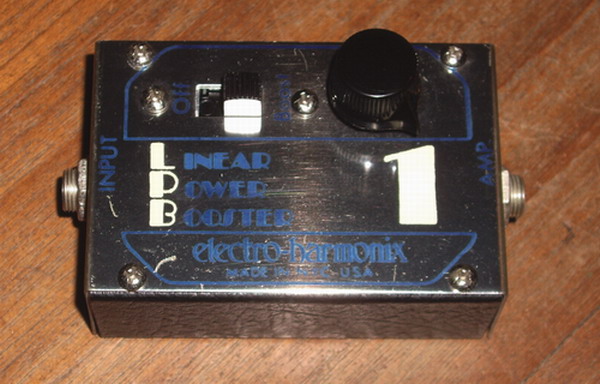 ELECTRO HARMONIX LPB-1 Linear Power Booster pocket box '70
The original LPB-1 circuit that ushered in the age of overdrive in 1968. Put the LPB-1 in line with any effect to provide boost and definition. Improve the gain and saturation of your amp.
Here's an extremely fine example of the very first unit that put Electro-Harmonix on the map! block-style logo.The unit works exactly as it should, pummeling the input of your amp into submission. Simple circuitry, wire by hand...it doesn't get any better than this.
Moving forward on the evolutionary scale of dirt production is the "pummel the front end" approach. This means sending a way-too-hot of a signal into the front end of an amp, distorting the preamp and sometimes the power amp too. The Electro-Harmonix company got their start by the legendary LPB-1, which was a simple primitive transistor circuit that boosted a guitar signal immensely. This allowed you to distort the first gain stage in your amp, which back in the day, was not designed to overload. Of course nowadays, there are literally thousands of boosters like this available, including a great update on the LPB-1 that comes in a tough case at a great price. There are many many simple and complex designs. Usually they do not add fuzz of their own, they just boost your signal way up.
https://www.youtube.com/watch?v=U5dl_4fmnaM
https://www.youtube.com/watch?v=RmEvPK-T2DU