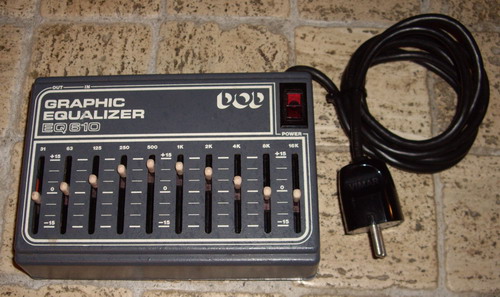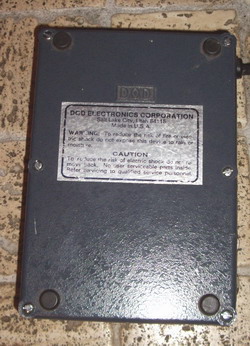 DOD EQ610 Graphic Equalizer 10 Band 70's

EXCELLENT CONDITION- SOUNDS AMAZING!! COMES WITH ORIGINAL POWER 220 Volts CORD, WHICH WORKS GREAT, WAS MADE IN THE USA IN THE 1970'S.
THIS IS A GREAT EQ PEDAL- REALLY HELPS ADD TEXTURE TO YOUR SOUND IS THE MOST VERSATILE EQ OUT THERE DUE TO HAVING 10 BANDS TO SHAPE AND CONTROL YOUR TONE AND SOUND
THIS GREY DOD 70'S VERSION IS THE ONE TO GET DUE TO HAVING THE ATTACHED POWER CORD AND THE WARMNESS THAT YOU WILL NOT GET WITH LATER VERSIONS OF DOD PEDALS WHICH DID NOT HAVE 10 BANDS.
VERY CLEAR AND VERSATILE 10 FREQUENCIES RANGE
EXCELLENT ANALOG WARM TONES THAT CAN GO FROM -15 TO +15 DBS ON EACH FREQUENCY
SOUNDS GREAT ON GUITAR AND IS EXCELLENT FOR BOOSTING AN AMP INTO SATURATION.

IT ALSO SOUNDS GREAT ON KEYBOARDS, BASS, AND RECORDING EQUIPMENT- VERY QUIET
HAS AN ON/OFF SWITCH THAT LIGHTS UP WHEN ENGAGED
PUT THIS IN YOUR EFFECTS CHAIN TO ENHANCE SOUND, MAKE PICKUPS LOUDER, AND MAKE OVERALL SOUND MORE FULL.
GREAT FOR ADDING MORE BASS TO YOUR SOUND!!!
IN MY OPINION, YOUR INSTRUMENT'S NATURAL TONE WILL BE HEARD THROUGH THIS PEDAL WHEN PEDAL IS ENGAGED.THE 10-BANDS CAN REALLY SHAPE YOU TONE- I THINK IT WORKS AMAZING WITH GUITAR AS WELL AS BASS, TOO! SOUNDS GOOD WITH SINGLE COIL AND HUMBUCKER PICKUPS
SOUNDS GOOD WITH OTHER EFFECTS SUCH AS DELAYS, PHASERS, CHORUSES, FLANGERS, ETC.