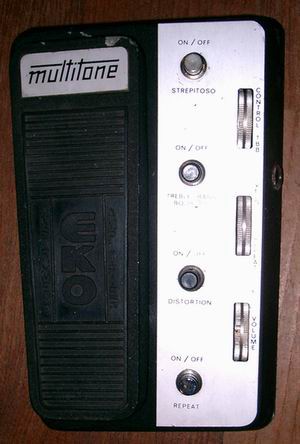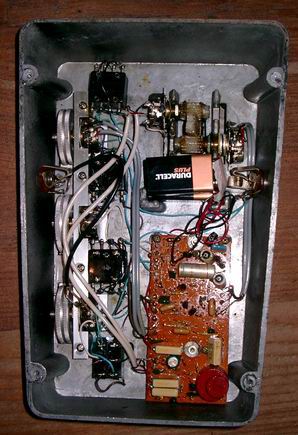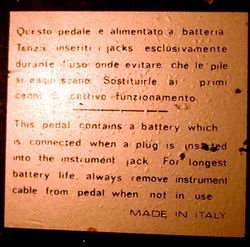 Multitone by Eko made in the ende 60 early 70,Wha-Wha +Swell+Bass Booster+Treble Booster+Distortion+Repete
6 effect usefull toghether or single.Sound 70 stile,Wha whith Red Fasel,Super Boosters,Super Distortion,Incredible Repeat(Is Like Play Whith A Synt)4 Switch for select the effects,3 roller switch for volume ,time velocity, SUPER !!!
This is an original vintage "Multitone" pedal from the Italien company EKO.
It is from approx. 1970 and ultra, ultra rare – for sure a collector's item !
Sounds incredible – typical vintage wah/distortion sound. The
distortion sound is likely the same of the famous Shin-ei
Fuzz pedals ! The tremolo is awesome,because it sounds like a machine gun !
The pedal is in near mint condition, very clean and works 100%. All components seems
to be original. Pots and switch are working very well – without any noise.
The unit lets you choose between the effects Wah-Wah (old red Fasel), Distortion
(PNP circuit), Tremolo and Bass- & Treble-Boost. You can combine
almost every effect.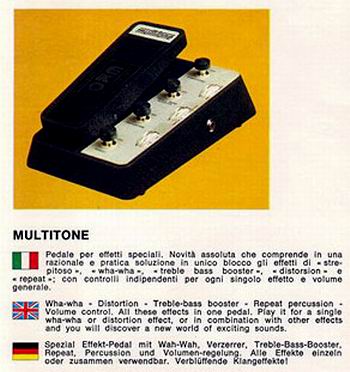 http://chitarre.accordo.it/articles/2010/07/39799/eko-multitone-il-vero-multieffetti-analogic1.html