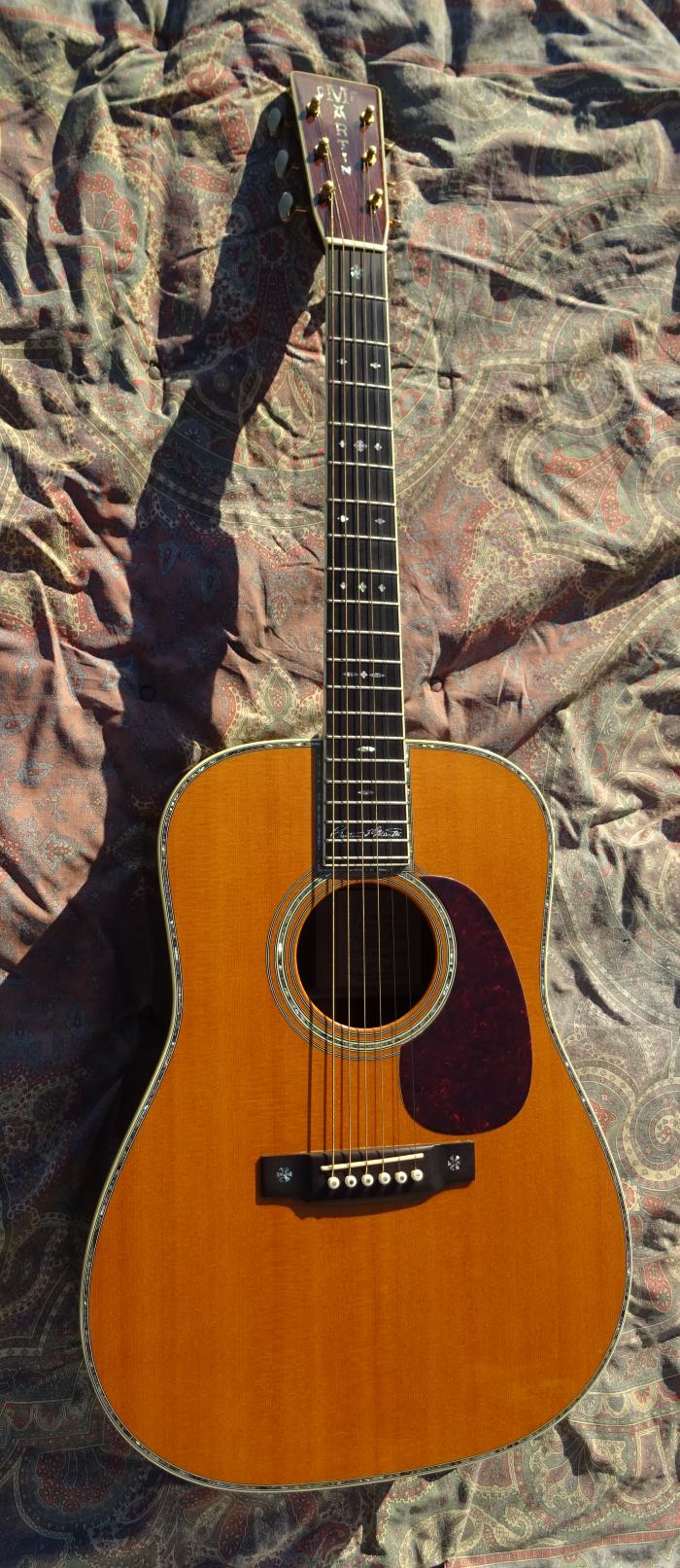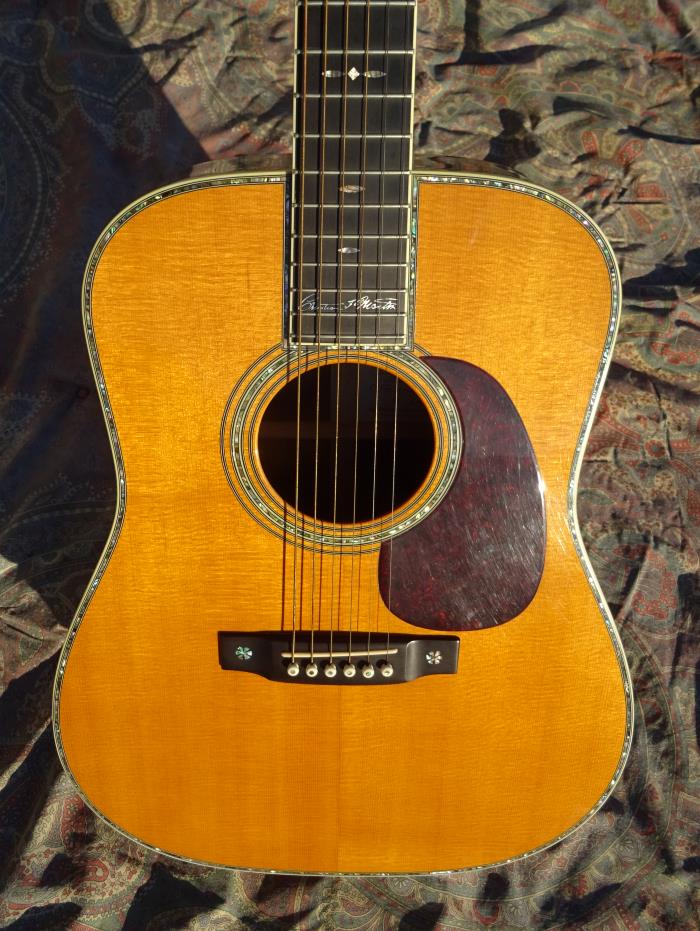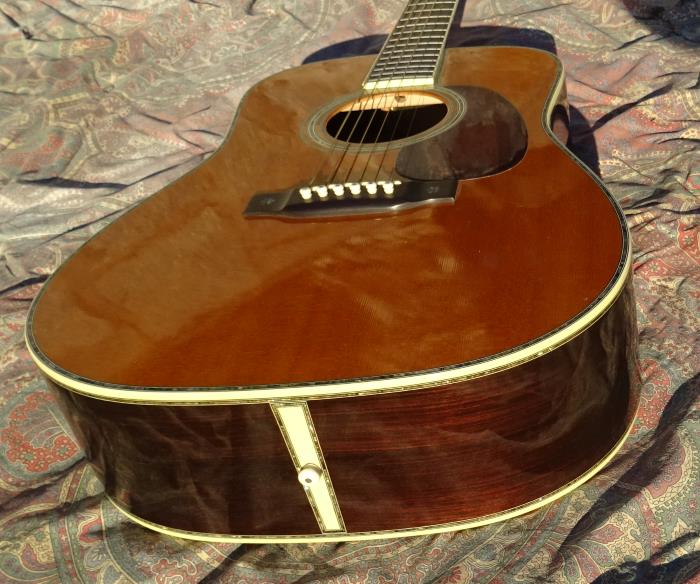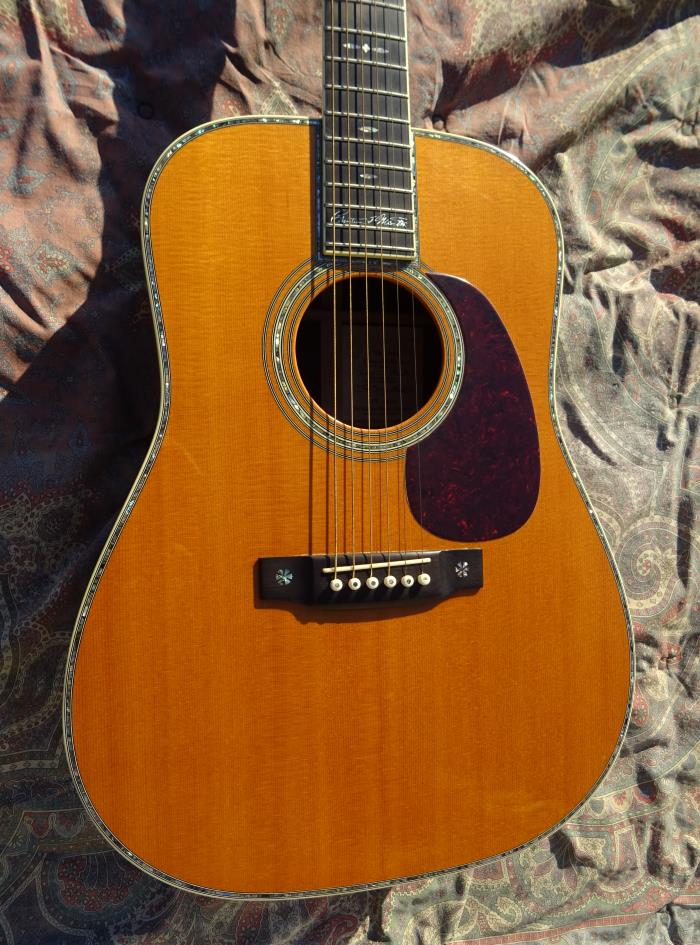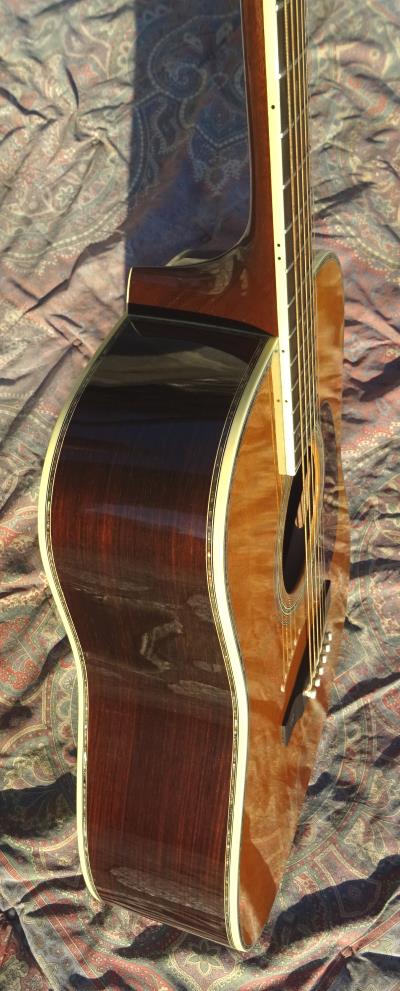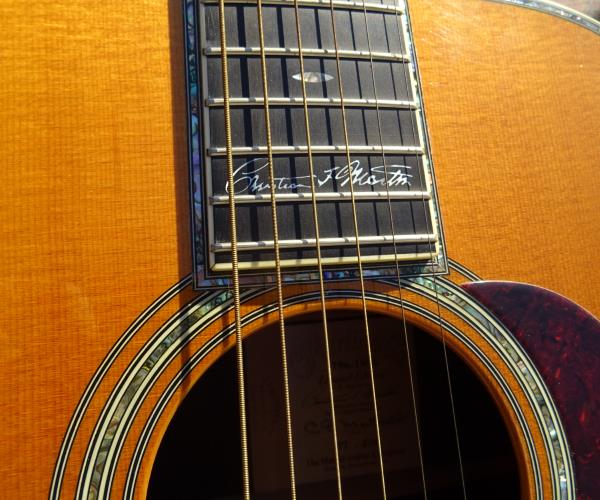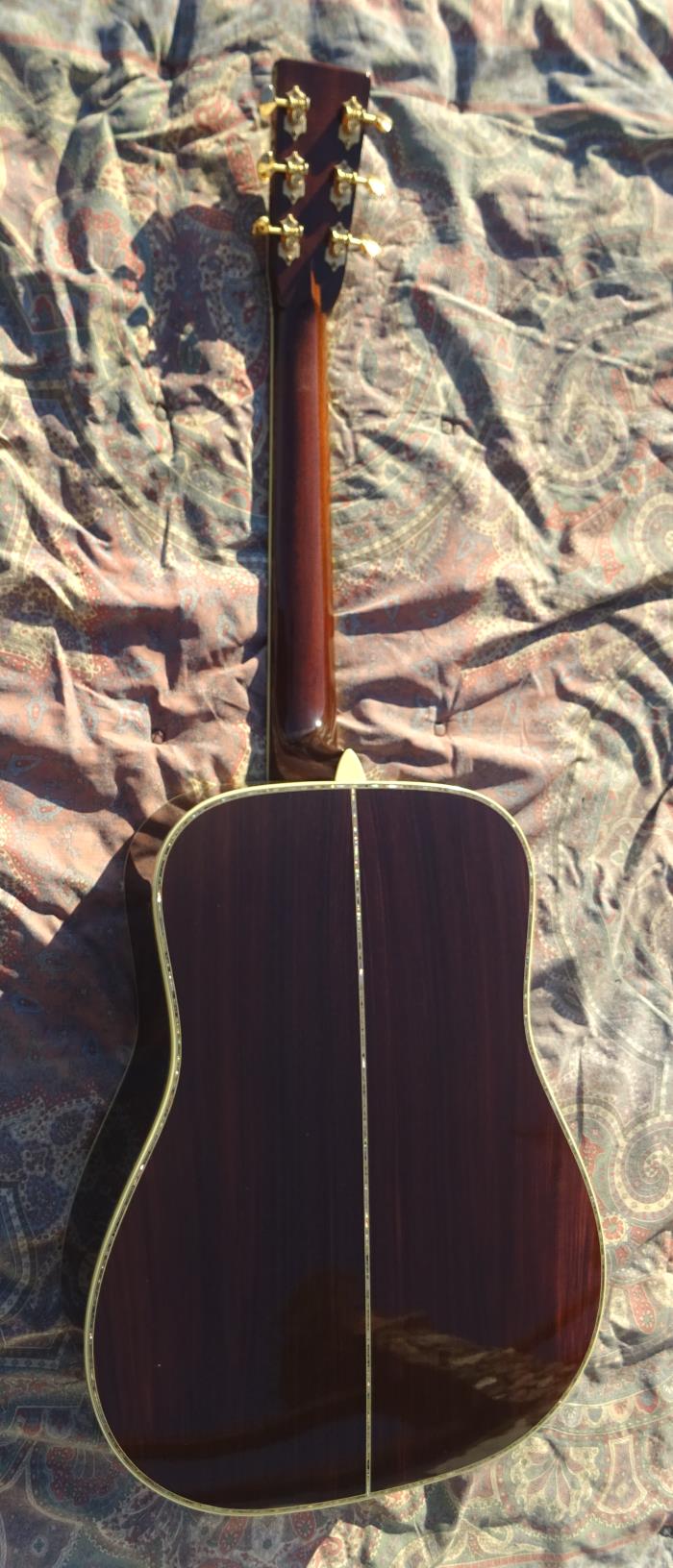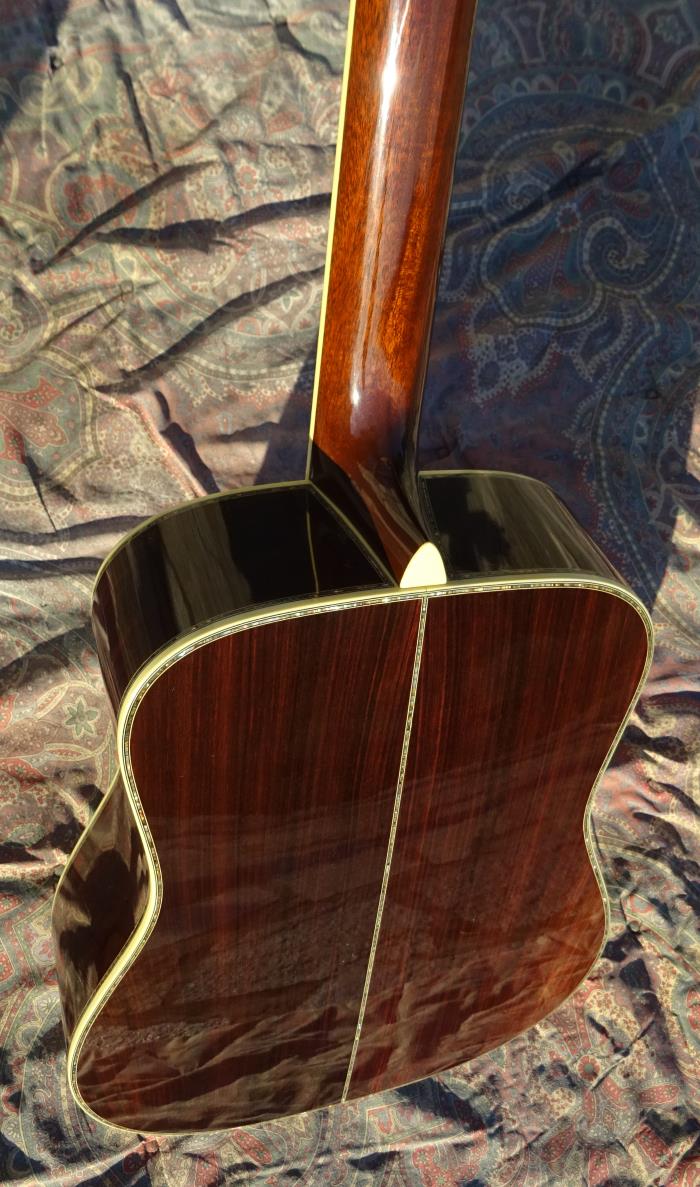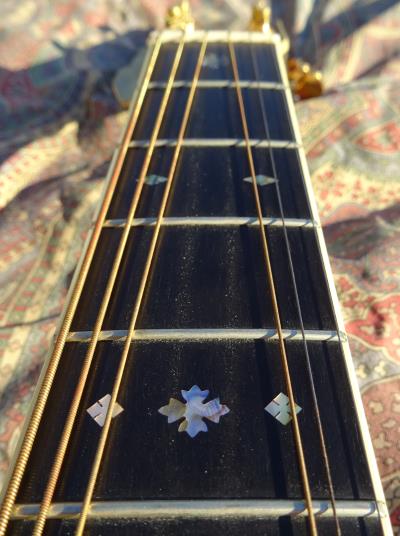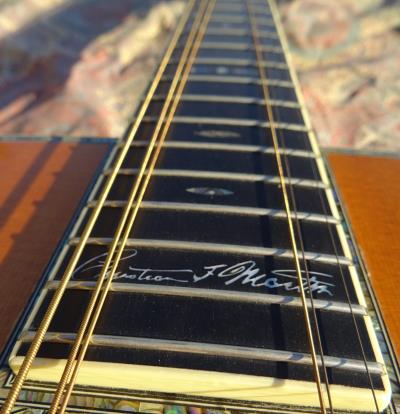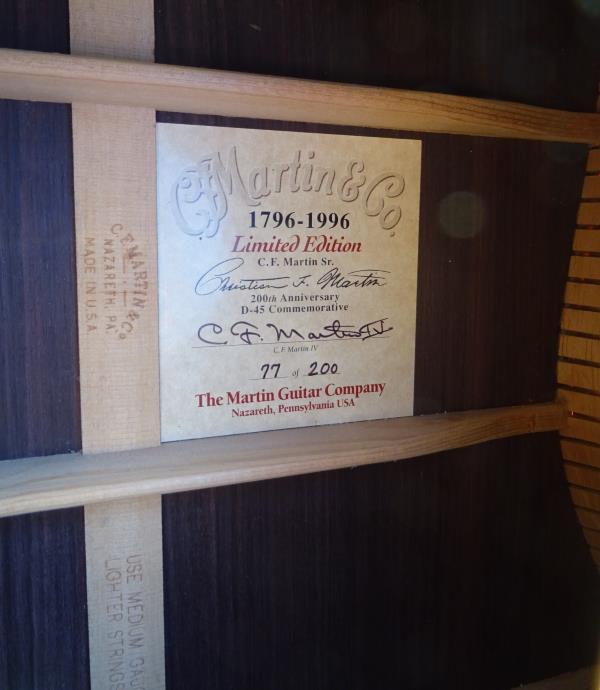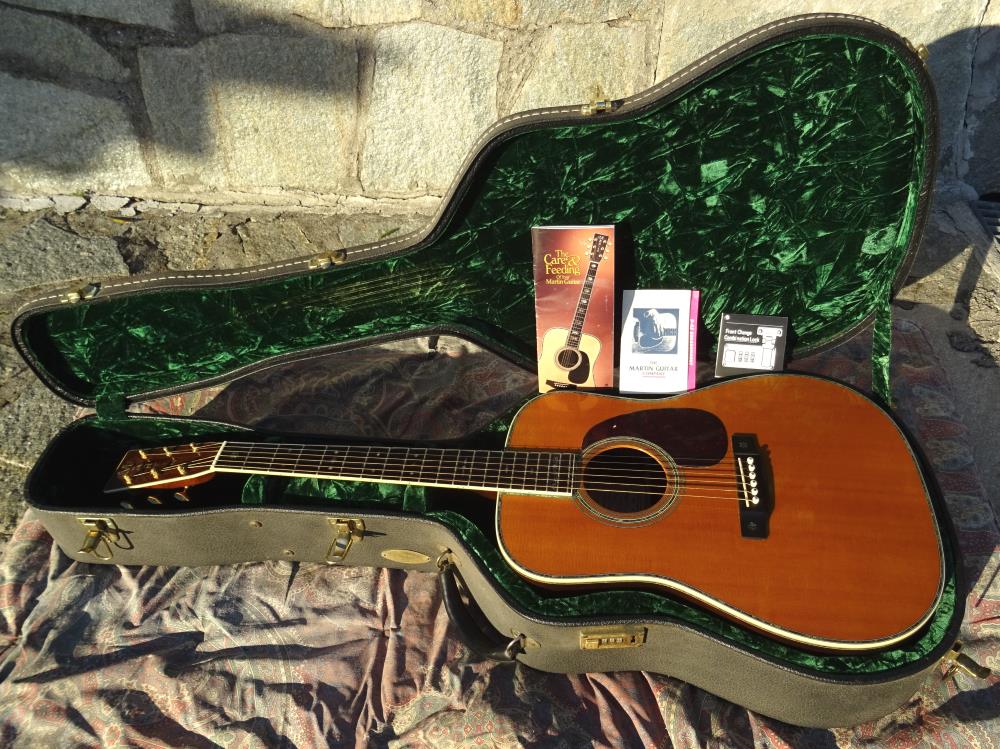 MARTIN D-45 Limited Edition C.F. Martin Sr. model, 200th Anniversary 1796-1996 Commemorative 1996, label signed by C.F. Martin IV, label reads limited edition 200, however, Indian rosewood back and sides, MintCondition code AC999
EXCEPTIONAL MASTER GRADE WOODS (pumpkin sitka top, very dark indian rosewood back and sides, one piece mahogany neck).Top, back and sides are perfectly bookmatched.
1996 made, one of 200 made in indian rosewood (140 for USA and 60 outside), features as the D-45 standard except: 1 3/4 at nut, bone nut and (short)saddle, snowflake on fretboard and bridge (as D-42), pearl signature of CFMartin Sr. between 19th and 20th fret vintage gold open tuners, abalone backstrip, commemorative brass plate (bicentennial CFMartin Sr) inside, near the serial #, personally signed by CFMartin IV with the #/200. Forward shifted 1" scalloped x braces.
EXCEPTIONAL MASTER GRADE WOODS (pumpkin sitka top, very dark indian rosewood back and sides, one piece mahogany neck).Top, back and sides are perfectly bookmatched. The thin gloss (on the neck too) is very well made and applied. Geyb style vintage case.
The Limited Edition Dreadnoughts have taken a variety of forms. Martin has released historically accurate reproductions of mid–'30s D–28s– complete with "high X–braces," Brazilian rosewood, V–shaped neck, tortoiseshell colored pickguard, "ivoroid" binding, and all the other features found on a normal HD–28. The company also has experimented with materials new to them, like maple, as in the Limited Edition D–62.
Other one–time offerings have included a relatively inexpensive koa Dreadnought, followed soon after by a string of the fanciest Martin Dreadnoughts ever seen. The 1987 D–45LE with a price tag of $7,500 was designed by C. F. Martin IV, current Chairman and CEO of the company. This model set the stage for future D–45 Deluxe models, including two C. F. Martin, Sr. Commemorative 1996 editions which featured pearl borders nearly everywhere, specially selected rosewood, period inlays, and gold tuning machines. In 1994, Martin issued a recreation of Gene Autry's famous 12–fret D–45 which bore a retail price of $23,000. A 1996 collaboration with "MTV Unplugged" yielded a highly unusual Dreadnought that mixed both rosewood and mahogany tonewoods with MTV conceived inlay patterns.
One drawback of some Limited Edition instruments is that at times they are available on such a limited basis that potential customers aren't even aware of their existence until it's too late.
At the same time, a customer has the ultimate freedom of designing his or her own "limited edition" guitar. Martin's customized Dreadnoughts are not really a new option–in 1934, singer Tex Fletcher special–ordered the only D–42 ever made, a left–handed instrument. But since 1983, Martin has solicited custom work on a regular basis.
With all these options, and the quickly changing Martin offerings, this is an exciting and occasionally confusing time for Martin fans. But like quality automobiles and fine pianos, Martin Dreadnoughts, new and old, continue to command considerable respect, and likely will for many years to come. From Martin Source.
Rosewood and Spruce sound fantastic! It is in excellent condition. This is a special guitar which listed for $11,000 in 1996; here is the story told by Martin in the 1996 Limited Edition Guitars brochure:

Christian Frederick Martin, Sr., founder of the worldrenowned Martin Guitar Company, was born in 1796. To commemorate theanniversary of his 200th birthday, C. F. Martin and Co. has created special D-45Limited Edition C. F. Martin Sr. Commemorative Acoustic Guitars for 1996.
The C. F. Martin Commemorative model D-45 is crafted of premium East Indian Rosewood. Martin's highest grade Sitka spruce top is braced with the Martin-originated pre-war forward-shifted scalloped X-pattern. These selected premium grade tone woods yield a tonal combination that many guitarists and collectors consider optimum.
Highly colored abalone pearl inlay is painstakinglyhand-filed and fit in the standard "Style 45" body decoration. A genuine ebony fingerboard, bound in ivoroid to match the body trim, is decorated with vintage Martin's "Style 45"abalone pearl snowflake pattern. Six-pointed abalone snowflake inlays adorn the wings of the genuine ebony bridge, which is fitted with a fossilized ivory"through" saddle. The abalone inlaid bridge pins, end pin, and nut are also fashioned from fossilized ivory.
The X braces are scalloped and shifted forward to a position 1" from the sound hole. The genuine mahogany neck is carved to the standard "low profile" shape. The nut and saddle are crafted from genuine bone, and the bridge pins, inlaid with abalone dots and standard "Style 45"with matching end pin.

Each instrument is fitted with a hand polished and beveled tortoise colored pick guard. Tuning machines are gold-plated open-geared with vintage "butterbean" buttons. A 5-ply deluxe hard shell case with a 3-digit combination lock is included to protect each of these special guitars.
The founder's signature is delicately inlaid in Mother Of Pearl above the last fret. An engraved brass plate on the front block bears the edition information. The interior limited edition label is sequentially numbered and signed by C. F. Martin, IV, Martin's current Chairman and CEO. He is the sixth generation of Martin family members to manage the firm, which is one of the oldest surviving family owned businesses in the United States.