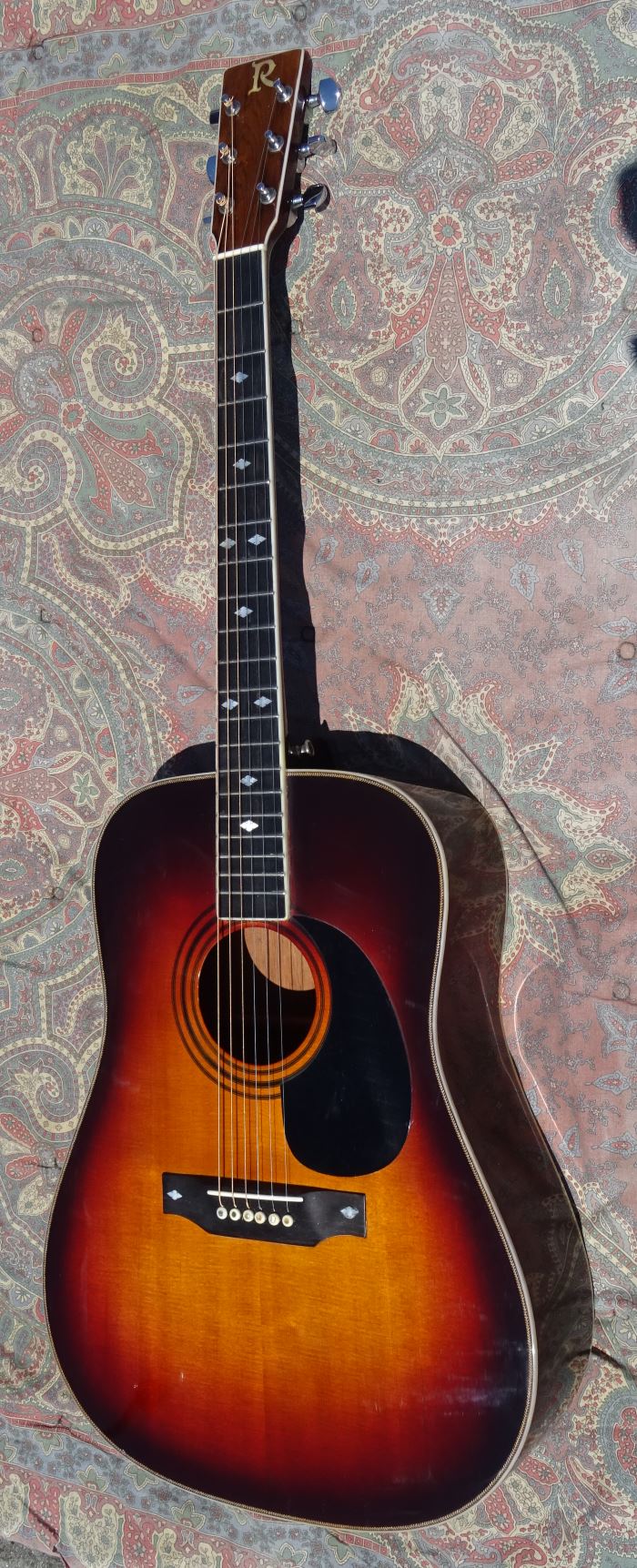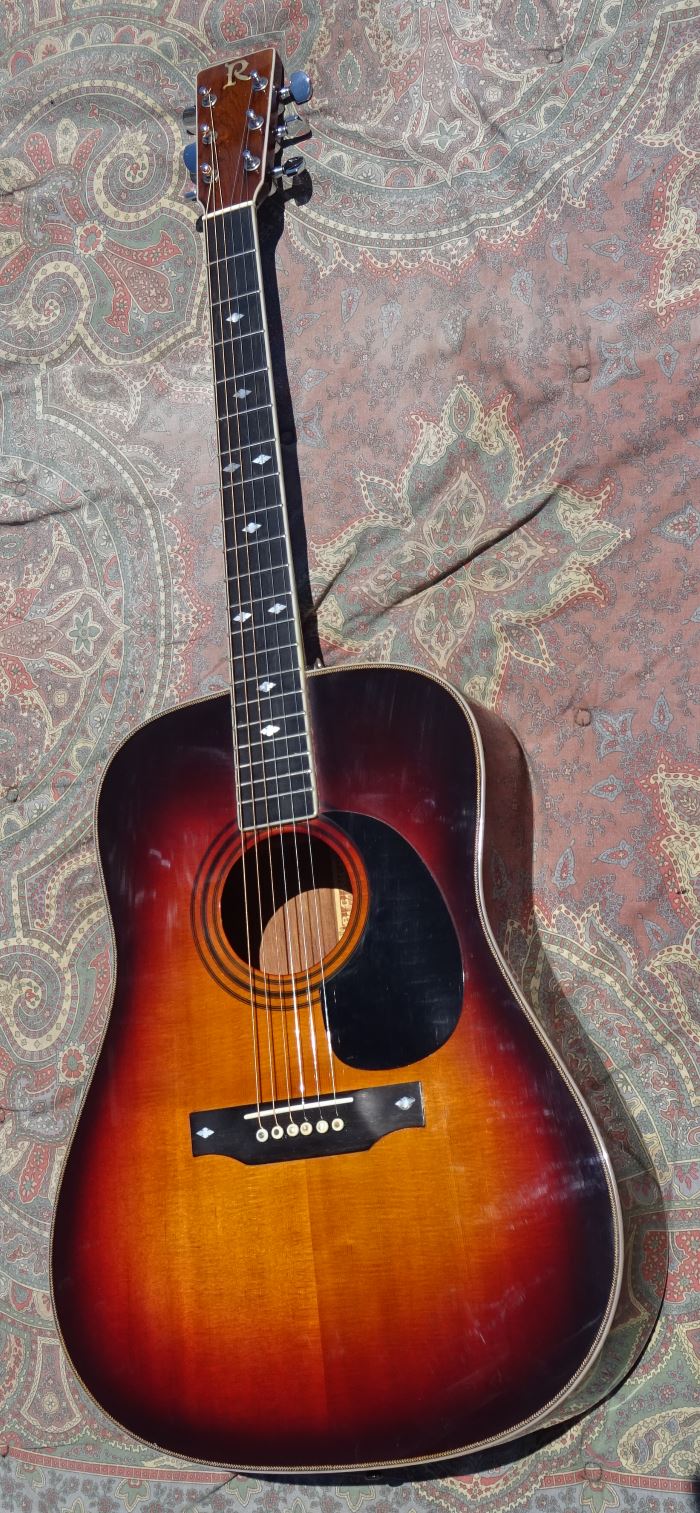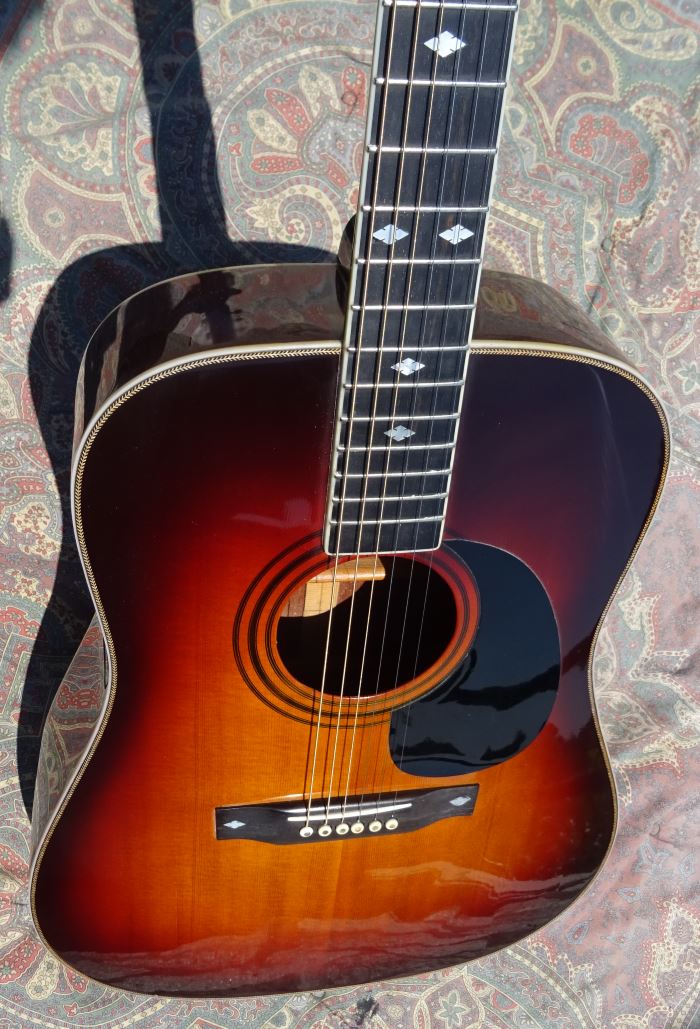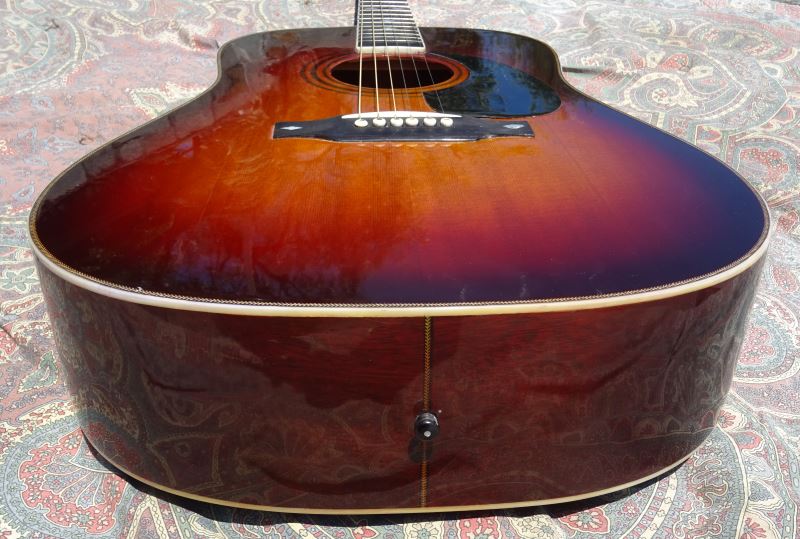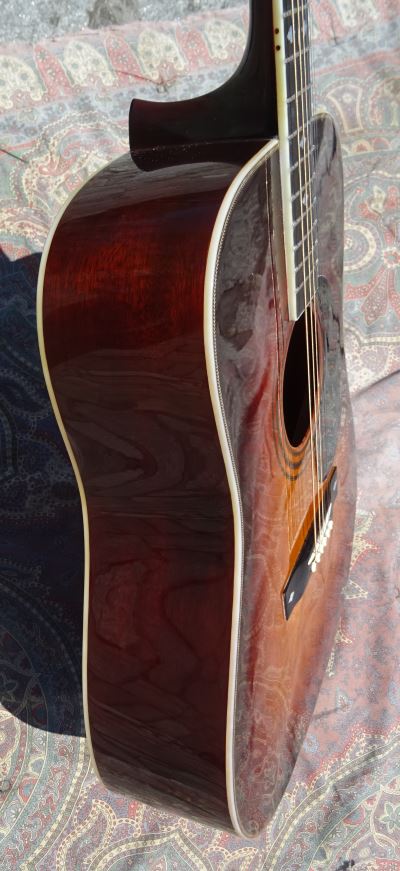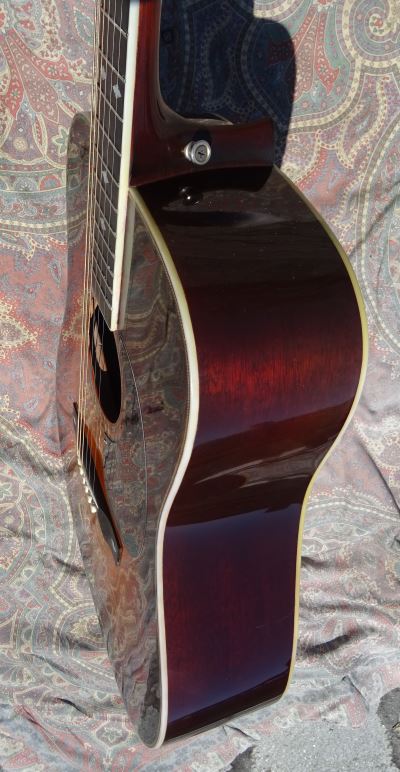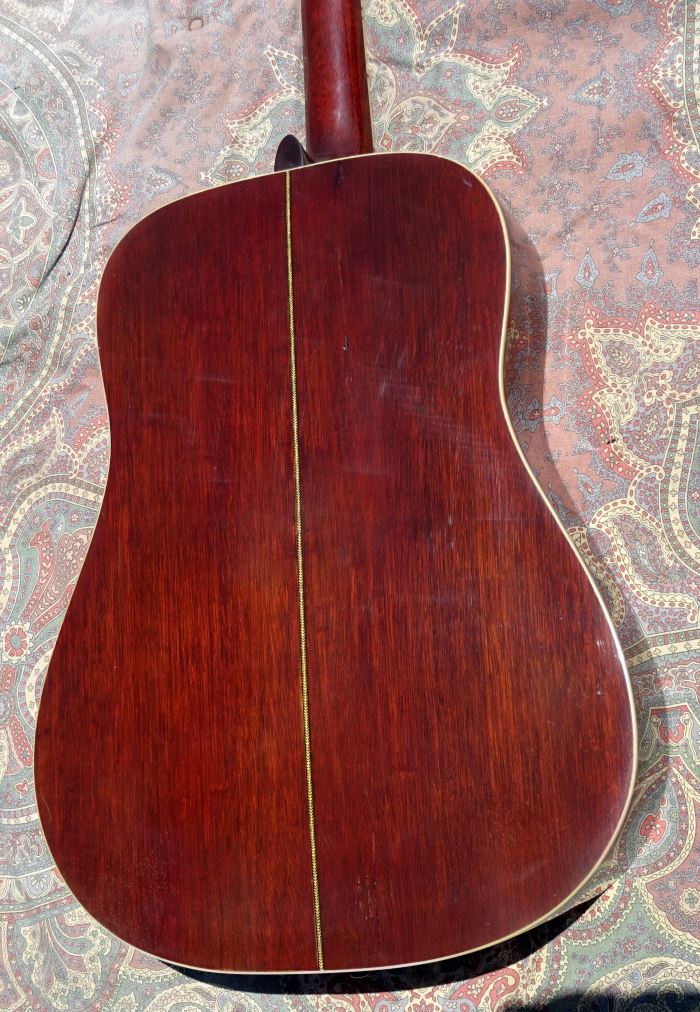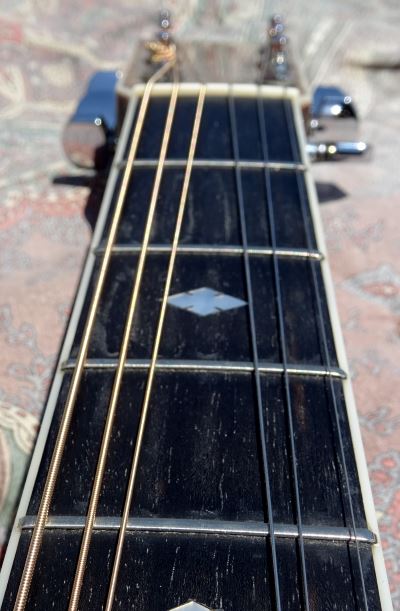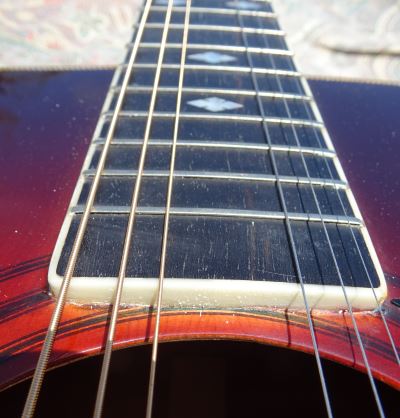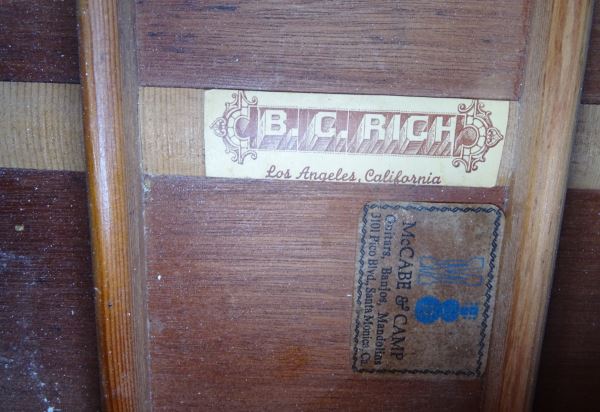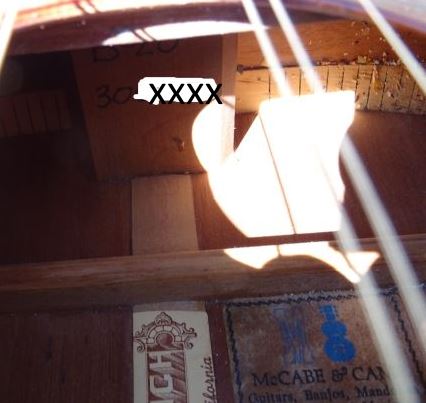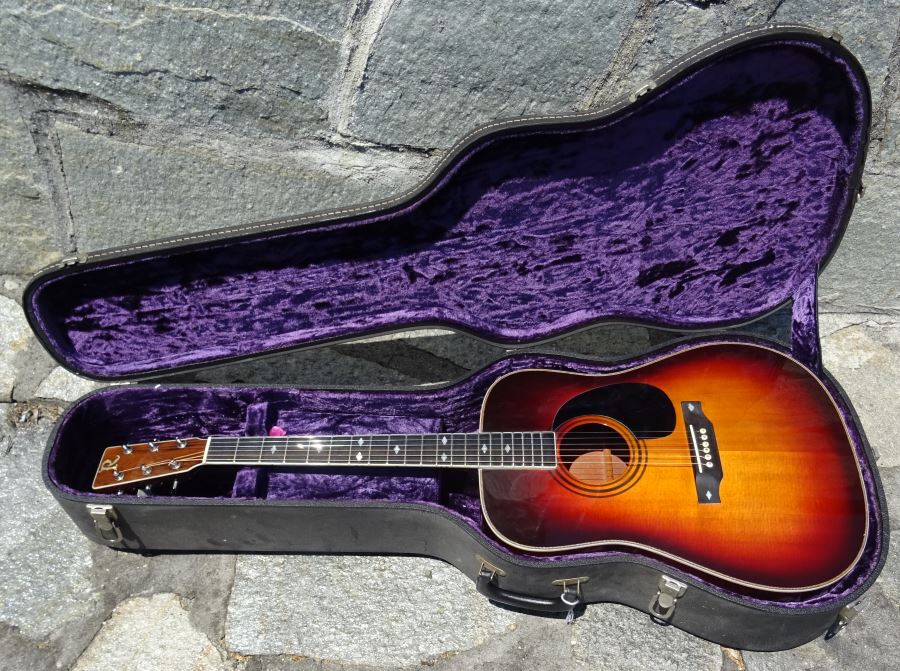 '72 B.C. RICH Los Angeles California Sunburst a real RARE Acoustic Guitar Code AC66
This is a wonderful vintage B20 B.C. Rich Bernardo Rico that is special known for building D-type Flat Tops early on in their beginnings mostly using rarer woods whenever possible. This has a nicely patinated Sitka Spruce Top w/some cool markings & has super tight grain w/an aged finish that almost looks like Cedar. She's sporting a Herringbone sound hole rosette w/matching 'bone around its top border. Its got a bound diamond inlaid ebony fingerboard & bridge over a 1 piece neck has a full sized flat feel that is perfect & she has a magical light tone w/plenty of bottom end. Its bound headstock has a pretty inlaid "R" in its rare lamination. Ebony Fingerboard Medium"C" Neck Profile Frets Are In Very Good Condition Overall she's got a wonderful old vintage tone. A professional restoration has given the sound and aesthetic perfection to this very rare and precious model of almost 50 years, complete with Hard Case.
Late 60's to mid 70's BC Rich acoustics, these were built by the owner Bernardo Rico when they were still a small shop the name BC Rich was Bernie's first name, middle initial and the Rich was to sound more "American" as the early guitars were "Martin" style Dreadnaughts. B20, which is somewhat the oddball, built in 1975 by Bernie, with a "Bernardo Rico" label on the backstrip with a handwritten dedication signed Bernardo Rico This one is Mahogany/Spruce with diamond position markers, Herrinbone trim white binding, bound ebony fingerboard.
Bernie Rico had begun working in his father's shop as early as 1953 or '54, building ukuleles out of koa. "You know," says Rico, "My Dog Has Fleas!" If you've ever played uke, you'll know that phrase. Soon thereafter the American Folk Music Boom began, and Rico recalls that his father's shop made banjos and retrofitted a lot of banjo necks on other brands. "Prior to 1964, we also converted a lot of Martin guitars to 12-strings because Martin didn't make 12s before '64." Rico also remembers building some steel guitars during those early days, as well."It was working with the banjos," says Rico, "that taught me what I know about tone and timbre, all tension, with tension hoops in place of struts." In a way, you can say that Sabicas not only was the main influence on Rico's guitar playing, but was also the main influence on his guitar making. One day Sabicas took Rico aside and told him, "My son, I want to play a guitar you made for me." Bernie Rico made his first guitar for Sabicas. Bernie Rico continued to make acoustic guitars. However, by the mid-'60s many of the customers for guitars were country musicians, and, well, the name "Bernie Rico" just didn't make it with country players. As it happened, ironically enough, Rico had a friend named Bobby Rich who had adopted an Hispanic stage name, Roberto Rico. Reversing the process, Bernie Rico changed his guitar name to B.C. Rich. So, in a way, the B.C. Rich name came from Bernie's friend Bobby, although all the parts were actually just Anglo adaptations of his own family's names. This was in around 1966 or 1967. Up until 1968 Rico made only acoustic guitars. Probably only about 300 of these acoustics were built.