1987 Pensa-Suhr Standard, Curly Maple Top, RW board, Floyd Rose and EMG Pick-Ups. Near Mint.
This is an early masterpiece by John Suhr. It is a Pensa-Suhr Standard made by John in 1987 at Rudy Pensa's shop. If you want to hear the actual sound of the guitar listen to the last song in Rendy Brecker's "Hanging in the City" CD. It is this guitar played by the original owner directly in the mixer. It has a great character, a wonderful tone and is completely original and completely made by Mr. Suhr.The body is one-piece canadian curly maple. RW board, FLoyd rose and EMGs. It is signed and dated in the body behind one plastic plate on the back and on the back of the other plate.
John Suhr's exciting creations have been available in a few different guises over the years; from the early 80s Pensa-Suhrs, favoured by Dire Straits' Mark Knopfler, to the instruments that came out of John's days at the Fender Custom Shop. He's built guitars for artists as diverse as Knopfler, Eric Clapton, Peter Frampton, Lou Reed, Steve Stevens and Reb Beach among many others. Now that John Suhr is running his own show and taking custom orders, you'll be able to add your name to the list. His luthiery career began over 20 years ago when, not being able to get the exact tone he wanted from a stock guitar, he built his own. The rest is history...
EMO Rack Light
Customised switcher Mike Hill Services ( TS9 and wah)
Delay TC Electronic 2290
Reverb Lexicon 300
Reverb Lexicon PCM70
A second Delay TC Electronic 2290
2 multi effects Yamaha SPX-990 et SPX-1000
At the right : The 2 Soldano heads 100W
One tuner Peterson stroboscopic
Mark used a Ernie Ball pedal volume .Then a lot of effects are behind. (for color his sound)
Effects are MIDI.A "Program Change" is used .Each songhas a preset on memory.
His technician change program effects for him.
One Tube Screamer TS9 Ibanez and a wah wah ( for Money for nothing) are on a switcher.
The 2 amps are used one by one: When Mark play on the head A , his technician prepare the head B ...
In STP Tour 2001 Mark used 12 guitars on this tour:

3 Fender Stratocaster : 1954
1961 (red)
1964 serie L (white)
2 Telecaster : one Fender of 1954
one Schecter redof 1982
4 Gibson : One Les Paul Standard of 1958 one of 1959
One Les Paul Standard Replica 59
One ES-335 of 1958
One Pensa Suhr of 1986 : 3 micros Fender Texas Spécial
One Martin 0042 of 1945
One National Dobro of 1934
http://www.youtube.com/watch?v=3UX8tuI1JE8
Taken from 'Mark Knopfler Guitar Styles Vol. 1/2'.

Mark Knopfler may be synonymous with the Fender Stratocaster but anyone who has seen or heard the Straits in the last couple of years won't have missed the Strat-shaped Pensa-Suhr guitar that is Mark's main working instrument. The guitar was hand-made by John Suhr in the late '80s. However John no longer works for the exclusive New York based company. According to Stephen Marchino, currently responsible for hand crafting these guitars with Mas Hino (John's apprentice for six years), he is no longer making guitars but working with electronics wizz Bob Bradshaw in California.

The guitar in question features a one piece quilted maple carved top. The body base is mahogany and it has a bolt-on maple neck with 22 fret bound Braz. RW board.

"It's quite a departure from his previous guitars" explains Ron Eve, "the shape of the neck is more of an oval, more like an early slim Gibson Neck than a Fender. It's slightly wider too and the frets are very high; Mark was 'persuaded' to go for a larger fret both in height and width. The action is set pretty much as low as you can go with the barest hint of buzz. Mark plays quite lightly, not heavy at all."

Stephen Marchino adds that "the guitars are fretted under tension so very little dressing is required, that's why they play so well. The actual fretwire is Dunlop 6105, tall but not as wide as the 6100. We found the intonation wasn't as good with the really wide wire. The guitar is finished with a special, very thin lacquer by Pat Wilkens."The double locking Floyd Rose is an unusual inclusion for Knopfler and although the trem is back routed "it's actually screwed up to the body, " says Ron. "It's fixed so it's really a non-trem guitar. The main reason is because of the fine tuning at the bridge. The guitar's tuning stability is remarkable."

The guitar is fitted with EMG pick-ups, a full sized '85 humbucker at the bridge and the single sized SA humbuckers in middle and neck positions. "We use a special technique" (a combination of capacitor and resistor) "to simulate a split coil on the bridge humbucker when it's switched to position four (bridge and middle pick-up) on the five-way, lever type pick-up selector," continues Stephen.

Apart from a master volume and master tone control, a mid-boost - the EMG SPC Presence control - is activated by a push/pull switch in the tone pot. "Mark used that tone for the heavier sounds - like on Heavy Fuel and Calling Elvis - typically with the bridge humbucker and middle pick-up selected" adds Ron. It's tuned standard with D'Addario .009" to .042" gauge strings. Mark has a spare black Pensa-Suhr, again Strat-shaped, this time with flat-topped all mahogany bound body. According to Ron, "the neck has a flatter curve, but the fret set-up is the same and the Floyd Rose is functional. He uses that for So Far Away.

"Mark also has a 'prototype' Pensa-Suhr, tuned to open G (from low to high D-G-D-G-B-D) and used on Two Young Lovers. It was the first guitar John Suhr built under the Pensa-Suhr name and has a 001 serial number". [Hmm... There's a picture of the flame-maple Pensa first mentioned here, and it says this one bears the 001 s/n, so I'm not sure which one the prototype is supposed to be]

Another John Suhr guitar looks like a white Fender Strat. "I think we should come clean about that," says a sheepish sounding Ron. "It's got all the Fender transfers and appears to be a Custom Shop guitar but it's not really. Parts of it are Fender - some parts aren't, John Suhr put it together so I'm not exactly sure what's what. It's a standard Strat format though with three single coils and vintage tremolo". Mark used that on The Bug on the last tour and album.Ron is keen to point out that although certain guitars were used for certain numbers in the studio, and it seems Mark has alot of Strat-type guitars, each one has it's own character. "So we'll get a basic style of guitar through a basic amp set-up then play with them a bit. The two most important tools in a guitar tech's kit are a crystal ball and a magic wand - I have to predict what Mark will use. If I've heard the songs prior to the session I'll have a good idea of where he's heading. As for amps, I always take in the Soldanos as well as a range of things like old Fender amps.

"On the last album we mainly used Soldano, except, for example, Fade To Black, where we used his '53 Gibson Super 400 through one of the vintage Fenders, I believe a Vibroverb.

"That Gibson is worth around 20,000 pounds. I wasn't at all happy about taking that on the road I can assure you. Accidents do happen, not to mention theft, so it stayed in its flight case till about five minutes before the show, then put straight back again. "Live, to an extent, we have duplicate guitars but others aren't covered, like Mark's National - we only have one of those. I've certainly had a couple of tense moments on tour - I took the Pensa-Suhr out of the guitar rack to pass it to Mark, I thought I felt something wrong but it was too late to check. I gave it to him but what had happened was that the top string had caught on the stand and stretched - the top E was down about a tone - but by then he was on stage.

"Mark is certainly a hard task-master and has high expectations and is perhaps a little intolerant to things going wrong. Looking back over the number of shows and the number of guitar changes - there's a change in each song, sometimes two, then there's amp and effects changes - we're talking less than 1% when there may be a small problem. For example he once walked on, put his foot on the Ernie Ball volume pedal and the string mechanism broke. Now I'd checked that before the show - I couldn't predict it - and he got a bit upset."

Of course strings are changed every show and Ron will do basic work on the guitars where necessary, a fact noted by Pensa-Suhr's Stephen Marchino, who remarked how well Ron looked after the guitars. "I'm not a guitar expert, I'll do neck and fret adjustments but I wouldn't dream of doing a re-fret. I haven't needed to but I remember about three-quarters of the way through a tour considering a re-fret on one guitar but it's such a major thing and it changes the feel of the guitar. Mark is extremely sensitive to the set-up so I try and avoid it. I had to dress the frets, due to wear, on the Pensa-Suhr and that was pretty tense for a week."

Prior to the Pensa-Suhr, Mark's favourite Strat was a late '70s Schecter, red with maple neck and unmarked maple fingerboard; "he used to use that for Sultans of Swing and a lot of the Rockabilly style stuff."

Acoustics are of course an important part of any Dire Straits show or session. The 1936 14-fret Style-O National, used for Telegraph Road, is tuned to open G but capo'd at the third fret to create, low to high, F-Bb-F-Bb-D-F. That guitar was retro-fitted with an L.R. Baggs transducer, but Mark's nylon strung Spanish Classical Ramirez - used on Private Investigations - came complete with pick-up and electronics and is backed up with a nylon strung Gibson Chet Atkins.

Although Mark's guitar player Phil Palmer used a Godin Acousticaster through a Trace Acoustic amp, "Mark didn't like it that much. We used it on Iron Hand, but we couldn't get a set-up that was ideal for us. Phil plays with a pick and through the Trace amp it sounded fine, but straight into the PA - which is the way Mark uses his acoustics - it didn't really happen."

The amp set-up is quite unusual. Mark uses two Soldano 100W SLO-100 heads, the pre-amps separated from the power amps by Pete Cornish. Mark's signal, from a Sony wireless system passes to one pre-amp - Ron operates an A/B system, while one amp is being used the other is being changed manually for the next song - then to the effects, before the stereo signal is returned to the two Soldano power amp sections and into two, EV loaded, Marshall 4x12s.

His effects include a TC Electronic 2290, Alesis Quadraverb, Boss CE300 ("a non-programmable, very old analogue chorus rack with knobs on the front. We kept one setting and only used that on Two Young Lovers, and it's switched in and out on On Every Street") a Zoom 9010 and a rack mounted Cry Baby foot pedal wah-wah.

"Per song we have a certain set-up. Mark is pretty much a basic reverb and a basic echo type of a man, so it's a question of setting the precise reverbs and echoes every song. I chose the effects primarily because they're easy to use. They're MIDI'd together and controlled by the TC. Although Mark has a Pete Cornish switching system on stage, he'll switch the delay on and off for Sultans of Swing for example, I really do most of the effects changes," adds Ron.

"Pete Cornish designed the rig from our specifications; the signal goes from the pre-amps to the mixer where the effects are linked in parallel - studio style - from auxilliary effects sends and returned, where applicable, in stereo." On stage the 4x12s are miked - two per cabinet - there's no speaker emulators though Ron monitors Mark's tone backstage from a direct amp feed.

THE GUITARS

* Schecter 'Tele', Red (s/n S8703) This is a great rhythm guitar and often supplies the 'picking rhythm' that is Mark's trademark, exemplified on the track Walk Of Life. [Red Tele shape, with a white scratchplate - it's on Walk Of Life on OTN too, I think]

* Schecter 'Strat', Sunburst (c.1980, s/n S8001) Replaced an earlier sunburst that was stolen. Used on Tunnel Of Love (Making Movies) and Going Home (theme from Local Hero). On Assassin Of Love (Miracle - Willy DeVille album) it was used through a Fender Vibrolux connected to the Marshall cabinet to achieve the 'Duane Eddy' sound on that track.

* Schecter 'Tele', Red (s/n S8218) The guitar that eventually replaced Mark's Fender Strat as his workhorse guitar. It features on numerous recordings, for example Expresso Love and later the live versions of Sultans Of Swing and Once Upon A Time In The West. [This guitar is actually Strat-shaped - possibly a printing error?]

* Fender Stratocaster, Red (c.1960, s/n 68354) Bought second-hand, it had a 'natural wood' finish that was quickly replaced with red lacquer! This guitar features on most of the early Dire Straits' recordings, brought out of retirement for the recording of On Every Street through a Soldano head, Marshall 4 x 12, modified with a TC2240 DDL effects unit.

* Pensa-Suhr, Flame-Maple (c.1987 s/n 001) Mark's favourite guitar! Designed on a napkin over coffee with luthier John Suhr and Mark's friend and New York music store owner Rudi Pensa [Pensa Custom Guitars wanted me to put in a note here that this info is wrong, John Suhr's name should be removed from this quote. According to them "the guitar was conceived and designed over coffee on a napkin with Mark Knopfler and Rudy Pensa, the founder and designer of the Pensa guitars"]. It features a magnificent one-piece contoured maple top backed by one piece of mahogany and a RW neck. Fitted with EMG active pick-up system with switchable mid-boost. Amongst many recent recordings it has been used on Feel Like Going Home (Notting Hillbillies), Love You Too Much (Jeff Healy) and Old Habits Are Hard To Break (Ronnie Milsap). Played through a Soldano and a Marshall 4x12 on Heavy Fuel, Planet of New Orleans and Calling Elvis (all on On Every Street).

* Ramirez Spanish [ie acoustic] (1990 s/n A2441) Used on the On Every Street tour for Private Investigations. It has a built in bridge pick up which is adjustable for individual string tone and volume.

* Gibson 'Chet Atkins', Nylon Strung, Solid Body (s/n A027) 'Classical' electric guitar [looks just like a Spanish], it has a piezo pick-up under the bridge. Used extensively live for Private Investigations until the purchase of the Ramirez Spanish guitar.

* National 'Duolian' Style O, Steel Guitar (c.1939 s/n B1844) Open tuning D-G-D-G-B-D (low to high), with capo often on the second or third fret. This guitar is the one on the front of the Brothers In Arms album. As used on Romeo and Juliet and Telegraph Road [Note, it is dated here at 1939, and elsewhere as 1936. Don't know which is correct. Sorry, I'm being picky, aren't I?].

* Gibson 'Super 400' Model CES (c.1953 s/n 15808) In Mark's words, "A man's guitar!" Of the same type associated with Elvis Presley and very rare, ie valuable. Used on Your Latest Trick (for the live concert) and Fade To Black (On Every Street) for its 'plummy' jazz sound using a vintage Fender Vibroverb combo, The pickups used rare 'Alnico' magnets [Alnico - is this an aluminium/nickel alloy?].

* Gibson Les Paul, Sunburst (c.1984 serial number 90006 re-issue) Modified so that the central position on the pick-up selector connects them 'out of phase'. Used on Brothers In Arms (with Marshall JTM45 head and Marshall 4 x 12 with EV speakers), Money For Nothing and You And Your Friend (through Soldano and Marshall 4 x 12).

* Gibson Les Paul, Sunburst (c.1986, s/n 12849) Unmodified Les Paul, a custom re-issue. [The sunburst is slightly redder than the above guitar - they are distinguishable!)

* Gibson ES 175, Sunburst (c.1960, s/n 510514) A beautiful example of this type, it was used with a Fender Vibrolux on Could You Would You from Willy DeVille's 1987 Miracle album.

* Pensa-Suhr, Black (c.1986, s/n 014) Flat top, black lacquer finish. Precursor of the flame maple version. Whammy bar fitted (up and down). Used on Asssassin Of Love (Willy DeVille) through a Boogie Mk III head and a Marshall 4 x 12, and So Far Away (Brothers In Arms) and Why Worry (live version).

* Schecter 'Tele', Black [White scratchplate, maple neck] (s/n S8421) Often used for a 'heavier' sound combined with a Boogie Mk III top and a Marshall 4 x 12 (with EVs). It can be heard on the title track of Willy DeVille's Miracle album.

* Gretsch 'Super Chet' Model 7690, Red (s/n 84055) Given to Mark by Chet Atkins, this beautiful and highly figured guitar can be heard on Willy DeVille's Heart And Soul from the Miracle album.

* N.S. Phillips Acoustic Guitar Known as 'Nobby 12', this guitar was made by Mark's friend and fellow Notting Hillbilly Steve 'Nobby' Phillips. So called because the neck joins the body at the twelfth fret, it is one of Mark's favourites. It featured heavily on the 'Notting Hillbillies' amongst others.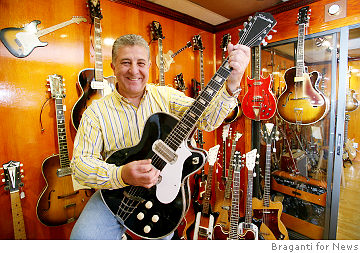 Among the 1,500 guitars that hang on the walls of Rudy's Music Stop at W. 48th St., Rudy Pensa picks up one that looks rather worn out.
A Fender, it has a long neck and the body was painted in Day-Glo in the '60s. The remnants of the fluorescent pigments still sparkle when Pensa, sitting on a stool, starts to play a rather undefined melody that sounds like Eric Clapton's Cream.
"This is what I love," he says and then holds the guitar with both arms above his head. "Hippie time."
But as a reminder of his groovy past, the 58-year-old Pensa has hung on the walls of the four-story shop a good deal of pictures. Pensa with sideburns, Pensa wearing bell-bottoms and flannel shirts.
"I had only a $100 in my pocket when I arrived in New York in 1975," says Pensa, half talking, half nervously bitting the lid of a coffee cup. "I came from the airport straight to 48th St. I wanted to see where Bob Dylan, the Beatles and the Rolling Stones bought their guitars."
Back in 1975, Pensa would have never guessed he would become a celebrity among merchants and guitarists. In Buenos Aires, he had worked as a women's hairdresser while he strived to make a living as a guitar and bass player.
"In New York I started working for a fellow Argentine, Alex, who had a music store across the street," he says.
Thirty-two years later, he's one of the top guitar traders in New York and the Latino equivalent of Les Paul - the famous jazz musician and inventor of the Les Paul guitar - after creating his own brand of electrics, the Pensa guitars.
The story of the Pensa guitars started with a napkin. One afternoon in 1984 Pensa found himself sitting in Fritz's, a long gone midtown diner, right in front of legendary guitarist Mark Knopfler, the frontman of Dire Straits.
In a napkin, Pensa and Knopfler drew the sketch for a solid body carved-top electric guitar, shaped as a Fender Stratocaster but confectioned with the woods used in a Gipson Les Paul. The Pensa became an instant success.
"Mark received the first one in 1984 two hours before a concert and he loved it so much that he played the concert with that guitar, and he has been playing it ever since," says Pensa.
Not too long after that, George Harrison, Eric Clapton and Lou Reed ordered their own Pensas, pushing the prices up. Though a normal starting price would be around $3,000 many of Pensa's custom guitars have reached $20,000. At Christie's, two of Clapton's Pensas were auctioned for more than $50,000 each, he says.